If you've checked out our hiring guide, you're probably wondering where to test these newly-acquired hiring skills out.
You came to the right place.
Here are my picks for the best places to look to hire a freelance Ruby programmer.
Also Read: Ruby interview questions and job description
Where to Hire a Ruby Developer – Top Websites
Where to find Ruby developers will ultimately depend on a few factors. Consider product duration, developer experience, cost, and how much time you're willing to put into the hiring process.
Here are our top 5 favorite places to find Ruby developers.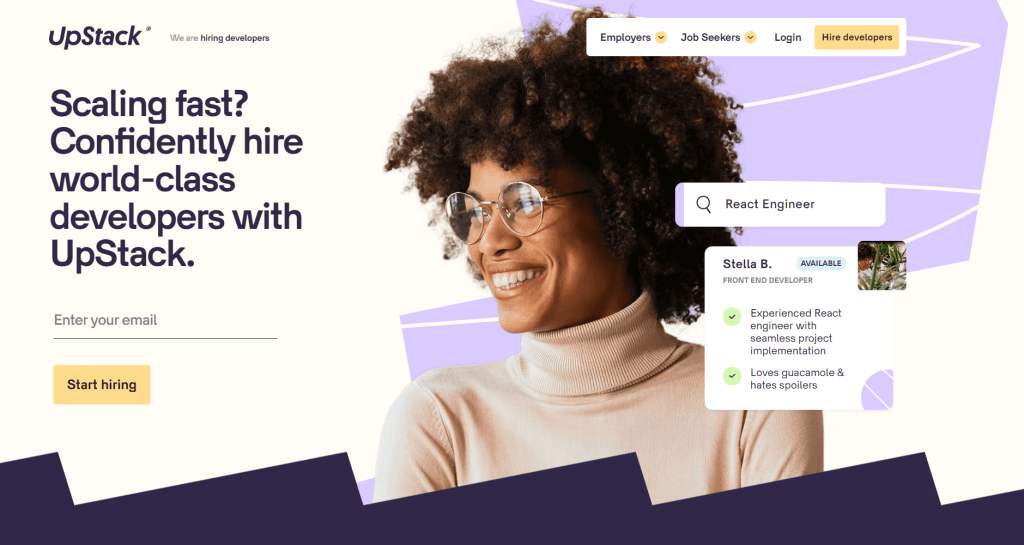 Best for the top programming talent
By using the top tech talent from across the globe, Upstack is inarguably one of the best sites to check out if you're looking to hire one of the top Ruby programmers for your project.
What really sets this top-notch company apart is its unique approach to vetting its tech experts. The site deploys an 8-point hiring process to ensure their listed freelancers are the best candidates with not only incredible Ruby developing skills, but also communication abilities and even agreeable personalities. They offer talent in a diverse set of fields including Java, Python, iOS, PHP, and, you guessed it, Ruby.
Though they've worked for big-name brands like Microsoft and Lego, they have skilled Ruby developers that can work with you regardless of the size, scale, and budget of your company.
I would recommend this site if you're looking for a high-quality, vetted developer who you want to form a long-term working relationship with.
Visit Upstack
Read our Upstack Review.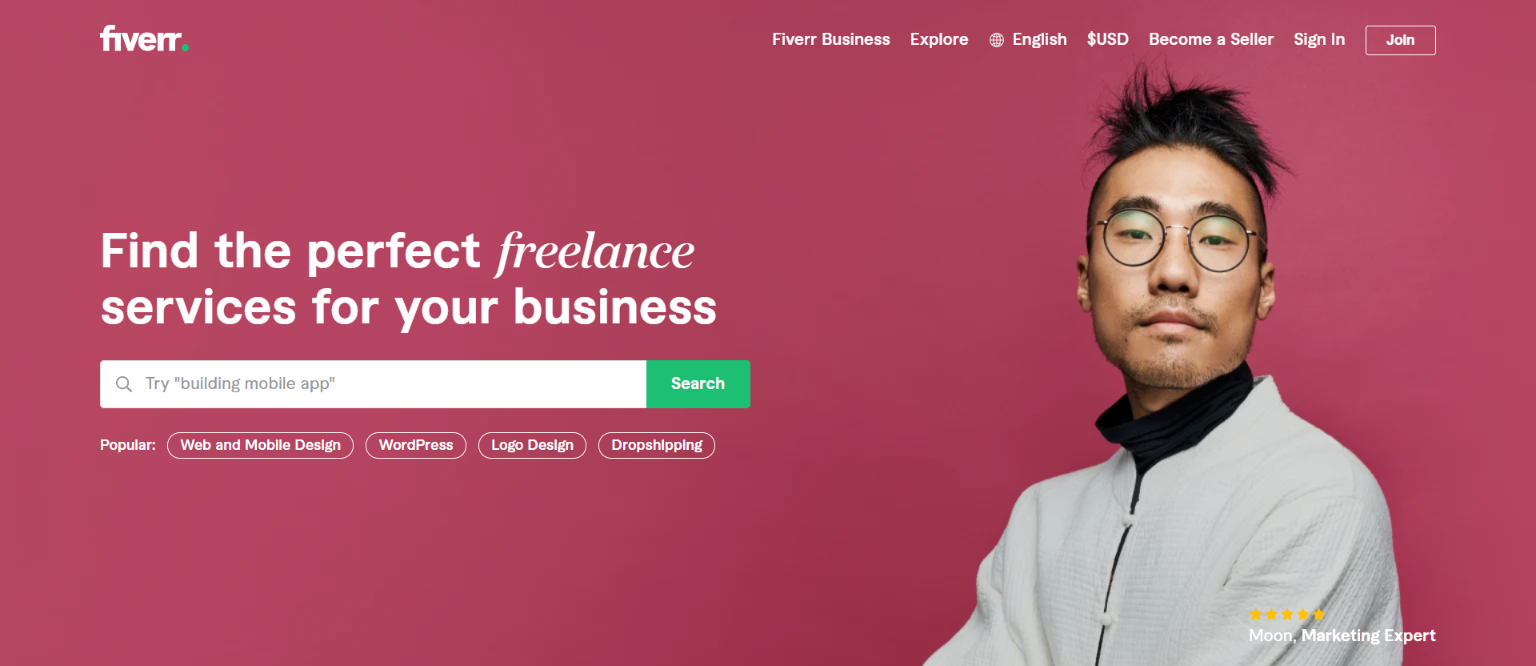 Best for small projects and gigs
As one of the largest freelancing job boards on the web, Fiverr is a proven platform for connecting with prospective freelancers.
On Fiverr, you as the client can look through the site's list of freelance Ruby developers by using its filter tools to find the right fit. You can filter developers based on their price range, body of work, specialties, availability, and more. You then reach out directly to the freelancer that you feel is a good fit and work together to create a contract for your project.
I think Fiverr is perfect for smaller projects and shorter-term gigs because of the great amount of flexibility it offers. Since freelancers on its site are free agents and you can speak with them directly, you have a lot of freedom when it comes to creating contracts.
Since there is such a wide range of abilities on the developers' parts, it's also a great option if you're working on a small project on a tight budget.
Visit Fiverr
Best for hiring multiple freelancers
Another large freelancer-hosting site, Upwork is a great site to turn to when you need a quick turnaround and multiple freelancers to work on a project.
On Upwork, you can list jobs that you're looking to hire for. All you have to do is put all of the pertinent information necessary for prospective developers to know. For a Ruby developer posting, list key terms like "Ruby developer" as well as the pay for the project, an estimated amount of time that the project will take, and how many developers you need to hire.
I chose this site as my top pick for projects where you need multiple freelancers because of the volume of applicants you can get in a short amount of time after listing the job. Though it may take some time to sort through all of those applications and submissions, it's pretty easy to find multiple Ruby developers if you need a team for a project.
Visit Upwork
Best for hiring freelancers
Another awesome site for hiring only the top Ruby developers out there, Toptal thoroughly vets their freelancers so well that they only accept the top 3% of applicants that they get each year.
On top of that selective process, when you search for key phrases like "Ruby developer," they will list the best of those at the top of your search. This makes Toptal a great option for those seeking top freelancers who will certainly deliver only the best work.
This company also has a global reach, so you have only the best developers in the world to choose from.
You can also connect with a freelancer in under 48 hours, making it a great option for folks looking to get a job done on a time crunch.
Visit Topta
Best for hiring freelancers
As the "Original Ruby Job Board," RubyNow is an excellent site to look through only Ruby developers.
As a client, you have a few options for posting jobs. For a standard job post without all the bells and whistles, you'll only have to pay a base rate of $79. This cost includes sending the job listing to all Ruby developers who are part of their e-mail list, as well as instant posting and a listing on the board for 45 days.
For a premium job post designed to stand out from other listings, you'll need to pay $139 for extra exposure.
And for an expert job post that will remain pinned at the top of the job posting board as well as e-mails with eye-catching color, you'll be charged $199.
I suggest this job posting board for those seeking specifically Ruby developers as it's hyper-focused on solely providing you with Ruby developers.
Visit RubyNow
If you still want more ideas, here's a full list of the the best freelance programming sites.
Developer Hiring Guides
If you are looking for other types of technical talent, we've put together hiring guides for these technologies as well.