R is one of the most popular languages in the world of Data Science. It is heavily used in analyzing data that is both structured and unstructured. It is also popular for developing machine learning models. As such, freelance developers are in high-demand.
In this article, we will share our tips on what to look for in an R developer and where to find the best talent.
What is R Programming Used For?
R is a programming language and free software developed by Ross Ihaka and Robert Gentleman. R has an extensive catalog of statistical and graphical methods. It includes machine learning algorithms, linear regression, time series, statistical inference to name a few. Most of the R libraries are written in R, but for heavy computational tasks, C, C++ and Fortran codes are preferred. Here are some common uses of R programming language.
Academia
R is a very popular language in academia. Many researchers and scholars use R for experimenting with data science. Many popular books and learning resources on data science use R for statistical analysis as well. Because it is widely studied by academics, there is a continuous pool of talented statisticians that are passionate about furthering the language.
Data Clean Up
Cleaning up messy and large data sets is critical to data analysis, but it's also very time consuming. R has as a deep library of tools that make the process of data and database cleansing faster and less labor-intensive.
Visualizing Data
Turning data into a graphical form is important so humans can effectively, and quickly interpret the data to take action. R provide a lot of tools that can help with data visualization, analysis, and representation.
Data Science Projects
R is a language designed especially for statistical analysis. The R libraries focus on making data analysis easier, more approachable and detailed. Any new statistical method is first enabled through R libraries. This makes R a perfect choice for data science projects.
Machine Learning
Often times, businesses want to bring in automation and learning capabilities to make better, more consistent predictions. R has a lot of packages for machine learning that can be used to continuously build complex algorithms that can predict future events.
What to Look for When Hiring an R Developer
When hiring an R programmer, there are a few things you have to consider including experience, rates, and the type of work arrangement. It also depends on the type of project you have and what skills you need to complete it.
R Developer Required Skills
Here are some of the basic skills that an R Developer is expected to have:
Proficiency with using R
Proficiency with using Microsoft Technology Suite
Strong knowledge of SQL and other database technologies
R Experience
R developers should have some experience with the following:
Data science, including: database design, data engineering, data mining, and data visualization
Descriptive analytics and statistics
Predictive analytics
Machine learning and artificial intelligence (AI)
Prescriptive analytics
Decision science
How to Write an R Developer Job Description
Writing the perfect R developer job description is essential to ensure that you can attract the top developers. It's also important to ensure that you set the proper expectations up-front to streamline the vetting process, saving everyone time and money.
R Interview questions
When looking to hire an R developer, consider asking some of the following interview questions:
What is R?
What are the different data structures in R?
Can you write and explain some of the most common syntax in R?
How do you list the preloaded datasets in R?
What does R language not do?
How do you install a package in R?
How would you write a custom function in R?
Freelance R Developer Rates
The average salary for an R developer is $130,000 per year in the United States.  When hiring an R freelancer, you can expect to pay $51.33 on average per hour.  R freelancer rates can range from $35-$100 per hour depending on the developer's experience, where they are located, their availability, and other programming languages required.
Check out our detailed pricing guide for more freelance programmer rates.
Where to Hire an R Developer – Top Websites
Where to find R developers will ultimately depend on a few factors. Consider product duration, developer experience, cost, and how much time you're willing to put into the hiring process.
Here are our top 2 favorite places to find R developers.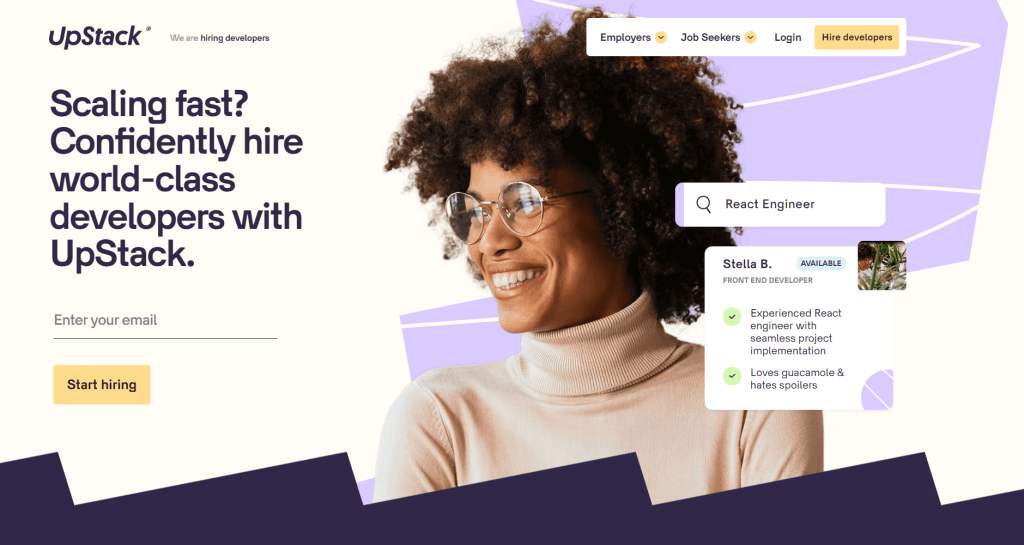 Best for the top programming talent
Upstack aims to elevate remote tech teams worldwide through dedicated freelance talent. They look for the best freelance talent by sourcing their developers from all over the world.
They deploy an 8 point hiring process to ensure their site users have access to the best candidates with top-notch developing skills, communication, and personalities. They offer talent in a diverse set of fields including Java, Python, iOS, and PHP.
They've worked for big-name brands like Microsoft and Lego. However, Upstack has a diverse talent pool that's highly scalable depending on the size and scope of your business.
Visit Upstack
Read our Upstack Review.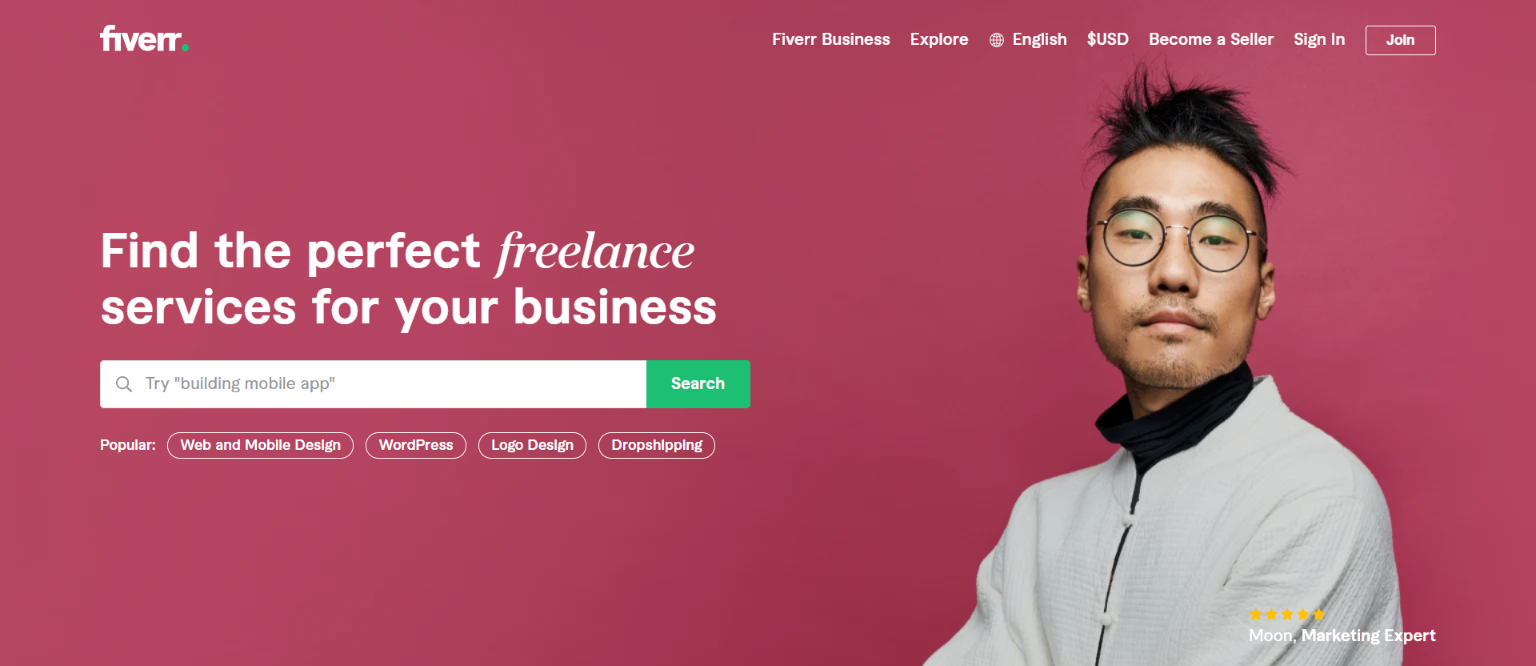 Best for small projects and gigs
As one of the largest freelancing job boards on the web, Fiverr is a proven platform for connecting with prospective freelancers. The site aims to streamline the process of connecting developers with clients in a way that's efficient for both sides.
You can contact a developer by selecting their profile if you think you've found a good fit. Once the terms for a project has been finalized, clients pay the developer upfront. You have about three days to read over the finished product and decide whether to accept a project submission or reject it to get a refund.
Clients look through the site's list of freelance developers by using its robust filter tools to find the right fit. You can filter developers based on their price range, body of work, and much more.
Fiverr is great for finding developers with a specific niche, as the site has categories for practically any type of development service. For example, if you click on the mobile application development link, it'll let you sift through candidates based on even more specific guidelines, such as custom app development or web-to-app conversions.
Visit Fiverr
If you still want more ideas, here's a full list of the best freelance programming sites.
Developer Hiring Guides
If you are looking for other types of technical talent, we've put together hiring guides for these technologies as well.
FAQs
Where can I find an R developer?
There are many places where you can find and hire an R developer online. If you're looking for a full-time developer, you can try popular job boards like Indeed and LinkedIn. For the best freelancers, consider using a remote hiring platform focused on placing programmers like Upstack or Toptal. You can also find R developers on general freelancing marketplaces like Upwork and Fiverr.
How much does it cost to hire an R developer?
The average salary for an R developer is $130,000 per year in the United States.  When hiring an R freelancer, you can expect to pay $51.33 on average per hour.  R freelancer rates can range from $35-$100 per hour depending on the developer's experience, where they are located, their availability, and other programming languages required.
What are the most important skills to look for in an R developer?
There are many skills that an R developer needs to know. Beyond being proficient in R, you'll want to find a developer that has experience with data analysis and visualization. Also, being able to write complex algorithms to build and train machine learning applications is important.
What does an R developer do?
An R developer works with the programming language called R for statistical computing and data collection and analysis with the goal of optimization for a business. They also are responsible for developing machine learning models.