As a writer and editor here at DDIY, I've tested several AI writing tools and know what to look for in AI writers that suit your needs as a digital marketer.
I've taken QuillBot for a test drive and am sharing those results with you in my honest review.
Right away, I'll say that while I think there are better options out there for digital marketers, QuillBot is a great AI writing tool for students and those in academia.
Let's dive in and see all the ins and outs of QuillBot.
Advertising Disclosure
Advertising Disclosure
We offer this website completely free to our visitors. To help pay the bills, we'll often (but not always) set up affiliate relationships with the top providers after selecting our favorites. However, we do our best not to let this impact our choices. There are plenty of high-paying companies we've turned down because we didn't like their product.
An added benefit of our relationships is that we always try to negotiate exclusive discounts for our visitors.
QuillBot Video Review & Walkthrough
What Is QuillBot?
QuillBot is an online tool that helps people reword and rewrite sentences, paragraphs, and even whole documents. It uses advanced artificial intelligence algorithms. The tool can help improve your writing skills by suggesting more natural and polished language.
In addition to being able to paraphrase, QuillBot also has a built-in thesaurus, a grammar checker, and a summarization tool that can help users improve their writing. The software can be used for several types of writing, like academic writing, creating content for work, posting on social media, and talking to friends and family.
How Does QuillBot Work?
You can copy or type text into QuillBot's interface or upload whole documents. The tool will then analyze the text and suggest different ways to rewrite it. The software is trained on a huge set of written content, which it uses to suggest rephrased sentences and paragraphs that keep the same meaning but changes the wording and sentence structure.
QuillBot has several ways to rewrite something, such as "Standard," "Fluency," "Creative," and "Shorten." Standard mode focuses on making rewrites of text that are simple and easy to understand, and Fluency mode focuses on natural language and ease of reading. Creative mode tries to come up with new and interesting words, and Shorten mode cuts out words and phrases that aren't needed to make the text shorter.
Who Would Use QuillBot?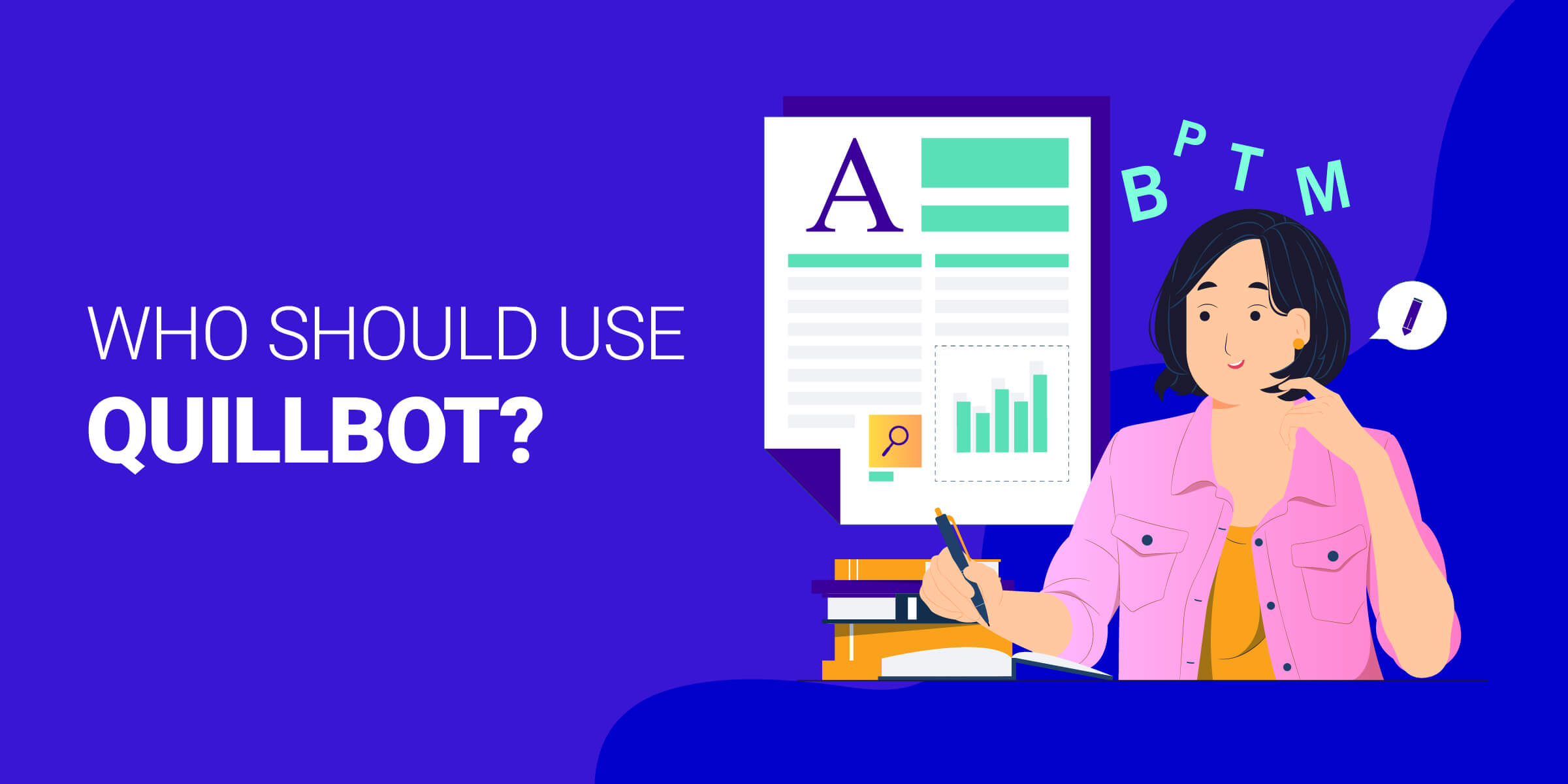 QuillBot can be used by anyone, from students to bloggers, who need to create high-quality content.
Basically, anyone who wants to improve the quality of their writing, save time, and avoid plagiarism may find QuillBot to be a useful tool.
The group I could see it most helpful for is going to be students. QuillBot offers a ton of student-friendly tools, from the plagiarism checker to the summarizer and the Co-Writer. I could see students using the summarizer to create annotated bibliographies and then using the citation generator to pair with those summaries.
The Co-Writer feature works well for a one-stop text editor option. Having the research feature keeps you from having to toggle between windows and automatically includes in-text citations to save students from plagiarizing unexpectedly. This setup could help reduce distractions while writing.
For bloggers who are less academic, the Co-Writer isn't as user-friendly as other AI writing tools on the market. Where QuillBot could work well is when you need to rewrite an AI-detectable paragraph, but the rewrites were still detectable at times. Beating the AI detector was hit or miss.
QuillBot Review
Overall, QuillBot looks like it would work best for students or academics. The distraction-free text editor, research functionality, citations, summarizing, and paraphrasing capabilities all point to QuillBot's working really well for students or academics who need to write papers or create annotated bibliographies.
Each template-like feature was extremely easy to use. The only one that took me a bit of time was Co-Writer, but once I understood that it's built to assist you in writing, and not for actual article creation, I got the hang of using the feature.
As far as using QuillBot for content marketing, using the paraphrasing tool is easy and quick. I can definitely see using this tool to spruce up paragraphs. In fact, most of my tests for the paraphrasing feature were to make AI-written material sound more human.
QuillbBot helped about half the time. Be aware that just as many QuillBot rewrites failed to pass AI detectors as passed them. For me, I would rather have a bit more consistency with rewrites. For a more robust tool, consider Undetectable.Ai (review).
Using the Co-Writer as a blog writer is not as efficient as using tools like Copy.ai or even Jasper. I can see using it if your articles require in-text citations rather than links, but you still need to do most of the heavy lifting when it comes to writing.
QuillBot Pros
The paraphrasing tool is quick and easy to use.
The paraphrasing tool offers several different modes to suit your needs.
It can save time having to rewrite sections of articles or texts.
QuillBot lets you take notes on articles listed in the research section.
Creating citations for sources is a breeze, whether you need MLA, APA, or others.
It offers Chrome and Word extensions for its grammar checker.
QuillBot offers grammar and plagiarism checking.
You get to run 20 pages through the plagiarism scanner per month (with the Premium plan).
QuillBot Cons
The output doesn't always pass AI detection tools.
Co-Writer won't generate an article for you very easily.
It wasn't made for digital marketers.
Is QuillBot Worth It?
Whether or not QuillBot is worth it depends on which hat I'm wearing.
As a blog writer, I would not purchase this product. But as a professor recommending tools to my students, I would have no reservations about suggesting that they use QuillBot.
If not QuillBot, check out our list of the best AI rewriters here.
QuillBot Pricing
There are two plans when it comes to QuillBot:
Free: Limited functionality, 125-word limit, two tones
Premium – $19.95 Monthly/$79.95 Every 6 Months/$99.95 Every Year: Unlimited words, access to more tones, plagiarism checker
How Does QuillBot Compare?
QuillBot has a slightly different niche compared to tools like Jasper [review] or Copy.ai [review]. In my opinion, it was built for students and academics rather than content marketers. And it won't help you scale up your article production like Content at Scale [review] can. So, the comparison isn't exactly 1 to 1. We did prefer Originality's plagiarism checker over QuillBot's. If you want to learn more, check out our review on Originality.
It will work if you need paragraphs rewritten, but passing AI detectors was hit or miss. Generally speaking, I haven't had that much of an issue with Jasper or Copy.ai's content passing.
So again, I think it is definitely more robust than other AI writing tools when used for academic writing. However, it is not as functional for blog writers and digital marketers.
FAQs
Is QuillBot worth it?
It could definitely be worth it for students and academics, but digital marketers can find more robust AI writers.
Does QuillBot have a free trial or plan?
Yes, QuillBot has a free plan with limited functionality.
Does QuillBot output pass AI detection?
It passed AI detection only about half the time using our favorite AI detection tool from Content at Scale.