Undetectable.ai gives you the power of the best free AI detectors in one place and then lets you rewrite the content to beat those detectors.
As an editor, writer, and AI aficionado, I know just what to look for in AI-related products. And right off the bat, I can say that if you're not already using a rewriter, Undetectable.ai is a great option.
So, let's take a look at the ins and outs of Undetectable.ai in my honest review.
All-In-One: Detector & Rewriter
Undetectable.ai is a cool new tool that detects AI for free and has paid options for AI paraphrasing and writing. We tried it for ourselves and found it to be pretty good at all that it does.
Collects results from 8 different AI checkers and identifies AI very quickly
Great customizability voice options for readability and tone (we liked the University one the best)
Very human-like output
Advertising Disclosure
Advertising Disclosure
We offer this website completely free to our visitors. To help pay the bills, we'll often (but not always) set up affiliate relationships with the top providers after selecting our favorites. However, we do our best not to let this impact our choices. There are plenty of high-paying companies we've turned down because we didn't like their product.
An added benefit of our relationships is that we always try to negotiate exclusive discounts for our visitors.
Undetectable.AI Video Walkthrough & Review
What Is Undetectable.AI?
Undetectable.ai gives you the unique combo of AI detector and rewriter. This means you don't have to test a piece of text in an AI detector and then move it to a rewriter or paraphraser to fix it or even take the time to rewrite it yourself.
With Undetectable.ai, you just plop in your text, run the detection tool, and then humanize it all (if it needs it) with the click of a couple of buttons.
Who Should Use It?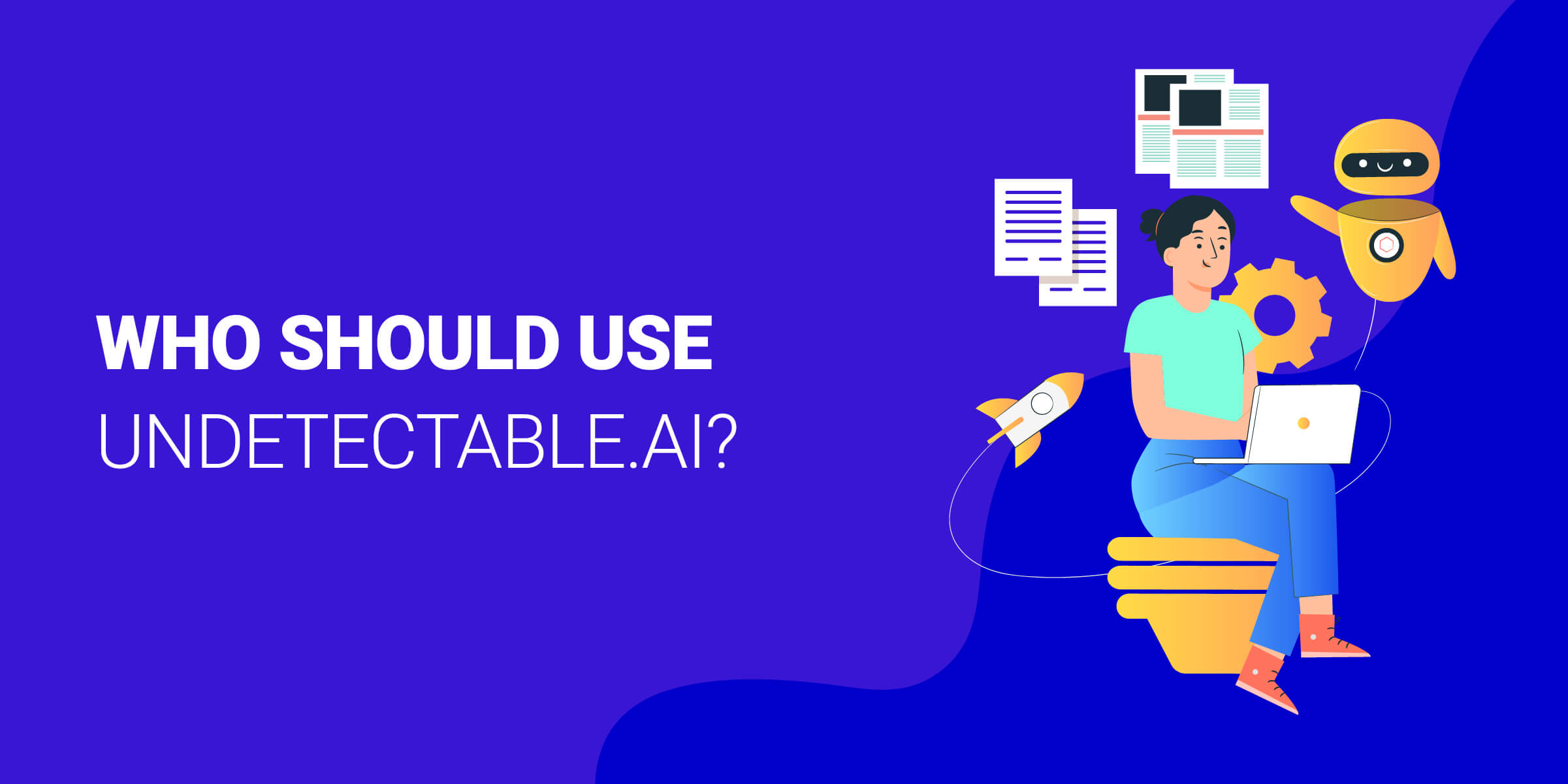 If you're using AI-generated content and want to continue to rank, you're going to want a reliable and robust detector and a detection-beating AI rewriter like Undetectable.ai.
Undetectable.ai can handle detecting an entire blog post; however, where it really shines is in shorter content (around the size of a paragraph or a blog post section).
I can definitely see implementing this software to detect AI in smaller-sized content, then humanizing it, and then integrating the rewritten text back into the larger article.
However, if you use platforms like Copy.ai [review] to create both long- and short-form content, they usually offer a rewriting service. So, you may not want to pay for overlapping services. Though, if you use services that only produce long-form content (like Content at Scale), Undetectable.ai would work well for you.
If you want to use it on larger texts, just be aware that the text editor strips headings and formatting. This means you'll have to add those back in if you wholesale rewrite. Doing the work in smaller chunks will save you that headache.
Our Testing Process for Undetectable.AI
To test out the capabilities of Undetectable.ai, I used several different articles to choose from.
Two sections from a Copy.ai article. Created November 2022.
Two sections from a Content at Scale article. Created February 2023.
A human-AI hybrid article (heavier on the human side). Written 2023.
A human-written article. Written 2021.
I included the dates the pieces were written or created because I wanted to give you an idea of how it would detect older and newer versions of AI-written text.
I also compared Undetectable.ai's AI detection skills with my standard AI detector from Content at Scale.
The tests I ran on the rewriter or humanizer were only on the sections from the Copy.ai article. Here are the iterations I did for the test sections.
Readability: University  Purpose: Article
Readability: Journalist   Purpose: Story
Readability: Doctorate  Purpose: Essay
AI Detection Results
Overall, Undetectable.ai detected the AI-generated text without fail. Both AI-generated texts showed red or yellow (meaning 50% or less human).
The hybrid article naturally had mixed results. But I noticed that the results that Content at Scale showed through Undetectable.ai were coming back at "not human." I was suspicious because I run my hybrid articles through Content at Scale's AI tool regularly throughout the writing process. When I checked with the Content at Scale's tool, it actually gave me a 98% human result. This is in complete opposition to what Undetectable.ai told me Content at Scale says.
The human-written article was written before I even knew about AI writers. Undetectable.ai had a mixed review with, again, a few tools returning AI results. Again, I ran it through Content at Scale, and it returned as 98% human again.
Humanzing Results
The output returned in less than 30 seconds, and I was pleased with the voice for most of the iterations I did. Stylistically, it used fragments appropriately, which was a nice surprise. It definitely reads as more human to my eyes. Also, it passed the AI detection test from Content at Scale's website.
I noticed a number of issues like missing spaces between words, words without the appropriate apostrophes (items in the original text), or incorrectly combined and misspelled words (e.g., "dogsre" instead of "dogs are"). These can all be fixed with an initial pass through a grammar checker, but it makes the text look messier than necessary.
However, you should be passing your text through a grammar checker anyhow, so these get caught and fixed easily.
Undetectable.AI Review – Our Thoughts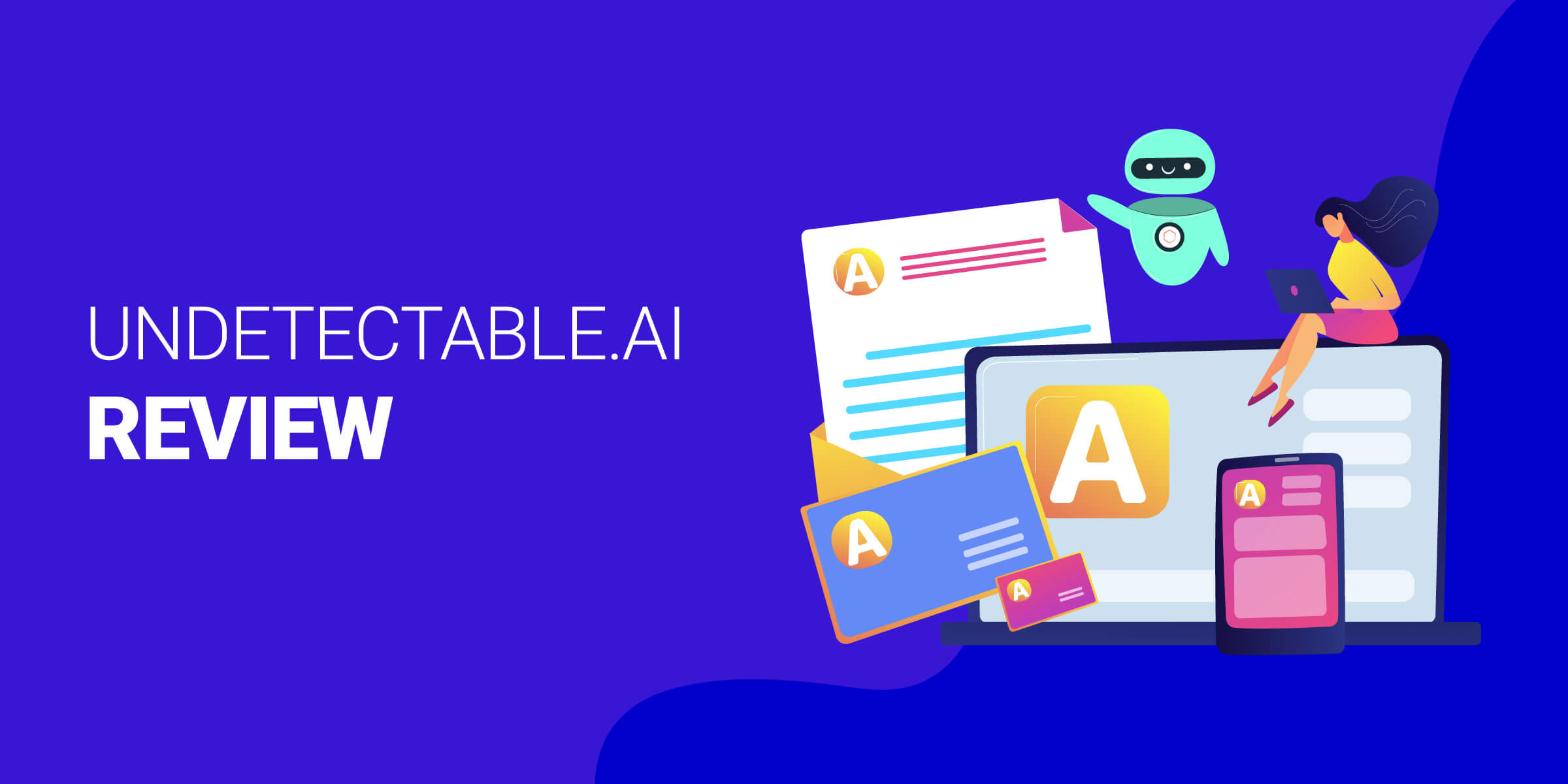 Before we dive into the Pros and Cons, let me say that overall, I definitely see how Undetectable has gained such a notable following from folks at BuzzFeed, Business Insider, NBC, and more.
Having a rewriter and AI detector in one is such a no-brainer. And Undetectable.ai gets the job done.
Some of my favorite things about the platform are its pricing structure, the no-frills interface, and its time-saving potential.
I'm not a huge fan of pricing plans that restrict you on the type of services you get the more you pay. I love to find a company that offers its best to all its customers, no matter how big their budget is. That's what Undetectable does. Everyone gets the same great service. You just determine how many credits you need.
The interface is so stripped down and easy to use that you don't really need prior training. Compared to places like Jasper or ChatGPT, you don't need to know how to feed the AI the right prompts to get the right response with Undetectable.ai. It's literally just a matter of copying and pasting your text into the text editor and pushing buttons. So simple!
I'm constantly looking for tools to help me be more efficient. Undetectable.ai definitely fits that bill. I don't have to figure out which free AI detector is the best or compromise about which one I will use. Undetectable.ai puts all the best free AI detectors on the market in one place. Then it helps me save more time by having to rewrite or humanize a text by hand.
Now there are some definite cons, but let me say from the start that most of my cons are me being picky. They can definitely be worked around.
For example, the text editor is not as robust as other AI rewriters I've used. Frankly, it strips away any formatting. So, if I put in a blog post as-is, all my headings and formatting will disappear.
However, I'd just work around that by bringing in a blog section or paragraph (anything that doesn't have tons of formatting) to detect AI and then humanize it if needed. It's more cost-effective to do it this way. Then I'd plop it back into the blog.
In fairness, if the AI I used to create the blog is spitting out that much detectable content, I should probably check into getting a stronger AI for long-form content anyway.
Again, Undetectable.ai is really best for snippets of content, not humanizing an entire article.
Let's dive into our Pros and Cons.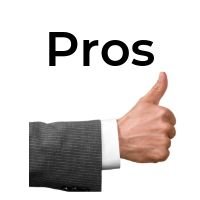 Pros: Here's What I Like About Undetectable.AI
8-in-1 AI detector. You don't have to worry about which AI detector is best to use here or flipping between websites of multiple detectors. Undetectable.ai houses the 8 best free AI detectors in one place and gives you the results you need.
Quick and good output. When humanizing (rewriting) a text, I was pleasantly surprised that the output came so quickly and that it was definitely more "human" than the original input. It passed the free AI detectors I used for testing.
Customizable rewriting tool. Undetectable.ai's ability to change the Readability and the Purpose of text is really helpful for nailing an article's voice. That means less editing on my end.
Combining AI detection and rewriting. You ever look at a product and think, "Why didn't that come out sooner?" That's how I feel about Undetectable.ai. It is so nice to have a one-stop shop. Normally, I use Content at Scale's AI detector and then pinpoint where I need to complete editorial surgery. After that, I have to rewrite the text by hand or put it in another program to rewrite it for me. Housing these two services together just makes so much sense.
Simple, no-frills interface. There's pretty much no learning curve to using Undetectable.ai. The biggest skills you need are copy-n-paste and clicking a button. So, it's extremely easy for anyone to integrate into their current workflow.
Affordable pricing. You can be on a shoestring budget and still get the same great features as those who need a ton of content humanized.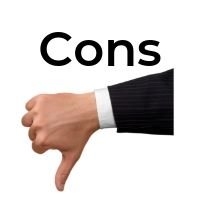 Cons: Here's What I Don't Like About Undetectable.AI
Output needs editing. While the output is definitely more human than the input, I still needed edit the text in ways that I wouldn't have to with other rewriting software. It made simple errors like combining words and also missing letters from inappropriately combined words. In short, the output was a little messy even if the word choice and tone were good.
Text editor. I've mentioned this before, but the text editor needs a major overhaul. It doesn't retain formatting. Other rewriting software like Quillbot and Copy.ai (among others) have a far more robust text editor.
AI detector display. Let me be honest here: I might be spoiled with Content at Scale's AI detector's interface. I love seeing exactly which area of the text is being flagged as AI-written. Having a feature like this (where the AI-flagged text is highlighted) helps me pinpoint my edits and rewrites more efficiently. Undetectable.ai's detector doesn't have this feature, which is unfortunate since humanizing is what costs credits.
Is Undetectable.AI Worth It?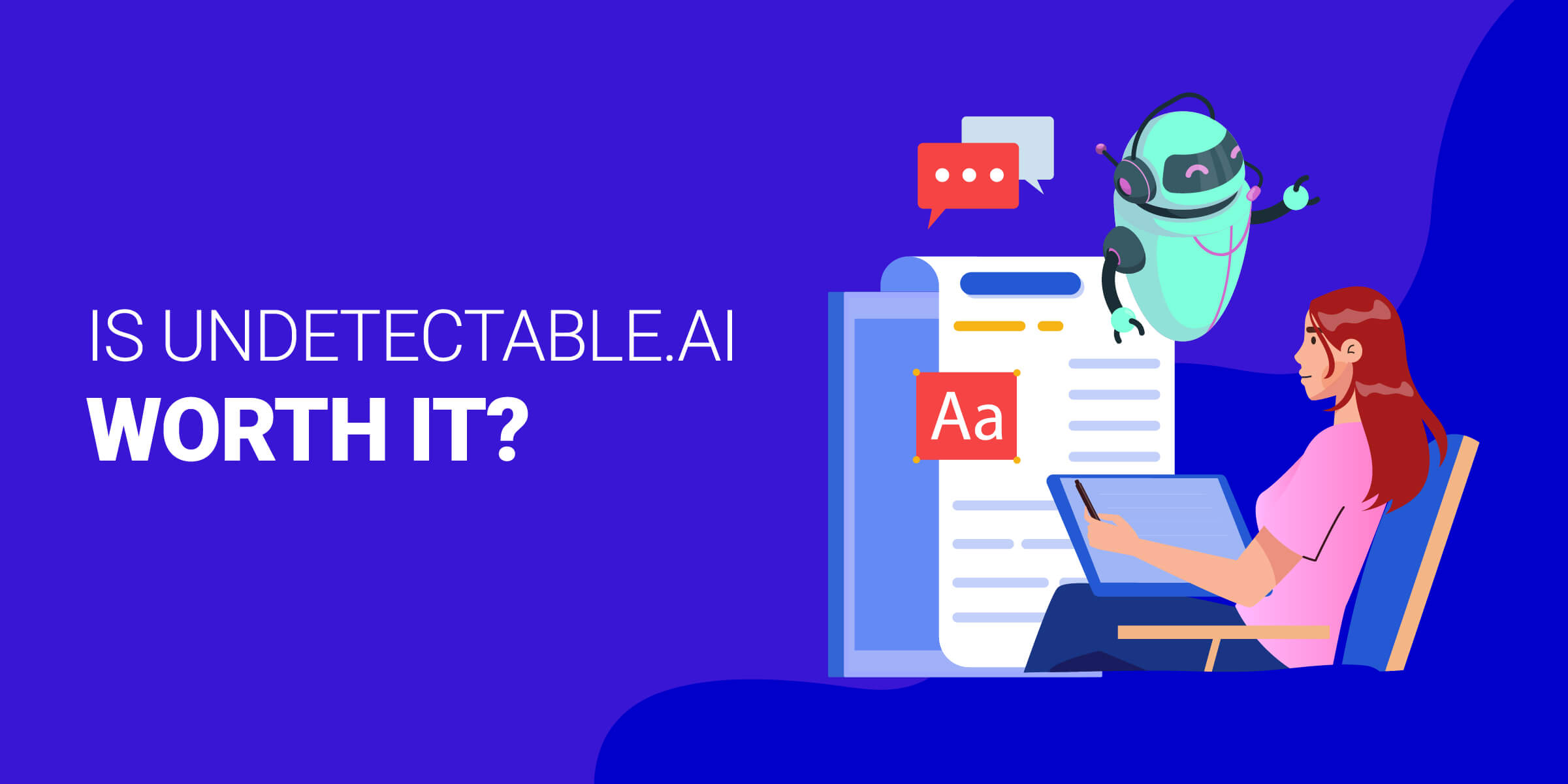 For those who have a long-form content producer like Content at Scale, Undetectable.ai is worth it. It's priced for any budget with plans as low as $9.99 a month for 10,000 words. They can even accommodate larger companies that might need bulk credits.
All-In-One: Detector & Rewriter
Undetectable.ai is a cool new tool that detects AI for free and has paid options for AI paraphrasing and writing. We tried it for ourselves and found it to be pretty good at all that it does.
Collects results from 8 different AI checkers and identifies AI very quickly
Great customizability voice options for readability and tone (we liked the University one the best)
Very human-like output
Undetectable.AI Overview – How Does It Work?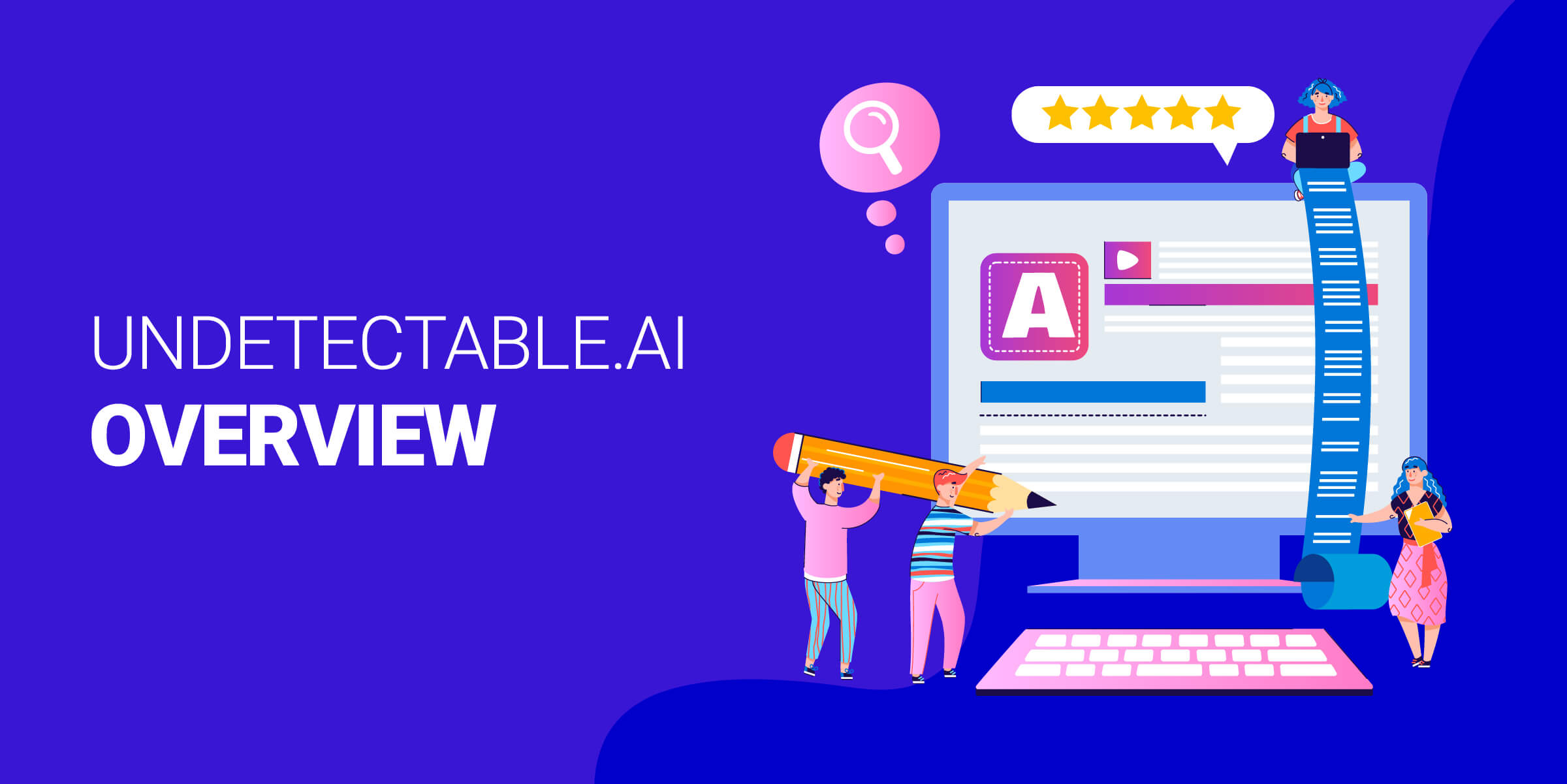 Let's break down how each of Undetectable.ai's components work.
AI Detection With Undetectable.ai
Undetectable.ai detects AI by combining the strengths of the 8 best free AI detectors on the market. Naturally, this means that Originality.ai (review), a paid service, and leader in the field, is not included in that group. Undetectable.ai combines GPTZero, OpenAI, Writer, CrossPlag, CopyLeaks, Sapling, Content at Scale, and ZeroGPT.
You paste your text into the text editor area and click on "Check for AI." The results will populate below. It doesn't give you a score, but it color-codes how much each AI is detected by each detector. So, green means 100% human, yellow means 50% human, and red means 0% human. As you can see in the walkthrough video, each AI detector tends to provide different results. You have the potential to get your text in the green zone across multiple platforms without having to go to each individual platform.
Humanizing Content With Undetectable.ai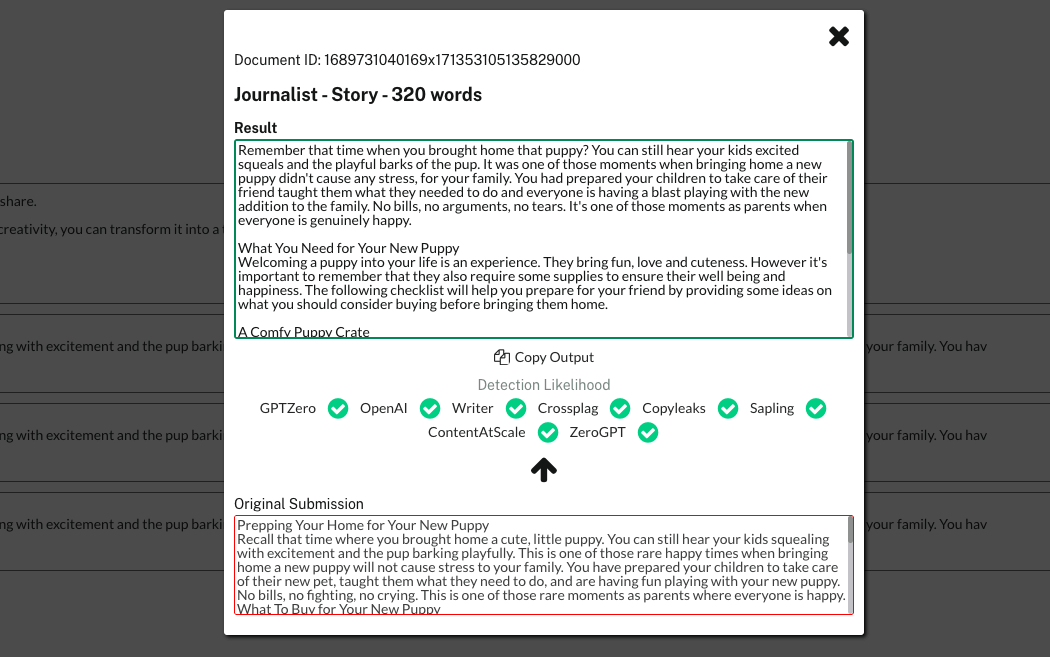 Once you've run the detector side, you can humanize (rewrite) the text. This is when you actually start using your credits.
I would take the time to try out the customization options to figure out which Readability and Purpose combo will give you the best tone and voice to match your brand and standards.
Doing this first will help you keep that tone and voice the same for all your team members to use. There won't be any guesswork.
Now, let's say you're not quite pleased with the output and want it to try again. You do have to click "Reset" each time you want it to rerun.
How Does It Compare?
To Other Detectors
Given that Undetectable.ai combines the power of 8 AI detectors, it's pretty robust. Again, it gives you a score based on those AI detectors, not its own score. I currently use Content at Scale and would welcome the chance to have another 8 in my back pocket instead of just one. I would feel pretty confident in my content if 6 out of 8 gave me the green light.
Compared to Originality.ai, Undetectable.ai does fall short. But this paid service is hard to fool.
To Other Rewriters
As I mentioned before, the text editor is quite plain and needs to be updated to be more in line with other rewriters like Quillbot or Copy.ai. I have no doubt an update is in the works.
Again, the lack of format retention is something that can be worked around.
The output is on par with what others offer. It did sound far more human than the input. When I ran it through the freestanding AI detectors, it returned as being more human than AI; however, when others sent it through Originality.ai, the output got around a 50% AI score.
Integrating Undetectable.AI Into Your Workflow
If you are using a long-form content product like Content at Scale, integrating Undetectable.ai into your workflow should feel pretty seamless. You would simply substitute your current AI detector and rewriter (if you're using one) for Undetectable.ai. You don't have to have multiple accounts or subscriptions to deal with. Just one easy place to house your detection and rewriting needs.
As I mentioned before, if you're using a product like Copy.ai or QuillBot, those already integrate a rewriter, so switching to Undetectable.ai wouldn't make sense in that case. Unless, of course, you just love having all 8 free AI detectors in one place.
Undetectable.AI Pricing
Undetectable.ai's pricing hinges on how many words you humanize. Again, I love that everyone, no matter their budget, gets the same service. You just tailor the plan to how many words/credits you need.
If you want to try it out on a monthly basis, you can get 10,000 words for $9.99. If you love it, the lowest yearly plan is currently 50% off, dropping it to just $60 for the year at 10,000 credits per month. Phenomenal deal!
Undetectable.AI Alternatives
Let's take a look at two alternatives to Undetectable.ai. Now, there aren't any products that currently offer both rewriting AND AI detection, so we picked our two favorites in the detection and rewriting categories.
Content at Scale (AI Detector)
I use Content at Scale's AI detector almost on a daily basis, so I'm very used to its interface and output. What I like most as an editor is that it highlights any problem areas so that I don't waste my time editing areas that don't need editing. It's a total timesaver.
If Undetectable.ai incorporated this feature in an update, it would be a total game-changer.
QuillBot (Rewriter)
QuillBot is one of the best rewriters around. The text editor is intuitive, and I love that I can click on a word, and it will offer me synonyms so that I can drill in and find just the right word. Also, the pricing plans are simple: Free or Premium.
All-In-One: Detector & Rewriter
Undetectable.ai is a cool new tool that detects AI for free and has paid options for AI paraphrasing and writing. We tried it for ourselves and found it to be pretty good at all that it does.
Collects results from 8 different AI checkers and identifies AI very quickly
Great customizability voice options for readability and tone (we liked the University one the best)
Very human-like output
Frequently Asked Questions
Does Undetectable.ai have a free trial?
No, Undetectable.ai does not have a free trial; however, they do have a money-back guarantee for anything that Undetectable.ai produces and returns as being written by AI.
Does Undetectable.ai detect GPT-3?
Yes, Undetectable.ai detects GPT-3.
How accurate is Undetectable.ai?
Undetectable.ai is fairly accurate when rewriting content to pass AI detection. The AI detector compiles 8 free detectors into one spot. Overall, it provides a good picture of whether or not your text passes AI detection. However, when I took a piece of text into an individual detector's website, I received the opposite result of what Undetectable.ai gave me.
What is Undetectable.ai best for?
Undetectable.ai is best for checking whether or not a text is AI-detectable and then rewriting it so that it passes detection. I think it works best for paragraph-length texts.