I'll be honest, math just isn't my favorite thing in the world. Luckily, not all people are as number-averse as I am.
If you're a non-math business owner looking for a math enthusiast to handle accounting and bookkeeping (what's the difference?), check out this list of freelance sites to get connected with the accountant of your dreams.
---
Get $50 Off
Get $50 Off if you mention DDIY when signing up
I'm a control freak and afraid to trust anyone with my financials. The exception is Colson Strategies who has become a dependable partner. They really know their stuff and are super-friendly. 
Outsourced Bookkeepers, CFOs, and Controllers
Get expert advice for better financial decisions
100% women-owned business
Advertising Disclosure
Advertising Disclosure
We offer this website completely free to our visitors. To help pay the bills, we'll often (but not always) set up affiliate relationships with the top providers after selecting our favorites. However, we do our best not to let this impact our choices. There are plenty of high-paying companies we've turned down because we didn't like their product.
An added benefit of our relationships is that we always try to negotiate exclusive discounts for our visitors.
12 Best Freelance Websites for Accounting & Bookkeeping
Here are our picks for the best freelance websites to turn to when you need someone to stay on top of all of that tax and money stuff.
Best overall + great for bookkeeping, fractional CFO's, and Controllers 
Get $50 OFF
Get $50 Off if you mention DDIY when signing up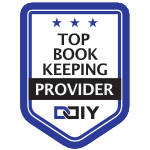 Offering everything from bookkeeping to CFO support, Colson Strategies is a great choice for small-to-medium-sized businesses.
Not only do they offer to do these services for you, but they also have programs dedicated to helping businesses learn the basics of bookkeeping themselves.
They equip clients with the tools necessary to keep up with where the money in your business is going. This includes personalized sessions to get businesses set up for success on Quickbooks, one of the most popular bookkeeping tools out there.
Colson Strategies even provides a free bookkeeping checklist for any business owner to track expenses and manage money better on their own. They're even offering a bookkeeping business course soon.
Editor's Note: We use Colson Strategies ourselves and the personal level of service and support is outstanding.
Good for tax, CPA's, and accountants
Learn More
Accountingfly is a great site that focuses entirely on providing businesses with the specific accountants that businesses need.
By using their four-step process that includes assessment, sourcing & screening, interviews & selection, and onboarding advisory, they can accurately match your company with a top accountant that can meet your business's specific needs.
You can easily set up a video interview with their company on your own terms, letting them get a feel for your company culture and what kind of accounting needs you have. From there, they can take as little as two days to search their database and get you and your perfect accountant connected and working together.
Wide variety of freelancers
Learn More
Upwork is one of the most popular freelancing sites for accountants and bookkeepers, so you're bound to find one that's right for you.
Upwork lets you view each candidate's profile and overall rate, which makes checking each freelancer's qualifications much more efficient. You have the power to reach out to a freelancer of your choice, and communicating over the browser and mobile app is very intuitive.
You start by posting a job with all of your desired specifications in the description. Upwork then analyzes your needs and sorts through its thousands of freelancers to select the right fit, providing you with a shortlist of Upwork's best candidates for you to choose from.
Freelancers can either be paid by the hour or per project. Accountants can connect with you for recurring work with a specific client, or even full-time contract work. This means you'll be able to find accountants for a variety of different projects at varying tenures.
Learn More
With a quick, comprehensive list of each freelancer's past job titles, it's easy to pick an accounting or bookkeeping freelancer on Kolabtree.
You can also see the freelancer's previous employers right off the bat, so you can see how good their employment record is.
This freelancing site has arguably the most comprehensive list of each freelancer's credentials easily accessible from the homepage so that you don't have to spend endless time scrolling through and clicking each profile trying to search for an accountant's credentials.
Best for talented CFO's (Chief Finance Officers)
Learn More
If you're looking for the best bookkeepers and accountants on the market, Toptal is the place to find them. The site proclaims to house the "top 3%" of accounting and bookkeeping talent, hence the name.
They're known for their rigorous screening process when selecting accountants with various skill reviews and test screenings, narrowing their candidates to the top 3% of all qualified developers. This means if you choose to go with Toptal, you'll be getting the best of the best.
Toptal works with each client personally and connects them with the right candidate or team of candidates based on the specific needs of that company.
Toptal also has a job board that lets you search and contact candidates based on their expertise if you decide to take matters into your own hands.
Best for budget-friendly accountants and bookkeepers
Learn More
With over a thousand dedicated accountants and bookkeepers using the site to find work, Fiverr is one of the best platforms to connect with accounting professionals. Fiverr's name comes from the original price for all services being just $5, which makes it clear why it's our pick for a budget-friendly site.
Clients look through the site's long list of accountants and bookkeepers by using its robust filter tools to find the right fit. You can filter accountants based on their specialty and what markets they have experience in, making it perfect to find the right bookkeeper for the job.
You can contact an accountant by selecting their profile and reaching out to them directly if you think you've found a good fit. Once the terms for a project have been finalized, you will pay your accountant upfront and can develop a long-term working relationship with them.
Learn More
UpStack actively seeks out the best accountants and bookkeepers in the world to feature on their site and get them connected to your business.
They deploy an 8-point hiring process to ensure their site users have access to the best candidates with not only top-notch accounting tech development skills but also vet them to make sure that their accountants have great communication skills and personalities that mesh with your team.
They've worked for big-name brands like Microsoft and Lego, but don't let that intimidate you. UpStack has a diverse talent pool that's highly scalable depending on the size and scope of your business.
Learn More
Guru is a freelancing site that houses job listings for anything from programming and development work to administrative and secretarial duties, and yes, that includes accounting and bookkeeping. There are over 72,449 freelancers capable of performing accounting duties that can either be paid for contract work or long-term positions depending on the needs of your business.
Clients can browse through Guru's freelancer list by first selecting "Accountants" as their main category. The site lists both individual freelance accountants and agencies. There are dozens of subcategories to choose from, allowing users to focus their search based on specific development needs.
If you find a freelancer you like, you can contact them and come to an agreement on your own, If you're not interested in searching yourself, you can post a job on Guru's job board and wait for developers to reach out to you.
Once you're paired with an accounting freelancer, Guru provides dedicated "WorkRooms" that you can use to collaborate with your accountant and make sure you stay on the same page.
Learn More
With a large variety of accounting talent across the world, Truelancer is another fantastic pick for finding a freelancing accountant.
You can easily see a list of top accounting freelancers with their qualifications, any relevant degrees or certifications, location, and rates. They also list their specialties so that you can find an accountant that specializes in tax accounting and audits or management accounting.
Each profile features a short intro written by the freelancer that allows you to get a feel for who they are as a person and whether or not their personality could be a good fit for your team.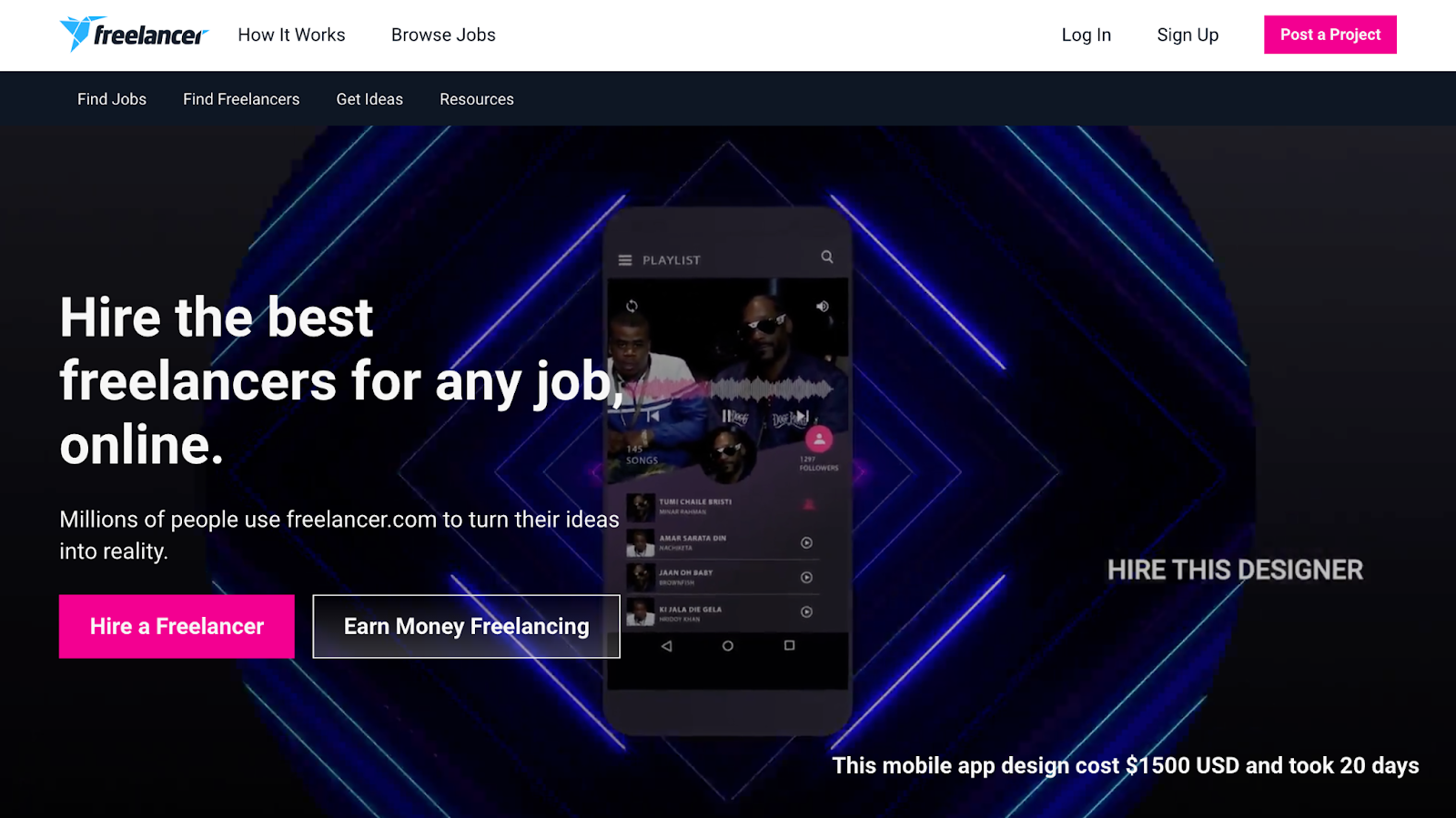 Learn More
One of the toughest things about hiring a freelancer is setting up a payment system. With that in mind, Freelancer has a secure payment system that allows you to rest easy about where your money is going.
We like this site for accountants because it allows you to post a job with your budget and negotiate bids or browse profiles of accountants to find the perfect one for you.
This site also has the most freelancers when it comes to sheer numbers. The site boasts the profiles of over 50 million freelancers– more than Upwork or Fiverr.
They also have convenient features like a time tracker and a mobile app so that you can check on the progress of your accountant in real-time, whether you have access to your computer or not.
Learn More
With one of the lowest fees in the industry, Project4Hire is a great option for both freelance accountants and businesses looking to hire them.
From the business side of things, you can browse the profiles of individuals and agencies, using filters to narrow down your search based on your budget and needs.
You can also see previous reviews with star ratings on each freelance accountant to check out what previous clients of that freelancer had to say about them and what kind of track record they have.
Learn More
It's 2022, and most of the accountant freelancers you're looking for are going to be interested in working remotely.
Flexjobs for employers is a great way to set up an account and create job postings on a site that many of your prospective accounting freelancers are using to find their next gig.
Many of these accountants are looking for more long-term work, which is helpful to you since most of the time you will need an accountant on your staff long-term.
Flexjobs is a great place for both employers and jobseekers to make sure that both parties are vetted and trustworthy before working with each other.
Best Freelance Websites by Category
Looking for more of the best freelance websites but need to browse by category? Check out our below freelance website reviews to either expand your portfolio or hire a freelancer for your next project.
Where Can I Find Freelance Accounting Services & Bookkeeping Experts?
There are plenty of sites dedicated to connecting businesses of all sizes to freelance accounting and bookkeeping experts of all skills and abilities.
For smaller businesses who are on tighter budgets and want to experiment with hiring an accountant, we recommend larger sites like Upwork and Fiverr for their variety of talent and ability to work with all budgets.
For larger companies who have more specific needs when it comes to bookkeeping, we recommend a more exclusive and selective site like Toptal or UpStack.
What Do Freelance Accountants and Bookkeepers Do?
Freelance accountants handle a wide variety of daily financial activities and bookkeeping tasks associated with running a business.
A few of these regular activities include things like account reconciliations, assistance posting daily transactions, managing various bill payments, providing reports of spending and incoming money, and advising on business growth from a financial standpoint.
Since we are talking about freelance accountants, this position would differ from an in-house accountant because they would be working on a contract basis for a varying amount of time depending on how long you want them. Of course, you could always hire a freelance accountant for a more permanent position.
Is Hiring a Freelance Accounting Service or Bookkeeper Worth It?
The question of whether or not an accountant or bookkeeping freelancer is worth it depends entirely on your business and your abilities.
If you have a business in an industry like eCommerce and you're struggling to figure out how much money is coming in versus how much is being spent, a freelance accountant could be a great option to allow you to focus more on what you're passionate about.
Freelance bookkeepers and accountants are an affordable, stress-free way to make balancing things like payroll and inventory costs easier. They can also handle everything necessary to make tax season a breeze.
How Much Does a Freelance Accountant or Bookkeeper Charge?
How much a freelance accountant or bookkeeper charges depends on the amount of experience they have and the amount of work that you expect them to do.
On Upwork, a freelance accountant will typically charge from $12-$32 per hour.
How to Hire a Freelance Accountant or Bookkeeper
To hire a freelance accountant or bookkeeper, first decide how much you can carve out of your budget to spend on one, keeping in mind that you will get what you pay for.
Once you have that number in mind, begin your search. If you need a little more wiggle room or only want to hire someone for a short-term project, look to a site like Upwork or Fiverr. If you have a larger budget and want a senior-level accountant to handle more tasks for a longer period, try Toptal or UpStack.
Depending on what platform you use, it's easy to draw up terms for a contract that you and your freelance bookkeeper agree on.
From there, enjoy having one less thing on your plate by delegating finance-related tasks to a freelance professional.
FAQs
Can you freelance as an accountant?
Yes, you can freelance as an accountant, and many prefer the freedom that comes with this.
When should I hire a freelance accountant?
It's best to hire a freelance accountant right from the beginning of your business, but you can also wait until you have the money in your budget to delegate these tasks to an outside source.
Where is the best place to find a freelance accountant for a small business?
The best place for small businesses to find a freelance accountant is Colson Strategies or Fiverr.
How do I start freelance accounting and bookkeeping?
First, ensure you have the necessary qualifications and skills, typically a degree in accounting or finance and familiarity with accounting software.
Next, identify your target market. Small businesses, startups, and sole proprietors often require accounting and bookkeeping services but may not have the resources to hire full-time staff.
One of the most crucial steps is to create an online presence. This could be a professional website showcasing your services, qualifications, and testimonials from previous clients. Along with your own website, take advantage of websites for bookkeepers and freelancers such as Upwork, Fiverr, and Freelancer.
Finally, consider offering a free initial consultation. This can give potential clients a sense of your skills and how you can help their business. It's also an opportunity for you to understand their needs and offer tailored solutions.