Business-to-business marketing is a vital pillar in today's ever-evolving business landscape. A well-structured team can steer a company towards success.
Understanding how to structure such a team is essential. Diverse roles, clear objectives, and effective coordination are key elements. We've learned this firsthand while growing our own marketing agency, GrantSpark.
But first, let's talk about the B2B Marketing department structures you have to choose from.
Structuring B2B Marketing Department
There are two main types of department structures based on company size and resources.
B2B Marketing department structure by discipline

Org Type: Traditional corporate departments
Best For: Midsize/Enterprise companies

B2B Marketing department structure by function

Org Type: Employees are grouped by activities and objectives
Best For: Small to Medium Sized Business (SMB)
Let's go in-depth to each one of them.
1. B2B Marketing Department Structure by Discipline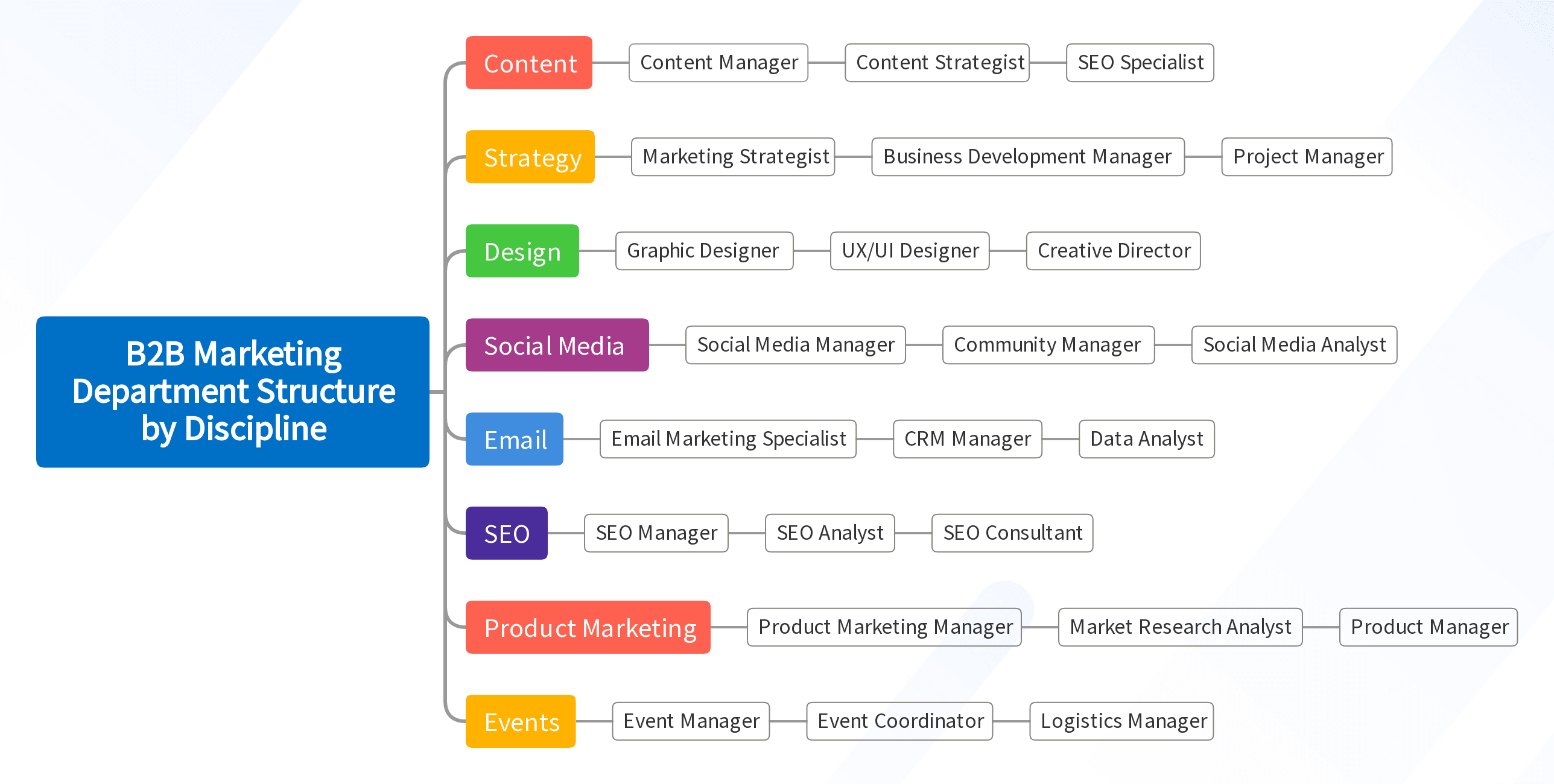 Discipline-based structure involves building teams centered around various marketing disciplines. For example, SEO, Content, Market Research, and Product Strategy could each form separate teams within a department.
| Discipline | Key Skills | Potential Roles |
| --- | --- | --- |
| Content | Content Creation, SEO, Copywriting, Storytelling, Content Strategy | Content Manager, Content Strategist, SEO Specialist |
| Strategy | Market Research, Business Strategy, Project Management, Data Analysis, Communication | Marketing Strategist, Business Development Manager, Project Manager |
| Design | Graphic Design, UX/UI, Branding, Creativity, Adobe Suite | Graphic Designer, UX/UI Designer, Creative Director |
| Social Media | Social Media Marketing, Content Planning, Community Management, Analytics, Crisis Management | Social Media Manager, Community Manager, Social Media Analyst |
| Email | Email Marketing, Copywriting, CRM, Data Analysis, A/B Testing | Email Marketing Specialist, CRM Manager, Data Analyst |
| SEO | Keyword Research, SEO Tools, Content Optimization, Link Building, Analytics | SEO Manager, SEO Analyst, SEO Consultant |
| Product Marketing | Product Knowledge, Market Research, Positioning, Competitive Analysis, Cross-functional Collaboration | Product Marketing Manager, Market Research Analyst, Product Manager |
| Events | Event Planning, Logistics, Vendor Management, Budgeting, Communication | Event Manager, Event Coordinator, Logistics Manager |
2. B2B Marketing Department Structure by Function
Another approach is structuring by function, where teams are formed based on the different functions they perform. For example, promotion, launches, and relationship management could all be separate teams.
| Function | Key Skills | Potential Roles |
| --- | --- | --- |
| Lead Generation | Prospecting, Sales Funnel Management, CRM, Data Analysis, Communication | Lead Generation Specialist, Business Development Representative |
| Public Relations | Media Relations, Press Release Writing, Crisis Management, Event Coordination, Communication | PR Manager, PR Specialist, Corporate Communications Manager |
| Account-Based Marketing | Target Account Identification, Personalization Strategies, Sales and Marketing Alignment, B2B Networking, Analytics | Account-Based Marketing Manager, Strategic Account Manager |
| Customer Marketing | Customer Retention, Cross-selling, Upselling, Customer Relationship Management, Communication | Customer Marketing Manager, Client Relations Manager |
| Partnership Marketing | Partnership Development, Co-marketing Strategies, Relationship Management, Contract Negotiation, Cross-functional Collaboration | Partnership Marketing Manager, Strategic Alliances Manager |
| Data & Analytics | Data Analysis, Marketing Analytics, Predictive Modeling, Data Visualization, Statistical Skills | Data Analyst, Marketing Data Scientist |
B2B Marketing Team Size versus Business Scale
To achieve successful marketing outcomes, you need to align the team size with your business's scale – a strategic approach that helps optimize resources and drive targeted growth.
| Business Scale | Ideal Department Size | Explanation |
| --- | --- | --- |
| Start-up | 1-3 | Limited resources and narrower scope of operations. |
| Small-Medium Business | 5-10 | Balancing operational demands with budgetary constraints. |
| Large Enterprise | 20+ | Higher complexity and larger scale of operations. |
Factors to Consider When Deciding On a B2B Marketing Department Structure
Business Goals: Understand the specific objectives of your business. This can include expanding into new markets, increasing brand awareness, or driving more sales. The structure of your B2B marketing team should align with these goals.
Team Expertise: Evaluate the skills and expertise of your current team. Your marketing department should include a diverse mix of specialists, such as content creators, data analysts, and digital marketers, depending on your specific needs.
Company Size: The size of your company plays a critical role in the structure of your marketing team. Smaller businesses may require a lean team with broader skill sets, while larger organizations may necessitate specialized roles.
Industry Dynamics: Consider the trends and shifts in your industry. A B2B marketing team in a rapidly changing industry might need to be more flexible and adaptable compared to a team in a more stable sector.
Budget Constraints: Understand your financial resources. This will determine the scale of your team, the tools you can afford, and the campaigns you can run. Always try to optimize your resources for maximum efficiency and effectiveness.
Explore other marketing departments:
So, there you have it, a detailed overview of a B2B Marketing team structure. From the essence of the team and key roles, to structuring and optimizing; every aspect tailored to achieve success on your business blueprint.