When your novel has gone through beta readers and developmental and substantive edits, it's time to start line editing.
Going through each line of your novel can feel pretty daunting. But not to worry.
As a writer and editor, I'm here to walk you through the process of doing your own line editing and finding a line editor that is right for your project.
Best for Basic Editing & Proofreading

---
Best for those who have a steady flow of new content
Great for cleaning up AI-generated content
Offers basic proofreading as well as developmental editing
Get back "clean" documents with edits already made, no need to approve or deny
Best for More In-Depth Editing

---
Offers single, one-off document editing
Also offers unlimited editing subscriptions
Editors will "humanize" AI-generated content
You can see all edits and recommendations for you to approve or deny, so you still have full control of the copy
What Is Line Editing?
Line editing is the step after substantive editing in the editorial process. It's more of a polishing stage.
Line editing is pretty much the same as copyediting. Both types of editing focus on the same areas: word choice, sentence structure, and grammar.
The only difference between the two is the length of the text. Copyediting is usually done for article-length texts, while line editing is more for novels.
How Long Does Line Editing Take?
The length of time that it takes to complete a line edit depends upon the length of the novel or text.
When you're doing line editing yourself, the timeframe depends on how much time you have to give the novel.
For professional line editors, you should expect about a month to have line editing complete.
What Kind of Writing Needs Line Editing?
Any type of novel-length text needs line editing. It is one of those areas that can't be ignored. It's the first time you're actively looking for grammatical mistakes in the editing process.
It's so important for your novel that I would suggest that you do a line editing pass and then hire a professional line editor to catch the mistakes you can no longer see.
When Should I Use Line Editing?
You should begin line editing only after you've completed your developmental and substantive edits.
As I've mentioned in previous posts, you don't want to waste time line editing a text that hasn't undergone both a developmental edit and a substantive edit. You'll inevitably have to delete scenes or entire sections that you just spent a ton of time line editing and will then have to take the time to fix those scenes or sections before you go back to line editing.
Going in order is just more efficient.
What Are the Roles of Line Editor?
The main functions of a line editor are improving grammar, sentence structure, word choice, and dialogue. It's a pretty tall order.
A line editor will need to be able to balance a writer's voice and vision with ways to improve the prose so that it flows and hooks the reader.
How Much Does Line Editing Cost?
A few factors go into pricing out line editing: editor's experience, genre, and novel length.
One place that I have gone to find reputable line editors is Reedsy. They vet editors pretty stringently. Most of the time, you can find editors working with the Big 5 publishers looking for freelance work.
Line editing typically costs just under $2,000 for a 75,000-word novel depending on the genre.
You can find editors who will work for less, of course. But those are typically less experienced.
It's also good to consider bundling line editing and proofreading with the same editor because it lowers the cost overall. According to Reedsy's cost calculator, you could bundle line editing and proofreading a 90,000-fantasy novel for $1,719. By contrast, it would cost $1,600 just for line editing and $1,117 for proofreading.
How to Hire a Line Editor
Hiring an editor for your novel is a must, especially if you plan on self-publishing. The market for traditional publishing is becoming so competitive that many writers are beginning to hire editors to give them an edge over the competition.
You can get away with using beta readers (usually other writers) for developmental and substantive edits, but you really need to hire a professional line editor.
Make sure to get a sample edit done so that you can make sure that their editing style fits with you and your project.
Let's take a look at what you need to find a good line editor.
What Qualities To Look For
When hiring a line editor, there are several qualities that you should look for, including:
Strong language and writing skills. It goes without saying that a good line editor should have excellent language and writing skills. They should be able to spot a grammar or spelling issue from a mile away.
Attention to detail. Line editors must have a keen eye for detail and be meticulous and thorough in their work.
Effective critic and communicator. Being able to provide constructive feedback and explain why certain edits are needed is a delicate balancing act. But a good line editor can communicate clearly and effectively with authors.
Knowledge of industry standards. A line editor should have a good understanding of the publishing industry and its standards. Most line editors specialize in specific genres and should know genre expectations and standards, so you'll want to ensure the editor you choose fits your genre.
Professionalism. A line editor should be reliable, responsive, and respectful in all their interactions. Naturally, you want someone who can meet your deadlines.
Experience. Finally, looking for a line editor with hands-on experience completing line edits for your novel's genre and length is important. Ideally, they should have testimonials from other writers they've worked with that talk about their experience and professionalism.
Potential Interview Questions To Ask
When hiring a line editor, here are some questions you may want to ask:
What is your editing process like?
What is your experience with [specific type of writing or genre]?
Can you provide examples of previous work you've edited?
What is your pricing and turnaround time?
How do you handle feedback and revisions?
What kind of communication can I expect from you during the editing process?
Can you provide references from previous clients?
Line Editing Certifications and Editing Associations
While there aren't any specific certifications for editing outside of academia, most editors will have an English or journalism degree.
Another way to find good editors is through editors' associations. There are several benefits for editors who are members of editors' associations: webinars, workshops, articles, and continuing education.
An editor who is part of an association is someone who is staying on top of industry standards, which is one of the factors you want in a good editor.
Here are some associations to check out:
These associations also have job boards where you can post your project proposal. Overall, associations are a great resource for finding editors.
Best Line Editing Services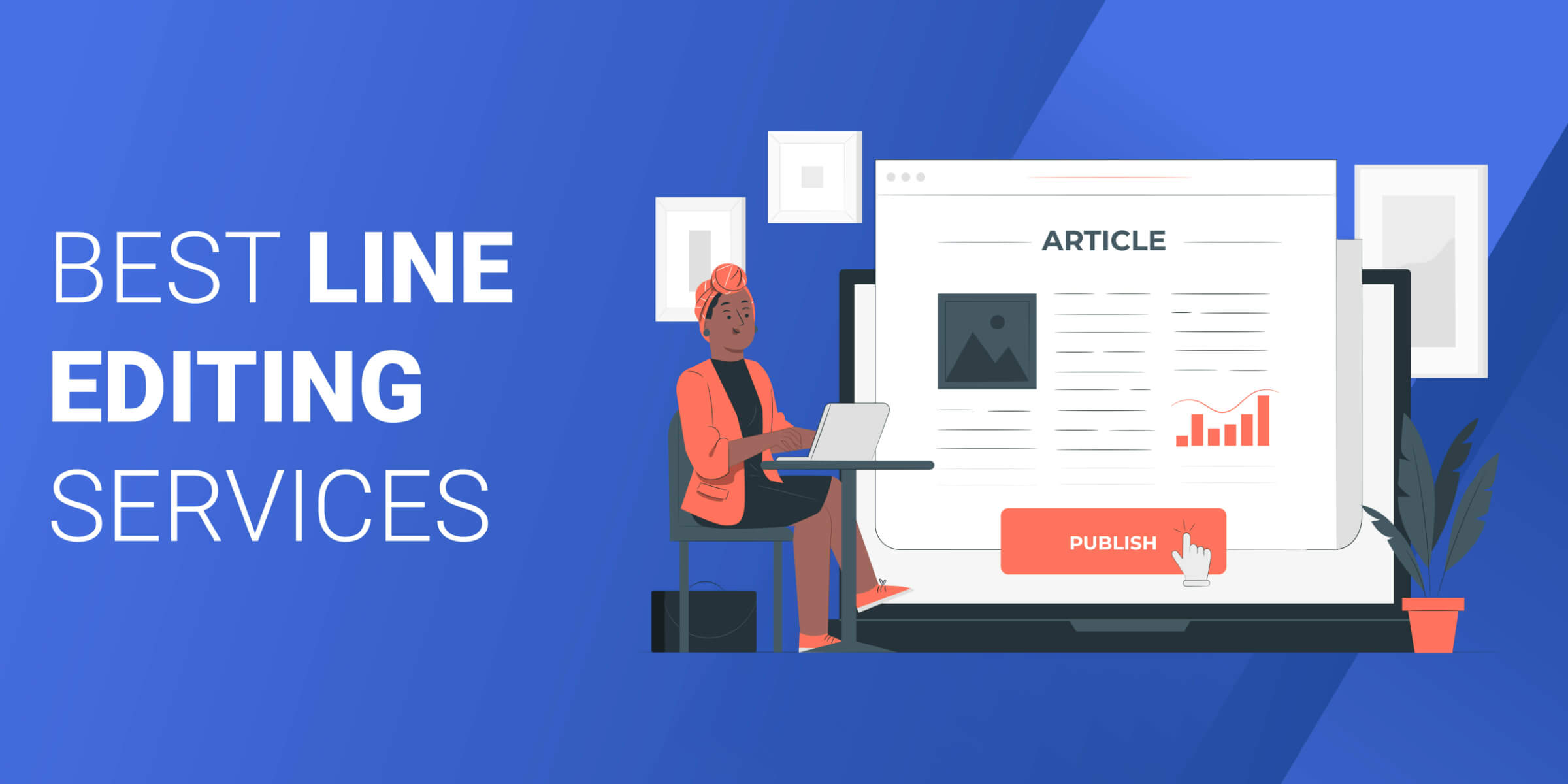 ProWritingAid for Self-Editing
When you're looking to do that initial line edit yourself, you can use a program called ProWritingAid. I use this product frequently for my novels because it's a grammar checker built for creative writers. In fact, I will use PWA for my novels over Grammarly any day.
PWA is robust. That single word feels like an understatement. It gives you reports on every aspect of line editing you can want: overused words, faulty sentence construction, genre conventions, and a ton more. PWA even compares you to other writers in your genre and gives you stats and insights based on the comparison.
Panda Copy and EditorNinja
Both Panda Copy [review] and EditorNinja [review] are editing services that you can hire for several types of editing. They are like an editing house, where they have teams of editors to work on everything from articles to even longer texts like novels.
You do not get to pick which editor works on your project. They are either assigned or pick your project if it the editor believes they will be a good fit. You are, however, saved from having to go through the entire hiring process since both services handle this part for you.
Their services are really on point. My only caution is to make sure the cost works for your budget.
Best for Basic Editing & Proofreading

---
Best for those who have a steady flow of new content
Great for cleaning up AI-generated content
Offers basic proofreading as well as developmental editing
Get back "clean" documents with edits already made, no need to approve or deny
Best for More In-Depth Editing

---
Offers single, one-off document editing
Also offers unlimited editing subscriptions
Editors will "humanize" AI-generated content
You can see all edits and recommendations for you to approve or deny, so you still have full control of the copy
Reedsy
Reedsy is the go-to place for freelance editors who specialize in novel-length texts. It is more like Fiverr in the sense that editors create a profile with their services and testimonials.
Unlike EditorNinja or Panda Copy, you must go through the process of researching, interviewing, and hiring your editor. None of the professionals on Reedsy actually work for the company.
The editors undergo a rigorous screening process to be eligible for Reedsy Marketplace. In fact, most editors come from major publishing houses and are simply looking for freelance work. Others are from small press publishers.
You can find a professional for just about any service you need to publish a book on the site. We're talking everyone from editors to book cover artists on Reedsy Marketplace.
It's a great resource to have in your back pocket.
How To Prepare for Line Editing
The best preparation for line editing centers is ensuring your text has undergone developmental and substantive edits. There's nothing worse than polishing an entire novel and then finding out the plot needs to be reworked or that entire scenes need to be cut. It will save you time and money if you edit in the right order.
If you are preparing to hire a line editor, make sure to complete your own line editing pass first. You want to ensure you had the editor your best work, the text with as few errors as you can manage. When you prep the novel for your line editor, they will be able to focus on the more pressing issues in the text rather than fixing mistakes that you could've caught.
How To Do Line Editing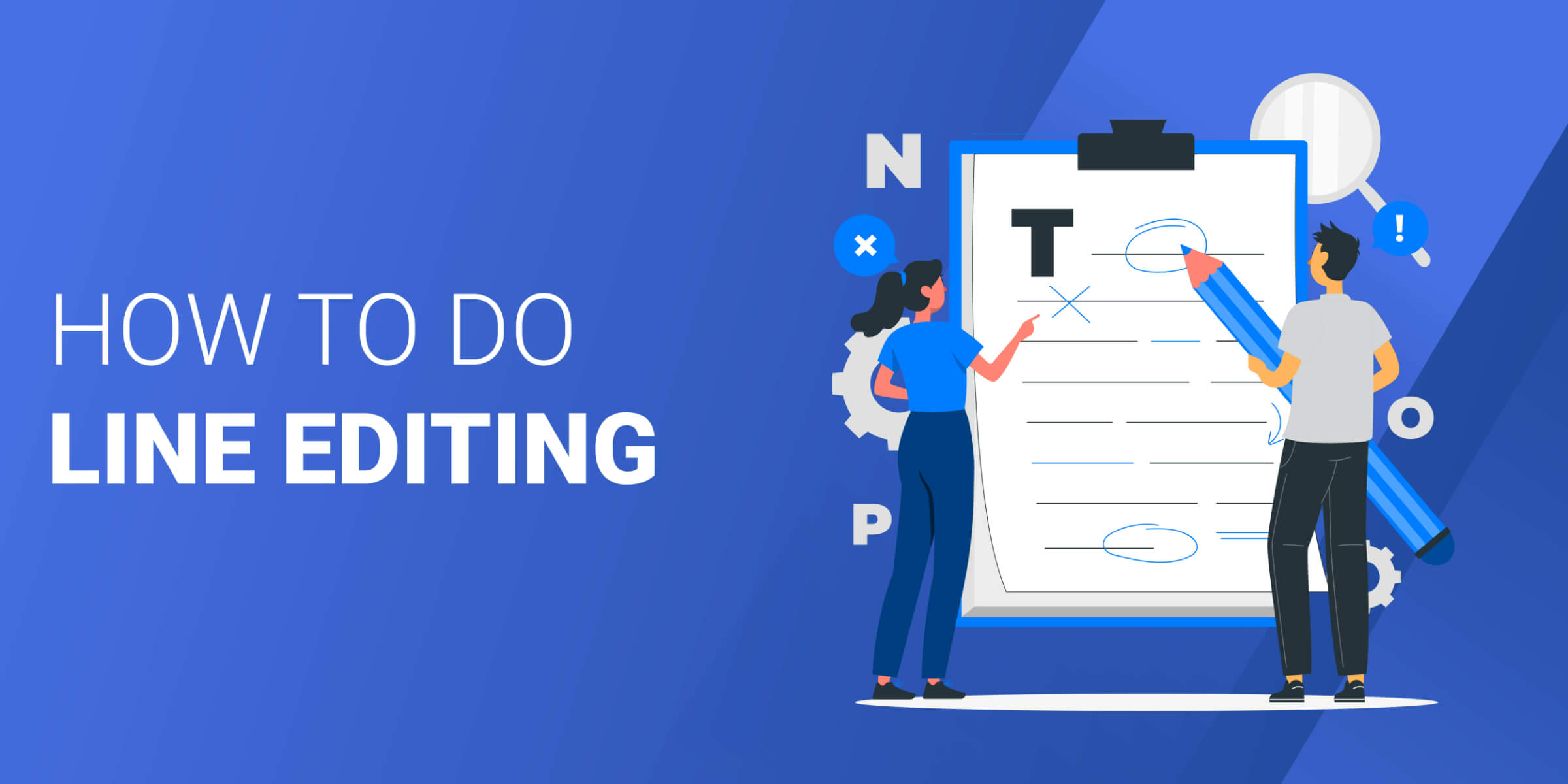 The primary focus in line editing is the prose. We want to make sure that your word choice and sentences are strong enough to draw in a reader and wow them.
Now, the order of operations here is not set in stone. I tend to fix mistakes as I look for areas where I can improve the prose. If I am looking at a particularly tricky sentence or can't find the right word, I tend to drop myself a comment with a note about the issue and move on.
That is to say…for the first time, I'm not going to tell you to hold off on grammar. Go for it! But don't let that be your only focus.
Grammar
Get a good grammar checker, whether that's something like Grammarly or ProWritingAid. The reason is that grammar checkers can help you find errors that might slip by your grammarian's eye.
I've been editing for years, and I still have errors that get past me or that I have to look up to double-check. Using a grammar checker is one way that I get the surface-level issues out of the way so that I can focus on the bigger problems. It just makes me a bit more efficient.
Now, let me give the disclaimer that you don't want to trust these AIs blindly. They're good, but they will make mistakes and offer incorrect suggestions. However, they'll catch many mistakes.
As I mentioned before, for novel-length texts, I prefer ProWritingAid. They were built for creative writers, but they also catch crazy issues like wonky capitalization, which Grammarly really doesn't.
These helpful little AIs also give you suggestions for varying your word choice and sentence length.
Variety
Varying your sentence length and word choice is vital to this stage of editing. As you're drafting, you can get away with repetitive use of the same word or same sentence structure. Line editing is when we get to spice it up.
Using reports from PWA makes this task a lot more manageable. It gives you insights into your most frequently used words so that you can go in and provide some variety. It does the same with sentence structure. It saves a ton of time and helps save your eyes for areas where you really need evocative descriptions.
Dialogue
Dialogue is an area you don't want to miss out on. It needs to be strong and purposeful. Line editors will be able to drill in to ensure that your dialogue is appropriate for your character or offer suggestions to enhance it.
What To Do After Line Editing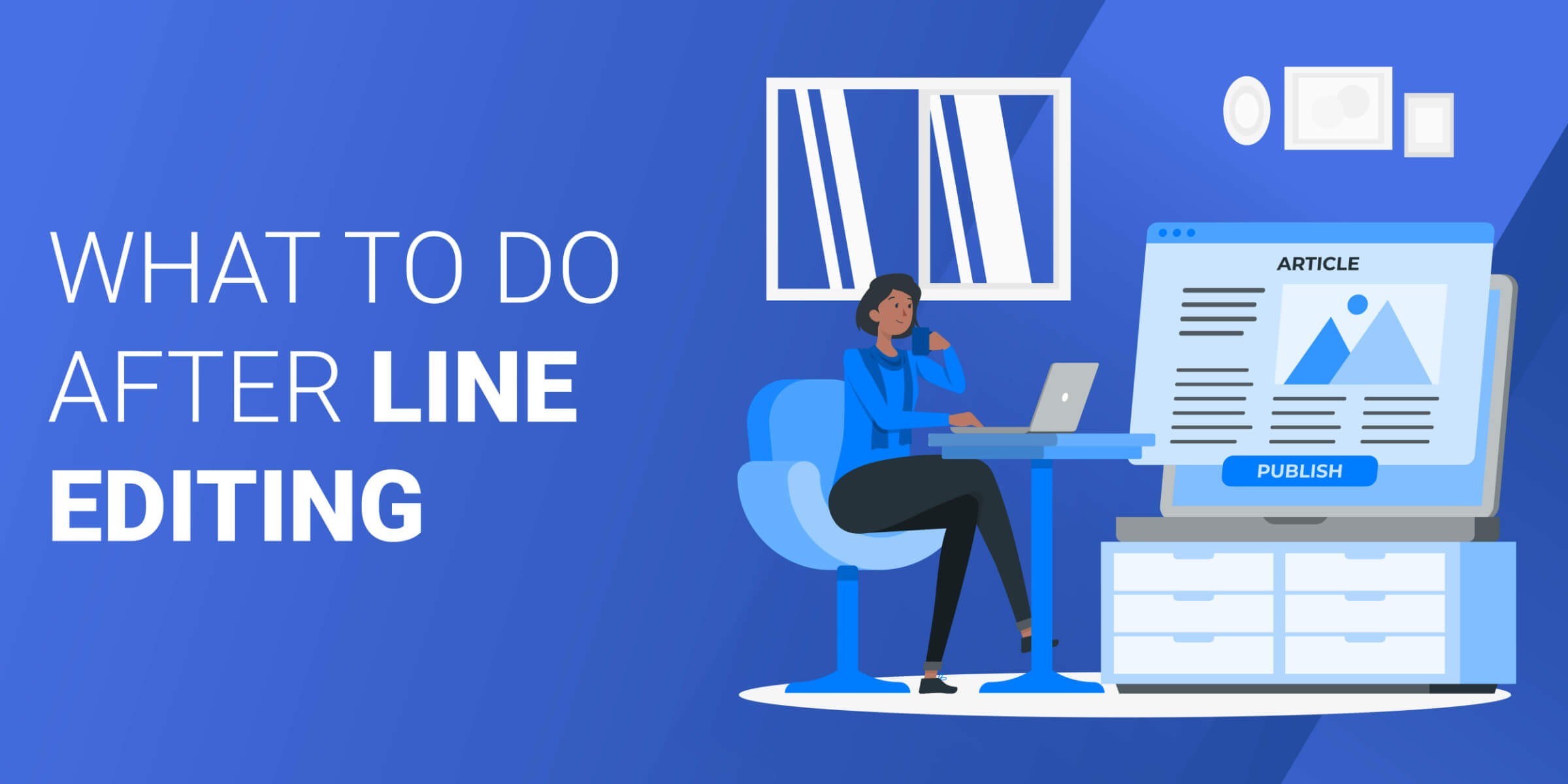 After you've reviewed your line editor's suggestions and made the decision to implement them (or not), it's time for proofreading.
Proofreading should be the very last grammar step. It's incredibly simple. At this point, your novel should be ready to publish. It just needs one last look to find mistakes that slipped past line editing.
FAQs
Is line editing worth it?
Absolutely. I would say that it's vital. You shouldn't publish your work without a thorough line edit.
Who should use line editing?
Anyone who is planning to publish their work themselves needs to hire a line editor. Traditionally published authors automatically have this built into the publishing process. So, if you're self-publishing, you must hire a line editor to stay competitive.
What software do line editors use?
Line editors often use software like Grammarly or ProWritingAid.