Market research teams are vital in today's fast-paced business world. They unlock valuable insights and drive strategic decisions.
Building such a team requires careful consideration. It's about assembling a mix of skills, aptitudes, and perspectives. I've been running my own successful marketing agency for years so I speak from experience.
But first, let's talk about the Market Research department structures you have to choose from.
Structuring Market Research Department
There are two main types of department structures based on company size and resources.
Market Research department structure by discipline

Org Type: Traditional corporate departments
Best For: Midsize/Enterprise companies

Market Research department structure by function

Org Type: Employees are grouped by activities and objectives
Best For: Small to Medium Sized Business (SMB)
Let's go in-depth to each one of them.
1. Market Research Department Structure by Discipline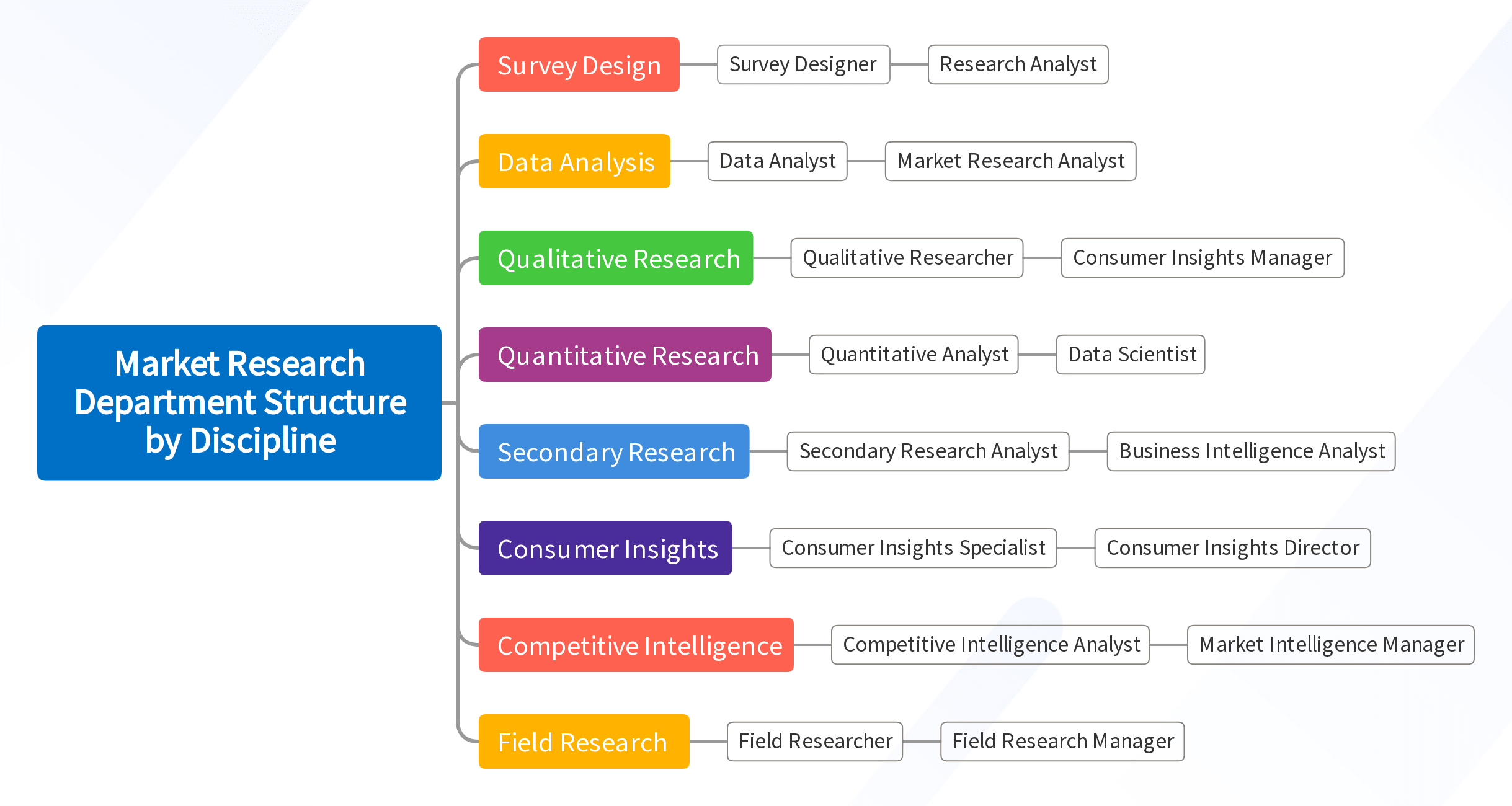 Discipline-based structure involves building teams centered around various marketing disciplines. For example, SEO, Content, Market Research, and Product Strategy could each form separate teams within a department.
| Discipline | Key Skills | Potential Roles |
| --- | --- | --- |
| Survey Design | Questionnaire Development, Sampling, Data Collection, Research Design | Survey Designer, Research Analyst |
| Data Analysis | Data Interpretation, Statistical Analysis, Report Writing, Problem-solving | Data Analyst, Market Research Analyst |
| Qualitative Research | Focus Group Management, Interviewing, Observational Skills | Qualitative Researcher, Consumer Insights Manager |
| Quantitative Research | Statistical Modeling, Data Mining, Predictive Analysis | Quantitative Analyst, Data Scientist |
| Secondary Research | Data Gathering, Analytical Thinking, Report Writing | Secondary Research Analyst, Business Intelligence Analyst |
| Consumer Insights | Consumer Behavior Understanding, Data Interpretation, Communication Skills | Consumer Insights Specialist, Consumer Insights Director |
| Competitive Intelligence | Market Trend Analysis, Competitive Analysis, Strategic Thinking | Competitive Intelligence Analyst, Market Intelligence Manager |
| Field Research | Observational Skills, Interviewing, Data Collection | Field Researcher, Field Research Manager |
2. Market Research Department Structure by Function
Another approach is structuring by function, where teams are formed based on the different functions they perform. For example, promotion, launches, and relationship management could all be separate teams.
| Function | Key Skills | Potential Roles |
| --- | --- | --- |
| Market Trends | Trend Analysis, Strategic Thinking, Communication Skills | Market Trends Analyst, Market Research Director |
| Brand Research | Brand Understanding, Competitive Analysis, Creative Thinking | Brand Research Analyst, Brand Research Manager |
| Product Research | Product Knowledge, Analytical Skills, Problem-solving | Product Research Analyst, Product Research Manager |
| Customer Satisfaction | Customer Behavior Understanding, Communication Skills, Analytical Skills | Customer Satisfaction Analyst, Customer Experience Manager |
| Segmentation Research | Customer Segmentation, Strategic Thinking, Statistical Analysis | Segmentation Analyst, Segmentation Specialist |
| Forecasting | Predictive Analysis, Statistical Modeling, Strategic Thinking | Forecast Analyst, Forecasting Manager |
Market Research Team Size versus Business Scale
To achieve successful marketing outcomes, you need to align the team size with your business's scale – a strategic approach that helps optimize resources and drive targeted growth.
| Business Scale | Ideal Department Size | Explanation |
| --- | --- | --- |
| Start-up | 1-3 | Minimal resources, focus on product development and market fit. |
| Small-Medium Business | 4-8 | Expanded operations require more comprehensive market understanding. |
| Large Enterprise | 10+ | Global scale operations demand extensive research and diversification. |
Factors to Consider When Deciding On a Market Research Department Structure
Company Size: Consider the size of your company. Larger organizations may need a more extensive team to handle diverse research needs, while smaller companies might require a smaller, more focused team.
Business Goals: Understand your business goals. Your market research team should be structured in a way that helps you achieve your specific objectives and aligns with your business strategy.
Industry Dynamics: Keep in mind the dynamic nature of your industry. If market trends fluctuate rapidly, your team should be flexible and adaptable to keep up with these changes.
Available Resources: Assess your available resources. You should take into account your budget, time, and human resources when structuring your market research team.
Research Complexity: Evaluate the complexity of research required. If your business requires complex market analyses, your team should have individuals with specialized skills and expertise.
Explore other marketing departments:
So, there you have it, a detailed overview of a Market Research team structure. From the essence of the team and key roles, to structuring and optimizing; every aspect tailored to achieve success on your business blueprint.