Toptal is known for how heavily they vet their freelancers and are renowned for their reliability in providing the best freelance candidates for a variety of business services.
But is Toptal the best option for finding freelancers?
In this article, we're highlighting four freelance websites that offer similar services as Toptal to evaluate the best alternatives for your business needs.
Advertising Disclosure
Advertising Disclosure
We offer this website completely free to our visitors. To help pay the bills, we'll often (but not always) set up affiliate relationships with the top providers after selecting our favorites. However, we do our best not to let this impact our choices. There are plenty of high-paying companies we've turned down because we didn't like their product.
An added benefit of our relationships is that we always try to negotiate exclusive discounts for our visitors.
Why You Should Consider an Alternative to Toptal
While you might be impressed with Toptal's services, there's always a chance that another platform might fit your business better.
But how do you know whether one freelance service is better than another?
We're going to judge our Toptal alternatives and competitors based on these criteria:
Pricing – Some services might charge monthly fees, while others might offer alternative payment methods.
Process – The way you access and hire freelancing talent differs from platform to platform, as well as your communication channels.
Type of work – Different freelancing platforms might offer different categories of freelancers outside of just developers.
Value of plans – Some platforms offer a diverse array of plans that fit different operational needs, allowing you to scale you grow.
Before we dive into our alternatives, let's get a quick overview of what Toptal has to offer.
The baseline: Overview of Toptal
Pricing: Signing up for Toptal is free, and you get an introductory call from one of their representatives to assess your needs. After that, you'll pay an hourly rate based on your freelancer's qualifications with rates usually starting around $60 per hour. There is a $500 deposit for the freelancer search process that's fully refundable if you're not satisfied with your end product.
Process: Once you sign up, a Toptal representative will talk to you about what you need, your goals, and your technical specifications. After a day or so, Toptal will connect you with one of their freelancers. You then work with that freelancer on a trial basis to see if they're the right fit for your business.
Type of work: Toptal has hundreds of developers experienced in software engineering, coding, and digital infrastructures. They also have designers that can create custom UIs and graphic design, as well as financial experts, and project managers.
Plan value: Toptal doesn't offer any plan packages, meaning all users get the same services from Toptal's representatives regardless of the size of their business.
Read our full honest review of Toptal.
Alternatives to Toptal
If you're looking to hire developers, designers, and other top freelancers for your business, there are hundreds of places to look. The following are the best alternatives to Toptal:
Best alternative for hiring top developers
UpStack is a company that specializes in hiring developers in a number of different disciplines, and only offers senior-level industry experts on their freelancing staff. Unlike Toptal, UpStack focuses on the top 1% of talent, rather than the top 3%.
Pricing: UpStack doesn't charge you any fees for joining, nor do they charge for recruitment fees. They charge a $399 fee deposit and most talents start at about $60 to $75 an hour.
Process: Once you create an account, you speak with your account manager about your business goals and technical needs. Their AI matches you with one of their top freelancers on file. Once you've picked a freelancer, you get a 14-day trial to make sure that candidate is the right choice.
Type of work: UpStack is solely a platform for freelance developers. These developers are experts in iOS, Go, Java, Python, and practically any programming language under the sun. There are about 650 developers on file from 26 different countries.
Plan value: While you still pay a flat service fee of $399, UpStack is currently offering huge discounts which include free access to their support team to set up remote tools and processes. This allows smaller companies to build their remote practices even during these times.
Read our full UpStack review.
Best general-purpose freelancing platform
Upwork is an all-purpose freelancing platform that has thousands of freelancers across multiple business and marketing disciplines. They use a bidding process to help users find the right freelancers, and are great for short-term projects.
Pricing: Upwork offers three different plans: Basic, Plus, and Enterprise. The Basic plan is free and you can view freelancers' work history and you're allowed to send out unlimited proposals. The Plus plan costs $49 a month and includes project tracking tools, an account manager to connect you to the best talent, and tailored search results. The Enterprise option offers onboarding tools and other solutions, but prices have to be negotiated with Upwork.
Process: You start by posting a job or a project that you need help with. Upwork then notifies qualified freelancers, who then provide samples and bids from each freelancer to your account. You can review each candidate and interview the ones you see as the best fit. You can manage each project through Upwork, and pay each freelancer hourly or at a fixed rate.
Type of work: Upwork offers freelancers experienced in web, mobile, and software development. You can also hire blog writers, graphic designers, and marketing professionals. Administrative assistants, engineers, and customer service representatives are also available for hire.
Plan value: Upwork has three pricing tiers, and while they're not the most versatile of plans, it allows different companies of varying sizes to find the most appropriate plan. For example, smaller companies and easily leverage the free or Plus plans without breaking the bank.
Check out our comparison of Toptal vs Upwork.
Best alternative for small tasks and short-term work
Fiverr remains one of the largest and most popular freelancing networks, allowing project managers to connect with thousands of freelancers across dozens of disciplines and industries. It's optimal for shorter, lower-cost projects and you get plenty of flexibility with the candidates you select.
Pricing: You can use Fiverr to connect with freelancers for free, but if you have a dedicated team or you want a more streamlined process for finding freelancers, you can pay for the Business plan. This plan starts at $149 a year but includes the first year for free. Hiring managers then purchase gigs, which range from $5-$1000 depending on the service.
Process: To find a freelancer on Fiverr, you can search for candidates using their filters that lets you choose freelancers by work, pricing, language, and a host of other categories. You can view each freelancer's account and reach out to them if you feel they're the right fit. Fiverr offers a grace period to review each project, and you can get a free refund if you aren't satisfied with someone's work.
Type of work: You can find freelancers for practically any type of work you need. Whether it's developers, coders, designers, transcriptionists, or administrative specialists, Fiverr most likely has a handful of solid candidates.
Plan value: Using Fiverr doesn't require you to pay any upfront fees (unless you use the Business plan) so it's readily available for businesses of all sizes. However, users can use the Fiverr Pro site to find more expensive freelancers that are extremely reliable and are geared towards larger companies.
Read our Fiverr Review.
Runner up for hiring top developers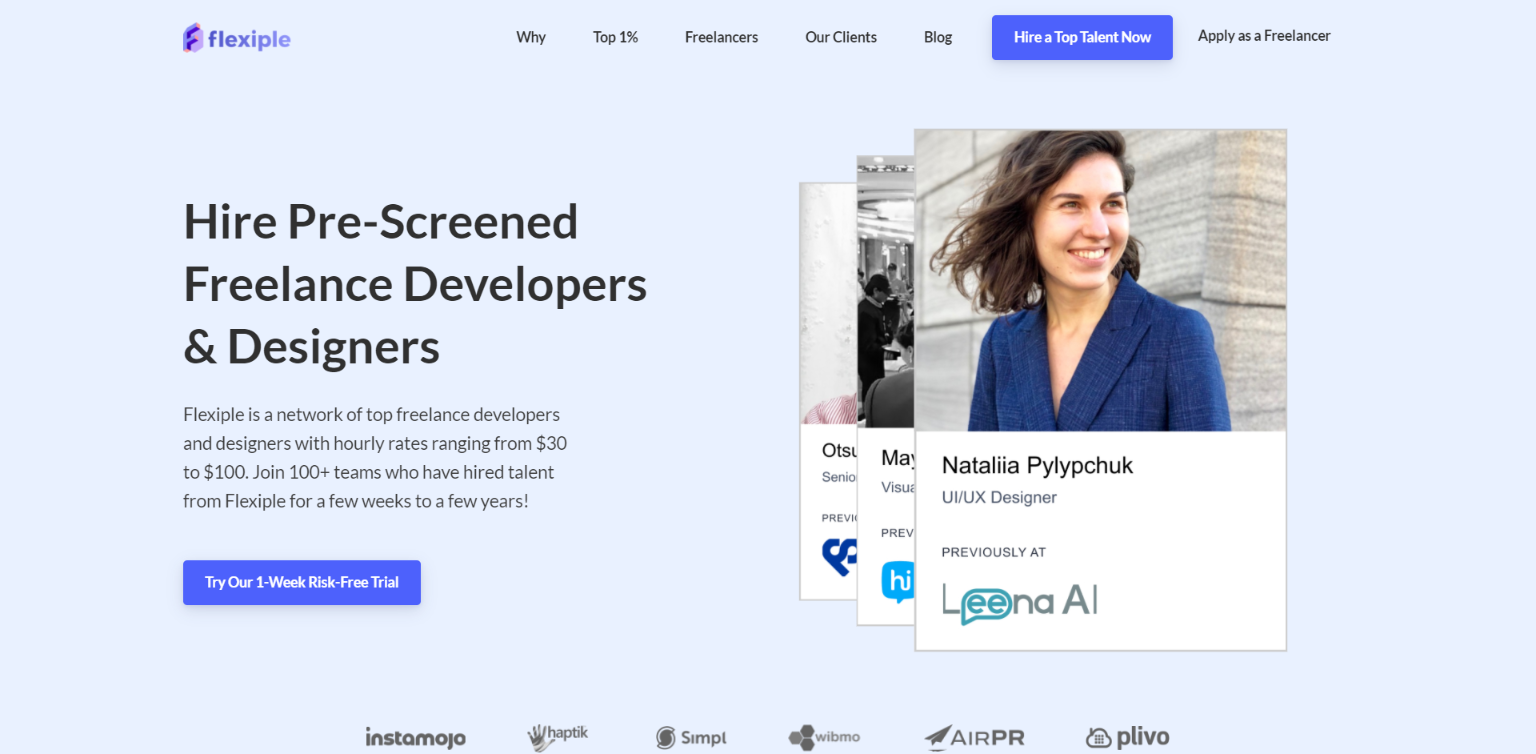 Flexiple also prides itself on a very comprehensive vetting process. Their freelancers are the "top 1%" of all developers and designers, and Flexiple handpicks each candidate based on your specific needs.
Pricing: Flexiple doesn't have any upfront service fees. Instead, they charge you by the hour for each freelancer. They set fixed rates for freelancers depending on their experience. An "Individual Contributor" costs $30 to $50 an hour, while a "Multi-faceted contributor" costs $50 to $80 an hour, and so on.
Process: Flexiple pairs you with a Solutions expert to find out your needs, and provides you with personalized recommendations for freelancers. You can contact and interact with each candidate to find the best fit, and pay them upon completion.
Type of work: Flexiple is primarily used for hiring freelance developers and designers. Some of Flexiple's top freelancers are experts in iOS and Android app development, as well as Javascript and backend programming languages.
Plan value: While there aren't any tiered payment plans on Flexiple, they do categorize their freelancers based on their level of expertise. This means more expensive freelancers are more experienced and have versatile skillsets, but you can still hire less experienced developers that provide plenty of value.
Best Alternative to Toptal
The best Toptal alternative will ultimately depend on what type of freelancer you need, your budget, and timelines.
For the best programming talent, we recommend UpStack. They offer a very similar model to Toptal with a cheaper service fee. They also are currently offering a $2000 OFF promotion to qualified businesses. This essentially allows you to add a top web developer to your staff with zero expense or risk.
If you're looking for professionals outside of the development field, we would recommend searching Upwork. The big downside to using Upwork is that you'll be responsible for outreach, interviewing, and selection processes. Also, not all of their freelancers are "top-tier". So, it's not a true apples-to-apples alternative.
For small tasks, and a low-cost alternative, we'd recommend checking out Fiverr. They have a huge marketplace and can do virtually any task that you can think of. The big downside is similar to Upwork. The responsibility of finding the talent falls on you. This can be overwhelming and time-consuming from a hiring perspective.