In the bustling world of business, content marketing teams are key players. They navigate the dynamic landscape, driving organizations towards success.
Understanding how to structure these teams can shape a company's trajectory. It's about optimizing performance and maximizing impact. I speak from experience from running my own marketing agency, GrantSpark.
But first, let's talk about the Content Marketing department structures you have to choose from.
Structuring Content Marketing Department
There are two main types of department structures based on company size and resources.
Content Marketing department structure by discipline

Org Type: Traditional corporate departments
Best For: Midsize/Enterprise companies

Content Marketing department structure by function

Org Type: Employees are grouped by activities and objectives
Best For: Small to Medium Sized Business (SMB)
Let's go in-depth to each one of them.
1. Content Marketing Department Structure by Discipline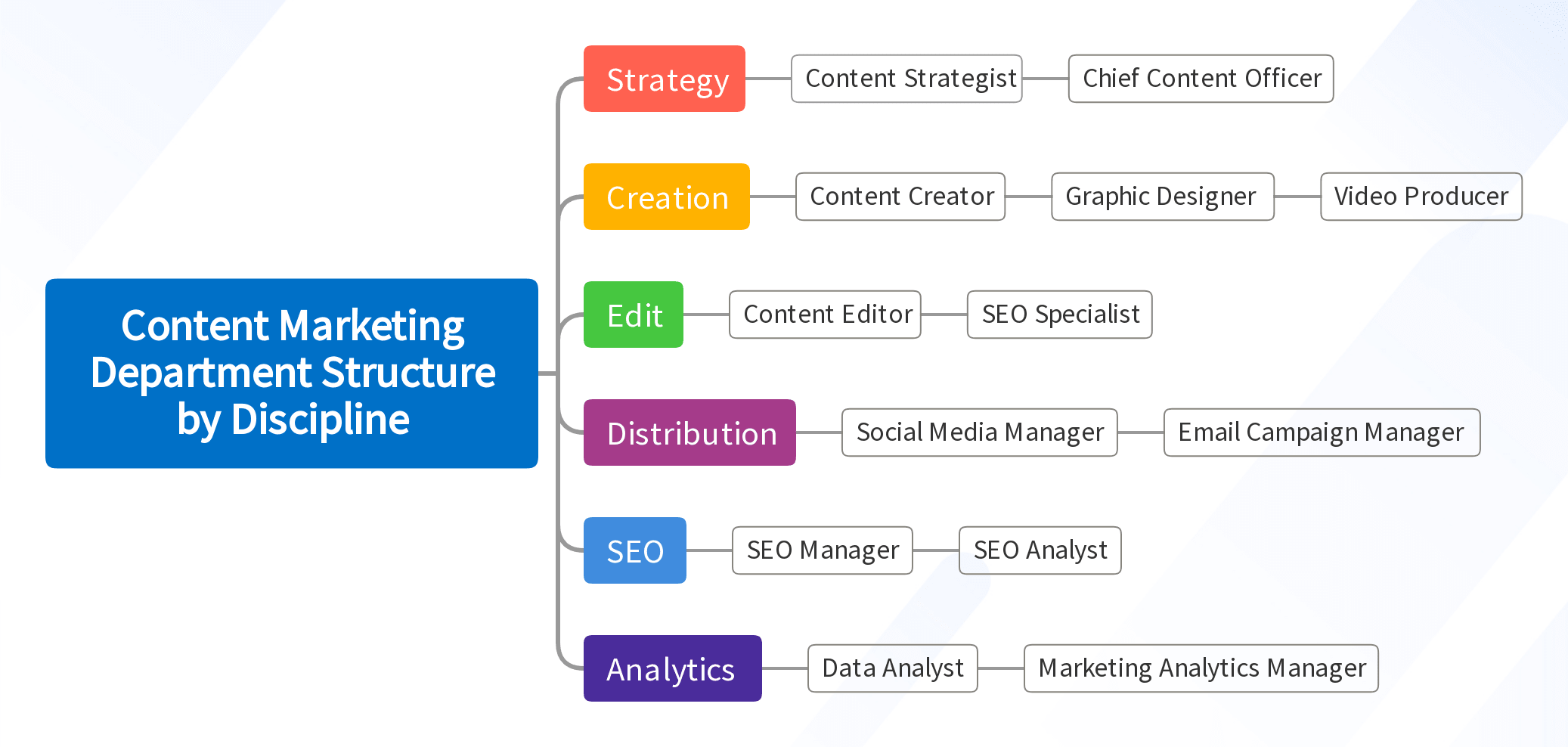 Discipline-based structure involves building teams centered around various marketing disciplines. For example, SEO, Content, Market Research, and Product Strategy could each form separate teams within a department.
| Discipline | Key Skills | Potential Roles |
| --- | --- | --- |
| Strategy | Competitor Analysis, Market Research, Content Strategy Development | Content Strategist, Chief Content Officer |
| Creation | Copywriting, Graphic Design, Video Production | Content Creator, Graphic Designer, Video Producer |
| Edit | Proofreading, SEO Knowledge, Content Editing | Content Editor, SEO Specialist |
| Distribution | Social Media Management, Email Marketing, Content Promotion | Social Media Manager, Email Campaign Manager |
| SEO | Keyword Research, Link Building, SEO Optimization | SEO Manager, SEO Analyst |
| Analytics | Data Analysis, Performance Tracking, Google Analytics | Data Analyst, Marketing Analytics Manager |
2. Content Marketing Department Structure by Function
Another approach is structuring by function, where teams are formed based on the different functions they perform. For example, promotion, launches, and relationship management could all be separate teams.
| Function | Key Skills | Potential Roles |
| --- | --- | --- |
| Planning | Project Management, Collaboration, Time Management | Content Project Manager, Marketing Project Coordinator |
| Research | Market Research, Consumer Behavior Understanding, Trend Identification | Market Research Analyst, Consumer Insights Analyst |
| Management | Leadership, Strategy Formulation, Team Management | Content Team Lead, Content Marketing Manager |
| Outreach | Networking, Relationship Building, Influencer Engagement | Outreach Specialist, Influencer Marketing Specialist |
| UX | User Experience Design, User Testing, Information Architecture | UX Designer, User Researcher |
| Monetization | Conversion Optimization, Sales Funnel Management, ROI Calculation | Monetization Specialist, Conversion Rate Optimization Specialist |
Content Marketing Team Size versus Business Scale
To achieve successful marketing outcomes, you need to align the team size with your business's scale – a strategic approach that helps optimize resources and drive targeted growth.
| Business Scale | Ideal Department Size | Explanation |
| --- | --- | --- |
| Start-up | 1-3 | Limited resources, emphasis on multi-skilled individuals. |
| Small-Medium Business | 4-6 | Increased workload requires more specialized roles. |
| Large Enterprise | 7+ | High volume of content, need diverse skills and roles. |
Factors to Consider When Deciding On a Content Marketing Department Structure
Company Size: Consider the size of your company. A smaller business might require a leaner team, while larger companies may need a more extensive, specialized team.
Content Goals: Identify what you want to achieve with your content. Goals could include brand awareness, lead generation, or customer retention. This will guide the structure and roles within your team.
Budget: You need to account for the financial resources available. The budget will dictate how many people you can hire and what tools or platforms you can afford.
Industry: The nature of your industry can influence the structure. Some sectors might demand more video content or infographics, while others may focus on written content.
Skills and Expertise: Determine what skills and expertise are needed in your team. This might include copywriting, SEO knowledge, graphic design, or social media management.
Explore other marketing departments:
So, there you have it, a detailed overview of a Content Marketing team structure. From the essence of the team and key roles, to structuring and optimizing; every aspect tailored to achieve success on your business blueprint.