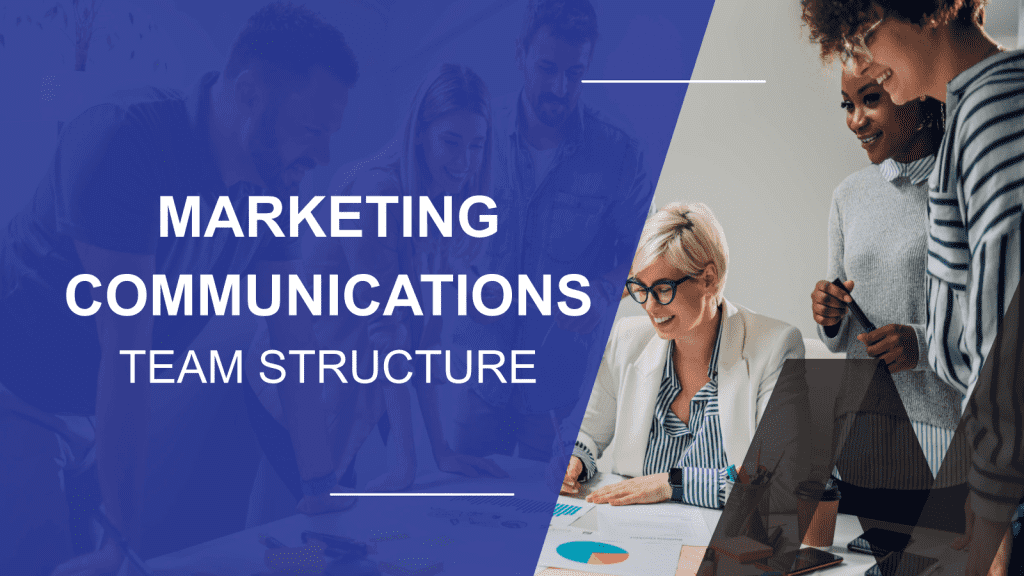 Marketing Communications teams are vital in the modern business landscape. They navigate the dynamic marketplace with strategic finesse.
Their role? To craft compelling messages that resonate with target audiences. Understanding their structure can empower your own business communications. I've learned this firsthand while growing my own marketing agency, GrantSpark.
But first, let's talk about the Marketing Communications department structures you have to choose from.
Structuring Marketing Communications Department
There are two main types of department structures based on company size and resources.
Marketing Communications department structure by discipline

Org Type: Traditional corporate departments
Best For: Midsize/Enterprise companies

Marketing Communications department structure by function

Org Type: Employees are grouped by activities and objectives
Best For: Small to Medium Sized Business (SMB)
Let's go in-depth to each one of them.
1. Marketing Communications Department Structure by Discipline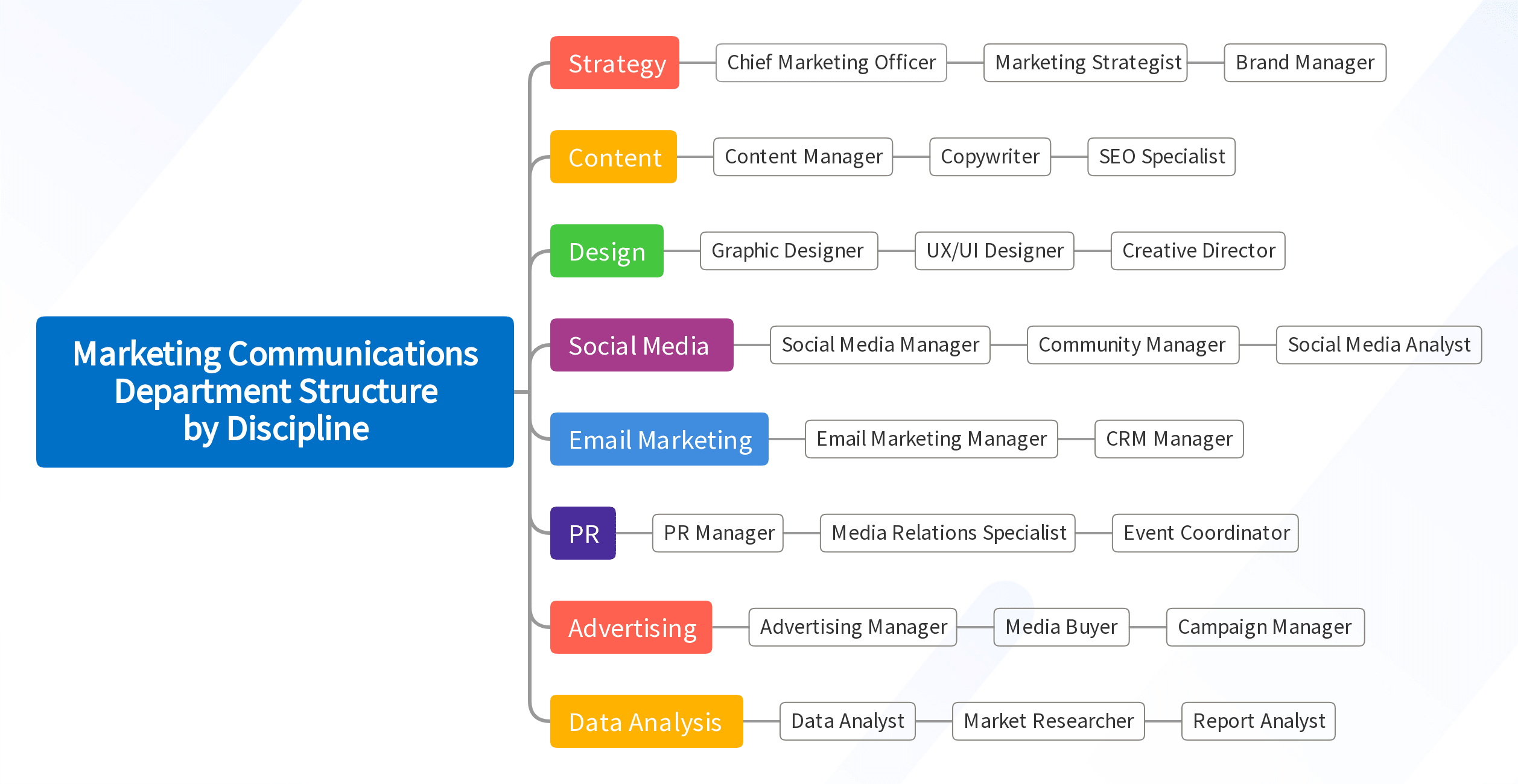 Discipline-based structure involves building teams centered around various marketing disciplines. For example, SEO, Content, Market Research, and Product Strategy could each form separate teams within a department.
| Discipline | Key Skills | Potential Roles |
| --- | --- | --- |
| Strategy | Market Analysis, Competitive Analysis, Strategic Planning, Brand Management | Chief Marketing Officer, Marketing Strategist, Brand Manager |
| Content | Copywriting, Content Creation, SEO, Storytelling | Content Manager, Copywriter, SEO Specialist |
| Design | Graphic Design, UX/UI Design, Branding, Creative Thinking | Graphic Designer, UX/UI Designer, Creative Director |
| Social Media | Social Media Strategy, Community Management, Content Planning, Analytics | Social Media Manager, Community Manager, Social Media Analyst |
| Email Marketing | Copywriting, Email Automation, Analytics, A/B Testing | Email Marketing Manager, CRM Manager |
| PR | Public Relations, Media Relations, Crisis Management, Event Planning | PR Manager, Media Relations Specialist, Event Coordinator |
| Advertising | Advertising Strategy, Media Buying, Campaign Management, Creativity | Advertising Manager, Media Buyer, Campaign Manager |
| Data Analysis | Data Analysis, Market Research, Reporting, Data Visualization | Data Analyst, Market Researcher, Report Analyst |
2. Marketing Communications Department Structure by Function
Another approach is structuring by function, where teams are formed based on the different functions they perform. For example, promotion, launches, and relationship management could all be separate teams.
| Function | Key Skills | Potential Roles |
| --- | --- | --- |
| Product Marketing | Product Knowledge, Market Research, Competitive Analysis, Communication Skills, Strategic Planning | Product Marketing Manager, Product Marketing Specialist |
| Event Management | Event Planning, Organizational Skills, Communication, Budget Management, Attention to Detail | Event Manager, Event Coordinator |
| Customer Relations | Customer Service, Relationship Management, Communication, Problem-solving, Empathy | Customer Relations Manager, Customer Service Representative |
| Internal Communication | Interpersonal Skills, Writing Skills, Project Management, Strategic Planning, Employee Engagement | Internal Communications Manager, Communications Coordinator |
| Influencer Marketing | Networking, Social Media Savvy, Brand Knowledge, Negotiation, Creativity | Influencer Marketing Manager, Influencer Relations Specialist |
| Market Research | Data Collection, Analytical Skills, Market Analysis, Critical Thinking, Reporting | Market Research Analyst, Market Research Manager |
Marketing Communications Team Size versus Business Scale
To achieve successful marketing outcomes, you need to align the team size with your business's scale – a strategic approach that helps optimize resources and drive targeted growth.
| Business Scale | Ideal Department Size | Explanation |
| --- | --- | --- |
| Start-up | 1-3 | Limited resources and simple marketing needs. |
| Small-Medium Business | 4-8 | Increased needs but still budget-conscious. |
| Large Enterprise | 10+ | Complex and diverse marketing requirements. |
Factors to Consider When Deciding On a Marketing Communications Department Structure
Business Goals: Understand the overarching objectives of your business. Your marketing communications team should align with these goals to drive success and growth.
Team Expertise: Take into account the skills and experience of your team members. They should have a diverse range of abilities to handle different aspects of marketing communications effectively.
Target Audience: Know who your primary audience is. Your team's structure and strategies should be designed to engage and resonate with these individuals.
Budget Constraints: Consider your financial resources. The size and complexity of your team must be sustainable within your budget, while still meeting your marketing needs.
Industry Trends: Stay updated with current marketing trends and technologies. Your team's structure should be flexible enough to adapt to these changes, ensuring it remains effective in a rapidly-evolving landscape.
Explore other marketing departments:
So, there you have it, a detailed overview of a Marketing Communications team structure. From the essence of the team and key roles, to structuring and optimizing; every aspect tailored to achieve success on your business blueprint.