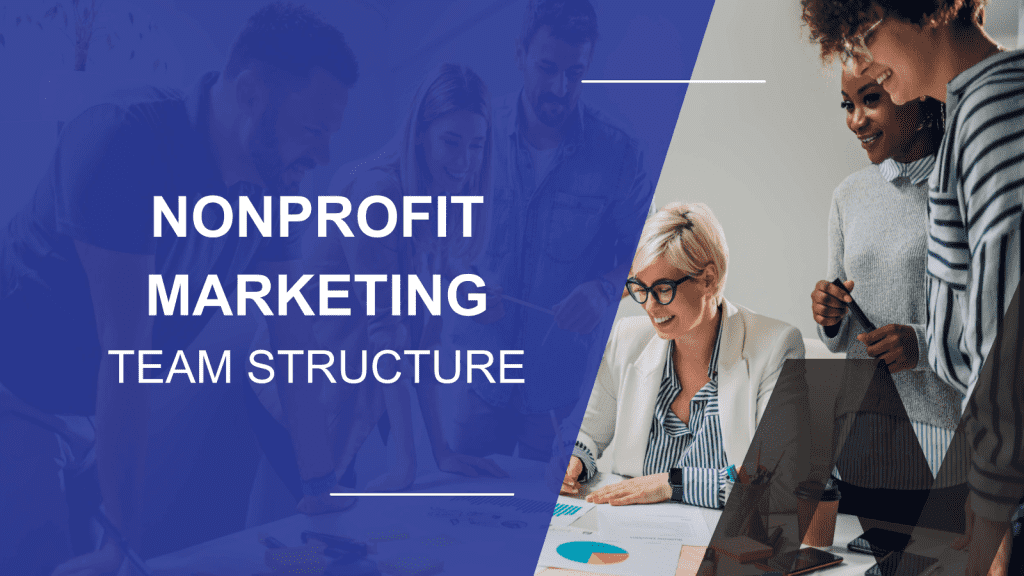 Nonprofit marketing teams are essential in our rapidly evolving business world. They amplify the voice of organizations committed to making a difference.
With the right structure, these teams can effectively communicate their mission and drive impactful change. This process requires strategic thinking and a deep understanding of the nonprofit's unique goals. We've learned this firsthand while growing our own marketing agency, GrantSpark.
But first, let's talk about the Nonprofit Marketing department structures you have to choose from.
Structuring Nonprofit Marketing Department
There are two main types of department structures based on company size and resources.
Nonprofit Marketing department structure by discipline

Org Type: Traditional corporate departments
Best For: Midsize/Enterprise companies

Nonprofit Marketing department structure by function

Org Type: Employees are grouped by activities and objectives
Best For: Small to Medium Sized Business (SMB)
Let's go in-depth to each one of them.
1. Nonprofit Marketing Department Structure by Discipline
Discipline-based structure involves building teams centered around various marketing disciplines. For example, SEO, Content, Market Research, and Product Strategy could each form separate teams within a department.
| Discipline | Key Skills | Potential Roles |
| --- | --- | --- |
| Content | Copywriting, SEO, Content Strategy, Social Media Management, Video Editing | Content Manager, Copywriter, Social Media Coordinator |
| Design | Graphic Design, UX/UI Design, Adobe Creative Suite, Branding | Graphic Designer, UX/UI Designer, Art Director |
| Public Relations | Media Relations, Crisis Management, Event Planning, Press Release Writing | PR Manager, Communication Specialist, Event Coordinator |
| Direct Marketing | Direct Mail Campaigns, Email Marketing, CRM, Data Analysis | Direct Marketing Manager, Email Marketing Specialist, CRM Analyst |
| Digital | SEO, SEM, Social Media Advertising, Google Analytics | Digital Marketing Manager, SEO Specialist, SEM Specialist |
| Strategy | Strategic Planning, Market Research, Brand Development, Analytics | Marketing Strategist, Brand Manager, Market Research Analyst |
| Website | Website Development, UX/UI Design, SEO, Analytics | Web Developer, Website Manager, SEO Specialist |
| Social Media | Social Media Strategy, Content Creation, Community Engagement, Analytics | Social Media Manager, Community Manager, Content Creator |
2. Nonprofit Marketing Department Structure by Function

Another approach is structuring by function, where teams are formed based on the different functions they perform. For example, promotion, launches, and relationship management could all be separate teams.
| Function | Key Skills | Potential Roles |
| --- | --- | --- |
| Fundraising | Donor Relations, Grant Writing, Event Planning, Budgeting | Fundraising Manager, Donor Relations Officer, Grant Writer |
| Volunteer Management | Recruitment, Training & Development, Communication, Leadership | Volunteer Coordinator, Volunteer Recruitment Officer |
| Community Engagement | Public Speaking, Relationship Building, Event Management, Social Media Engagement | Community Outreach Coordinator, Community Engagement Specialist |
| Partnership Development | Partnership Building, Negotiation, Collaboration, Relationship Management | Partnership Manager, Corporate Partnership Coordinator |
| Program Management | Program Development, Project Management, Strategic Planning, Evaluation | Program Manager, Project Coordinator |
| Advocacy | Policy Understanding, Public Speaking, Campaign Management, Social Media Advocacy | Advocacy Coordinator, Policy Advocate |
Nonprofit Marketing Team Size versus Business Scale
To achieve successful marketing outcomes, you need to align the team size with your business's scale – a strategic approach that helps optimize resources and drive targeted growth.
| Business Scale | Ideal Department Size | Explanation |
| --- | --- | --- |
| Start-up | 1-3 | Minimize costs, focus on establishing brand. |
| Small-Medium Business | 4-8 | Increased workload, need for diverse skills. |
| Large Enterprise | 9+ | Higher demand, manage large-scale campaigns. |
Factors to Consider When Deciding On a Nonprofit Marketing Department Structure
Team Skills: Consider the skills needed to accomplish your marketing goals. This includes content creation, social media management, event planning, fundraising, and more. Having a team with diverse talents will allow you to tackle various marketing challenges.
Budget Constraints: Nonprofits often operate on limited budgets. It's important to structure your marketing team in a way that maximizes every dollar spent. This might involve hiring multi-skilled staff or outsourcing certain tasks to volunteers or freelancers.
Organizational Goals: The structure of your marketing team should align with your organization's overall goals. If your nonprofit is focused on public advocacy, for instance, you may need more PR specialists. If donor engagement is a priority, experts in relationship management would be crucial.
Available Technology: The technology you have at your disposal can significantly influence your team structure. For instance, with advanced marketing automation tools, you may need fewer personnel for certain tasks. Understand your tech resources and use them to shape your team.
Flexibility: In the dynamic world of nonprofit marketing, being able to adapt to change is key. Build a team structure that can quickly pivot strategies as per market trends, donor behaviors, or changes in the nonprofit sector.
Explore other marketing departments:
So, there you have it, a detailed overview of a Nonprofit Marketing team structure. From the essence of the team and key roles, to structuring and optimizing; every aspect tailored to achieve success on your business blueprint.