Picture this scenario: you're a business owner looking to expand your reach and boost sales, but the sheer number of types of marketing agencies leaves you feeling overwhelmed.
Where do you even begin?
From full-service ad agencies offering comprehensive solutions to specialized marketing firms focusing on branding or digital channels – there's an agency for every need.
By considering the advantages and disadvantages of each option, we can make an informed decision when choosing the best partner for our business needs.
Best for Freelance Marketers

---
Strength in

brand marketing, growth marketing, and fractional CMOs.
Elite, "Top 3%" of marketing talent in the world.
48-hour talent matching,

with 75% of clients hiring their first match.
Best Full-Service Marketing Agency
---
Data-driven and highly customized solutions

Growth agency that excels in SEO, PPC, Social, and eCommerce marketing
Full-service marketing team, great for small-to-medium sized businesses
Advertising Disclosure
Advertising Disclosure
We offer this website completely free to our visitors. To help pay the bills, we'll often (but not always) set up affiliate relationships with the top providers after selecting our favorites. However, we do our best not to let this impact our choices. There are plenty of high-paying companies we've turned down because we didn't like their product.
An added benefit of our relationships is that we always try to negotiate exclusive discounts for our visitors.
Full-Service Ad Agencies: Your One-Stop Marketing Solution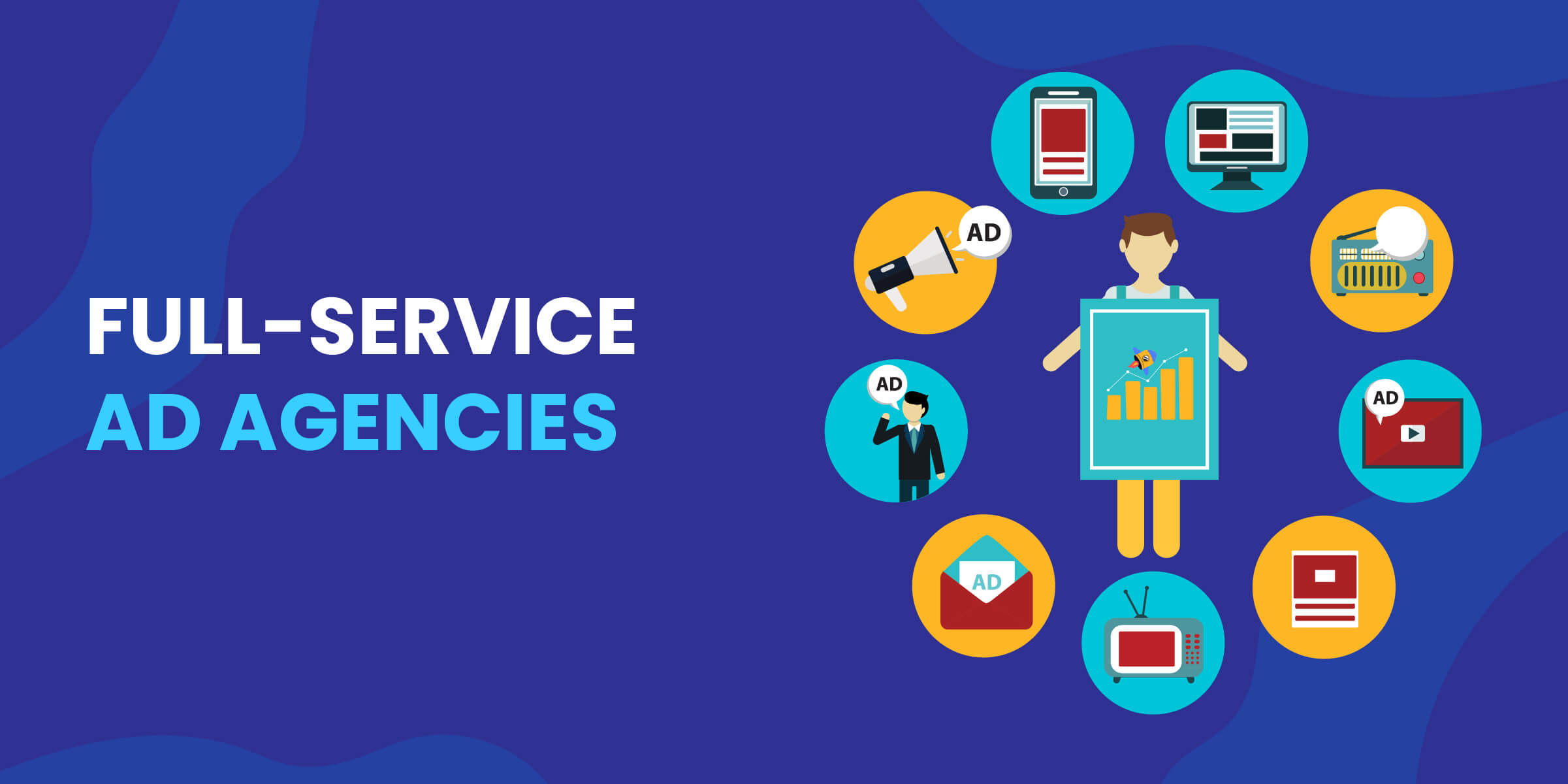 Are you on the hunt for a marketing agency that can handle all your needs? Look no further than full-service ad agencies. These powerhouses offer comprehensive solutions from strategy development to execution across various channels. They're a convenient one-stop shop for all your marketing requirements.
However, they may be expensive and less specialized in certain areas. So, before you make a decision, here's what you need to know about full-service ad agencies:
What You Need To Know About Full-Service Ad Agencies
They are best for larger organizations with substantial budgets.
They are ideal if you want an integrated approach to your marketing strategies.
They can be more cost-effective than hiring multiple specialized agencies or freelancers.
Specialized Marketing Agencies: Your Niche Expert
When you need expert advice in a specific area, specialized marketing agencies are your go-to experts. Unlike freelancers, specialized marketing agencies have a team of experts that works together to create a comprehensive marketing campaign. And as the tools and techniques in marketing change, they'll stay on top of those changes for you.
Their laser-focused expertise ensures top-notch strategies for your niche needs. Whether you're looking for digital marketing agencies, traditional marketing agencies, or advertising agencies, there's a specialized marketing agency out there for you.
For example, if you're looking for an account-based marketing agency, you'll need an agency that focuses on creating personalized campaigns for specific target audiences. Or, if you're looking for a social media agency, you'll want to find an agency that specializes in creating content for social media platforms.
In addition to specialized services, some marketing agencies specialize in a niche. For example, dental practice owners may find it better to work with a dental marketing agency than a general agency. The dental marketing agency has unique industry experience and understands the intricacies of the dental industry.
Promotional Agencies: The Pros and Cons
So, you're considering working with a promotional agency?
These specialized marketing companies create attention-grabbing retail packaging for product launches, events, and seasonal promotions. But before you dive in headfirst, let's explore the pros and cons of partnering with one.
Pros: Expertise in Creating Effective Retail Promotions
Promotional agencies are masters at designing eye-catching displays and signage that attract shoppers' attention. Their expertise can help your brand stand out amidst fierce competition on store shelves or online marketplaces like Amazon.
Cons: Limited Scope of Services Compared to Full-Service Ad Agency
While promotional agencies excel at their niche, they may not offer comprehensive marketing solutions like a full-service ad agency. This means you might need to work with multiple partners if your campaign requires services beyond retail promotion (e.g., digital advertising or public relations).
In short, promotional agencies can be an excellent choice if your primary goal is to create buzz around specific products or events. But, their scope may be limited compared to other types of marketing firms.
Social Media Management Teams: Your Key to Online Engagement
Social media marketing agencies are your secret weapon for audience engagement on platforms like Facebook, Instagram, and Twitter.
But why do you need them?
Reason #1: They're experts at crafting witty and engaging content, tailored specifically for each platform.
Reason #2: They know how to use the right tools to monitor analytics, ensuring your campaigns stay on track.
Reason #3: Social media pros can help you navigate the ever-changing landscape of these platforms with ease.
The downside? Their expertise may be limited beyond social channels.
No worries, though. You can still combine their skills with other marketing strategies for a well-rounded approach.
A committed social media team can be the key to effective interaction with your online audience.
Growth Marketing Agencies: Unleashing the Power of Data and Cross-Channel Strategies
Growth marketing agencies help you maximize profits through a unique blend of data-driven analysis and cross-channel strategies. They are specialized marketing solutions focused on creating ads and promotional campaigns to increase sales.
Pros: Better ROI Through Informed Decisions
The data-driven approach leads to better decision-making, which ultimately increases your return on investment (ROI). Growth marketing agencies use search engine marketing, digital marketing, content marketing, and social media platforms to target specific types of potential customers and increase sales. They also analyze campaign performance and adjust strategies accordingly to ensure maximum ROI.
Cons: High Initial Investment Cost
This level of expertise may require significant upfront costs. However, the potential benefits of working with a growth marketing agency far outweigh the initial investment.
In conclusion, growth marketing agencies are a valuable asset for any company looking to improve its marketing strategies and increase revenue. By targeting specific audiences and utilizing data-driven analysis, these agencies help businesses reach their full potential and achieve their marketing goals.
Account-Based Marketing (ABM) Agencies: A Targeted Approach for B2B Success
Let's dive into the world of ABM.
Account-Based Marketing is a specialized approach that aligns marketing and sales efforts to focus on high-value accounts, making it ideal for B2B companies.
Curious about its pros and cons?
Pros: Highly targeted strategies increase your chances of success by focusing on potential customers who are more likely to convert.
Cons: This method may not be suitable if you're targeting a mass audience or have limited resources for personalized campaigns.
The key here is customization.
An ABM agency will help you create tailored content and promotional campaigns aimed at specific decision-makers within your target audiences, increasing engagement and conversion rates.
Partnering with an Account-Based Marketing agency can ultimately help you:
Boost your company's online presence
Improve brand message consistency
Increase sales with an account-focused strategy.
Public Relations (PR) Agencies: Managing Your Company's Reputation
Let's talk about PR agencies.
These experts play a crucial role in managing your company's reputation and influencing public opinion through media coverage, press releases, events, and other communication strategies.
Their goal? To help maintain a positive image ensuring long-term success for your business.
Pros: Effective crisis management and brand building are their forte.
Cons: They may not directly contribute to immediate sales growth.
If you need an agency for crisis management or improving your brand image, a PR firm could be the solution.
In short: if you want to protect and enhance your company's reputation while building strong relationships with key stakeholders – consider partnering with a reputable PR agency.
Event Agencies
These specialized marketing companies offer unique benefits, depending on your business needs and goals.
Event agencies are masters at designing and coordinating unforgettable experiences for your brand.
From product launches to conferences, they've got you covered.
Pros: Expertise in event planning or cost-effective media buying strategies
Cons: Limited scope compared to full-service ad agency offerings
If you're looking for a more targeted approach with specific expertise, these types of marketing agencies might be just what your business needs.
Freelance Marketing Professionals: The Flexible, Cost-Effective Solution
Freelance marketing professionals are skilled experts who focus on specific aspects of marketing. They can be a great fit for temporary projects or when you need specialized help.
Why should you consider hiring them?
Cost-effective: Freelancers aren't agencies, so they don't have the same overhead costs. This means they can offer their services at a lower rate than traditional marketing agencies.
Flexible: Freelancers can work on a project-by-project basis, which means you can hire them for as long as you need them. This is great for businesses that have fluctuating workloads.
Specialized expertise: Freelancers often have a specific area of expertise, such as social media or content marketing. This means you can hire someone who specializes in the area you need help with.
Overall, freelance marketing professionals can be a great addition to your team. They can help you with specific projects or provide ongoing support for your marketing strategy. Plus, they can help you save money and increase your company's online presence.
Conclusion
To sum up, the kind of marketing agency you go for will depend on what your business requires. Full-service ad agencies offer comprehensive services but may be more expensive and less specialized. Specialized marketing agencies like branding, direct, and digital focus on specific disciplines. Lastly, promotional and event marketing agencies specialize in visual merchandising and event planning.
Assess your business goals before selecting a type of agency. Whether it's building brand awareness or executing an event campaign, choosing the right agency is crucial for success.
Best for Freelance Marketers

---
Strength in

brand marketing, growth marketing, and fractional CMOs.
Elite, "Top 3%" of marketing talent in the world.
48-hour talent matching,

with 75% of clients hiring their first match.
Best Full-Service Marketing Agency
---
Data-driven and highly customized solutions

Growth agency that excels in SEO, PPC, Social, and eCommerce marketing
Full-service marketing team, great for small-to-medium sized businesses
Frequently Asked Questions
What are the types of marketing agencies?
There are several types of marketing agencies, including full-service ad agencies, specialized marketing agencies (branding, direct marketing, digital), and promotional and event marketing agencies.
What are the 5 types of agencies?
The five main types of marketing agencies include 1. Full-Service Ad Agencies, 2. Branding Agencies, 3. Direct Marketing Agencies, 4. Digital Marketing Agencies, 5. Promotional and Event Marketing Agencies.
Which type of marketing agency is best?
The only way to determine the best marketing agency for your brand is to clarify your primary goals, marketing budget, and internal resources. Assess which areas you need the most help in to determine which type of agency to partner with.