Me and We Outreach, we go way back.
We used them for several years (for another site, not the one you're on right now, but still!)
But we also tested half a dozen niche edit providers recently and we… still love them.
Check out why.
Our Favorite Provider for "Niche Edits"
---
High-authority, niche-relevant links to boost your search traffic
Typically DR 50+ links
Links from highly vetted sites with organic traffic (no PBNs or link farms)
Our Favorite Provider for "HARO Outreach"
---
Promote your website with links from mainstream news & media
Leverage existing relationships with journalists
Pay-for-Performance Pricing - only pay for links above DR 40
Advertising Disclosure
Advertising Disclosure
We offer this website completely free to our visitors. To help pay the bills, we'll often (but not always) set up affiliate relationships with the top providers after selecting our favorites. However, we do our best not to let this impact our choices. There are plenty of high-paying companies we've turned down because we didn't like their product.
An added benefit of our relationships is that we always try to negotiate exclusive discounts for our visitors.
We Outreach Overview
Founded by Jason Malone, We Outreach is headquartered in Budapest, Hungary.
We Outreach is a link-building service that works to find opportunities for its clients to create backlinks on highly relevant, niche-specific sites.
They also have a solid process when it comes to the "outreach" part of We Outreach. They employ a team of email outreach experts that know the right things to say to get sites with authority to feature links to your site.
They have helped hundreds of clients see site traffic increases of over 1,000%. They also are selective about who they take on as clients, rejecting 70% of applications so that they can focus on the 30% they do want to work with.
The team at We Outreach is also extremely good at link vetting for the best SEO results.
What Is Link Vetting?
One of the things that set We Outreach apart from other niche edit and link-building services is being incredibly selective when it comes to the quality of the links they build for clients.
They have more stringent link requirements than any other provider I've come across.
We Outreach uses a 12-point quality check that ensures the best possible match for each client. They look for relevancy, weed out PBNs, link farms, and poor-quality sites, and require a certain amount of organic traffic to a post.
While they're unique from many other sites in that they don't focus on DR (an Ahfrefs metric), the majority of links are DR 50-60+.
Who Should Use We Outreach?
Any site owner who needs to build organic traffic to their site should consider using We Outreach.
You should have some SEO knowledge and a strong brand that you've built since they do only accept 30% of applicants.
I would say that you should also have a larger budget for link-building because they are a little pricier than other link-building services (but trust me, it's worth it.)
Pros: Here's What I Like About We Outreach
The founder, Jason, is a great guy, and we've had many good entrepreneurial chats over the years.  He bends over backward to help his clients.
They have a stronger link vetting system than other providers I've tried.
They have a solid onboarding process and will work out a good strategy with you.
The majority of links are DR 50-60+.  Part of their vetting process also looks for some amount of organic traffic to specific pages.
They are very good at mixing up anchor text (in fact, they never do exact matches and purposely try to keep it random to avoid Google penalties)
It is a small team and everyone I've talked to is extremely helpful. They have great customer support and are willing to address most solvable issues quickly.  On the rare times I saw an issue with a link, they always replace it.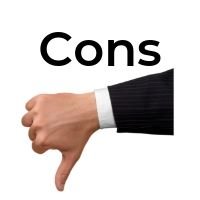 Cons: Here's What I Don't Like About We Outreach
You cannot request specific sites (which is typical), but they will do their best to land links based on your criteria.
You cannot request specific anchor text, but as I mentioned, a balanced anchor-text profile is actually a good thing.
Depending on your niche, you may need to loosen your requirements on links from only niche-related sites, as the more specific you are, the harder it is to find sites.
Every once in a blue moon, a link in their results tracker is missing.  This is common with any provider, so you do need to audit.  But they have made it right every single time.
They are expensive, but you get what you pay for!
We Outreach Review
Overall, I love We Outreach.
For starters, I like the team working there. It's a small team and I feel like I was able to build more of a personal connection with them, plus the customer support is stellar. Jason is a great leader, and I like working with him, and I even asked him for personal advice.
I tested another provider once to supplement and the results were a little sketchy, so I showed them to Jason.  He volunteered to do a deep dive for me on all the links, sent me pages of notes, and tore the sites apart showing they did not meet his company's screening criteria. They were a well-known, professional service, but it turned out, they mainly worked with large PBNs and so I canceled right away.
The onboarding process was super easy, which is great for folks who have never worked with a link-building provider before.
My favorite thing about this service, in particular, is the quality of the links they land. Their stringent link-vetting process is more serious than any other link-building service I have tried, so every backlink they win for my sites has a lot of authority and is super niche-specific, which is what link-building is all about.
Most of the drawbacks of this service are just part of the whole link-building service deal, like not being able to request specific sites or pick anchor text. However, they are a bit pricey, so their services aren't the best choice if you don't have it in the budget.
How Does We Outreach Work?
We Outreach begins with a thorough analysis of your content and site to see if you're a good fit for their services.
They then create a link-building strategy based on that information, including niche edits, backlinks, and a plan to grow rankings and organic site traffic.
After that, they search within their database of niche sites, as well as search beyond that, to find new sites that fit the client's niche. Expert email copywriters use tried-and-true outreach templates to reach out to a variety of sites and pitch clients' links.
They report links through a Google Sheet and provide clients with weekly updates on their progress.
What Does We Outreach Cost? (We Outreach Pricing)
We Outreach sells customized bundles of links per month, so the pricing depends on how many links you want to purchase each month.
In general, costs per link in the link-building industry range between $250 to upwards of $1,000 per link, depending on the quality of the link.
We Outreach Alternatives
A few businesses offering similar services to We Outreach are:
Frequently Asked Questions
What factors impact link cost?
Things like quality, DR or DA, placement, and what type of link impacts link cost.
What criteria do We Outreach look at for quality links?
We Outreach looks for how much organic traffic a post gets, topical authority, and relevancy, and weeds out PBNs, link farms, and poor-quality sites.
How do payments work with We Outreach?
Depending on which package you choose, payments are either monthly subscriptions or one-offs. Invoicing is handled through the customer dashboard.
How does We Outreach report links?
We Outreach reports links via a Google Sheet that is accessible through the customer dashboard.
What are the requirements of working with We Outreach?
Sites that want to work with We Outreach must have a good amount of high-quality content for them to link to meet their requirements.