You've no doubt read about the benefits of standing rather than sitting at a desk all day.
If you want to keep your existing desk or table and don't have the budget for an adjustable standing desk, take a look into desk converters.
In this review, we'll take a look at the pros and cons of a desk converter from Flexispot, the M3 Riser, to help you make the best choice for your office.
Why We Recommend the Flexispot M3 Riser
We just tested Flexispot's M3 Riser.
Here's What We Liked:
Simple and quick setup, almost no assembly involved
Easy to raise and lower
Large surface can fit two 30″ monitors
Visit FlexiSpot
Advertising Disclosure
Advertising Disclosure
We offer this website completely free to our visitors. To help pay the bills, we'll often (but not always) set up affiliate relationships with the top providers after selecting our favorites. However, we do our best not to let this impact our choices. There are plenty of high-paying companies we've turned down because we didn't like their product.
An added benefit of our relationships is that we always try to negotiate exclusive discounts for our visitors.
We sometimes make a small commission on products we test and review.  This helps us offset our expenses at no additional cost to you.  And in some cases, manufacturers pass along discounts that we share with our readers.
Flexispot M3 Riser Review – Desk Converter vs. Adjustable Standing Desk?
Standing desks fall into two major categories: desk converters and adjustable standing desks.
Desk converters are moveable platforms that fit on top of an existing desk or table. You just press a lever (in the case of the M3 Riser) and lift or lower the platform. Desk converters are usually the less expensive of the two options.
Adjustable standing desks are desks that rise or lower usually through electronic means (like the Flexispot E7, EN1, and Ikea Bekant). They are their own piece of furniture, unlike the M3 Riser which works with your existing desk or table.
The choice between these two styles is typically one of budget and space. If you're not looking to replace an entire piece of furniture or deal with additional electronics, desk converters are a great option. However, if you are looking for a new desk and budgets allow for it, you might consider an adjustable standing desk.
Flexispot M3 Riser Unboxing & Review Video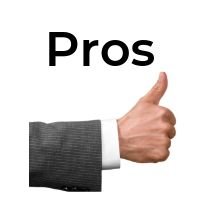 Pros: What I Like About the Flexispot M3 Riser
The 47" Flexispot M3 Riser is an overall behemoth desk converter. Between the ease and stability of the M3's lifting and lowering abilities and the seamless transition from unboxing to putting it to use, it's little wonder why this desk converter is at the top of the reviews.
Easy to set up out of the box
Spacious detachable keyboard tray
47″ surface fits two 30″ monitors, along with almost everything else on your desk
Very sturdy and stable, does not wiggle at all
Ease of raise and lower handle
Handles up to 44 lbs
Padded feet prevents scratches on desk
Excellent customer service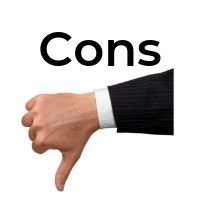 Cons: What I Didn't Like About the Flexispot M3 Riser
Though the cons on this desk are minimal, here are a few features that I wasn't necessarily a huge fan of:
The seated position is too high for shorter users. Adds about 6 inches of height on top of the desk.
The delivered box was surprisingly heavy and required two people to move. But that speaks of the high build quality.
The desk is big! This is only really a con if you have a small desk. Consider smaller risers like the Flexispot M2.
Flexispot M3 Overview
Overall, Flexispot has created a great product for its customers. The real estate alone is a huge benefit for this desk converter. Many of us need to use at least two monitors (and sometimes a laptop screen). The M3 gives plenty of space.
The size would mean little without the ease of lifting and lowering the desk converter. We wanted to make sure that our monitors and other equipment don't tip over and become damaged. The designers took this to heart, creating a desk with stable and seamless movement from the raised to the lowered positions.
The major con to the M3 Riser is the height factor. Standard desk heights are usually around 29 inches. The M3 adds about 6 inches of height on top of the desk. The recommended desk height is a great height for someone who is 6 feet tall. If you're not that tall (like me), this means you have to compensate with chair height, keyboard trays, and stools.
Desk heights are an industry standard, so it's not really Flexispot's fault. But this is definitely something to consider.
How Does Flexispot M3 Riser Work?
After unboxing, set up your M3 on your existing desk or table. You will then press the handles on the sides of the upper platform and lift. Once your monitors are loaded, it only takes about 13 pounds of force to raise your M3.
From there, just slip in your keyboard tray, and the Flexispot M3 Riser is fully assembled and ready to work. It's super simple and ready to use.
When you're ready to sit, just press the same handles and push down. Lowering the M3 only takes about 3 pounds of force.
Who Uses Flexispot M3 Riser?
If you are in love with your current desk or table, the Flexispot M3 Riser is a great option.
There is very little assembly required (only sliding in the keyboard tray). So, if you're looking for an option that you can use pretty much straight out of the box, definitely give this product a strong consideration.
Is Flexispot Reliable?
Flexispot is a global home and office solutions company with an eye on improving the health of its customers and being environmentally sustainable.
Flexispot's client list, which includes IBM, Google, and Buzzfeed, among others, says quite a bit about their trustworthiness.
But what speaks volumes are the reviews from customers who praise the quality of the products and their customer service, which is available 24/7 no matter where you are in the world.
There is also the 30-day, risk-free return policy to give extra peace of mind for your purchase.
Finding the Right Height for You
When industry standards are against us, those of us who are average men (5' 9") and women (5' 4") and not 6 feet tall have to get creative.
Keep in mind that ergonomics is key. When our feet don't have the right support or our wrists are at the wrong angle, it creates stress points on the body that can aggravate issues like carpal tunnel or lower back pain.
Here are my own tricks to get the most out of my standing desk.
Find out what the best sitting height is for your height. Flexispot's recommendation for a 28-inch desk would not work for me. I used a desk height calculator to help determine that a 23-inch desk is a good height for me at only 5' 2". As a rule of thumb, you'll want your elbows to be at either 90 or 100 degrees whether sitting or standing. When you're seated, you want the same angles for your knees to help reduce strain on your lower body.
Make sure to calculate the table height and the M3 height together. Because M3 has a great keyboard tray, don't forget to factor in how far the keyboard tray hangs down from the main platform (about 5.12 inches).
Get the right accessories. If you find that the desk or table you already have and the Flexispot M3 Riser are too tall for you, offset those effects by lifting your chair to the right height and then getting a footstool for when you're sitting to bring your legs back into the proper angle. If you experience leg or foot pain while standing, try an anti-fatigue mat.
Calculating for the standing position is easier. Simply lift the desk to the height where your forearms are around  90- or 100- degree angles to put yourself in the most ergonomic position.
Flexispot M3 Riser Alternatives
Apart from the Flexispot M3 Riser, here are some of the company's other products.
If you want to look at your options outside of Flexispot, there are plenty of alternatives worth checking out:
Rocelco 46″ Large Height Adjustable Standing Desk Converter
VariDesk Pro Plus 36 – Dual Monitor Standing Desk Converter
FlexiSpot Motorized Standing Desk Converter 36″ Wide Electric Stand-up Desk Riser
     UPDATE — The Latest Flexispot Model Is Now Available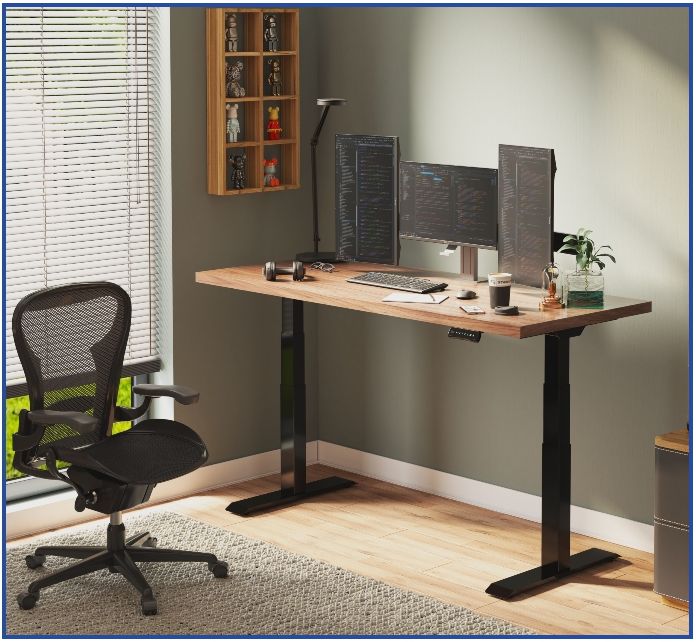 We just tested (and fell in love with) Flexispot's new E7 Standing Desk
What's New?
Extra stability & weight capacity (see what it can do in our video)
More sizes, tabletops, and shapes available (like the curved front for an ergonomic fit)
LED touch screen
Child lock
15-Year warranty
Check out the new, E7 Standing Desk
Read Our E7 Review
Frequently Asked Questions
What is the proper height for a standing desk?
While sitting, your elbows and knees should be at 90- or 100-degree angles. While standing, your elbows should maintain the same angles as when you're sitting.
How much should you spend on a desk converter?
The average for a robust desk converter is $200-$400.
How long does it take Flexispot to ship?
Orders are processed in 1-2 days. Then, shipping for Flexispot takes about 3-6 days through FedEx.
How long should you stand at a standing desk?
The sweet spot is between 15-30 minutes of standing per hour. It's best to alternate between sitting and standing.