As someone who needs the space to spread out with notes as I work, I have been more than reluctant to give up my regular L-shaped desk, even with the benefits of standing desks staring me down.
I just needed the room and storage my old L-shaped desk gave me.
I have personally assembled and tested out FEZiBO's LT1 L-shaped standing desk, and I'm going to not only let you know if it's worth it but also give you insights on whether it's a good fit for you.
FEZiBO L-Shaped Standing Desk - Worland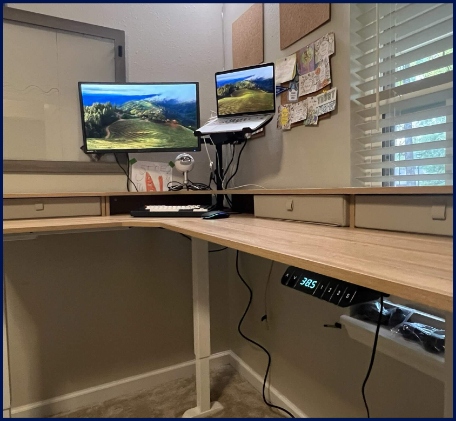 We just tested the
FEZiBO L-Shaped Worland Standing Desk
One of the few brands that offer L-shaped desks
Built-in shelf/drawer space for more organization
Clearly labeled pieces and instructions for easy assembly 
Visit FEZiBO
Advertising Disclosure
Advertising Disclosure
We offer this website completely free to our visitors. To help pay the bills, we'll often (but not always) set up affiliate relationships with the top providers after selecting our favorites. However, we do our best not to let this impact our choices. There are plenty of high-paying companies we've turned down because we didn't like their product.
An added benefit of our relationships is that we always try to negotiate exclusive discounts for our visitors.
FEZiBO Worland LT1 Standing Desk Review
Going into this review, I was more than a little reluctant. Honestly, I'm a bit picky. My criteria were fairly simple for a standing desk: it had to be L-shaped, reversible to fit my room, and go low enough to accommodate my short stature.
This height issue might seem like an odd one to mention, but most desks are made for folks who are about 5' 8". I'm only 5' 2" on a good day, so that means most desks are too tall for me.
I have to add a stool to keep my legs in the proper 90-degree position so that my elbows can also be at the correct 90 degrees. Having your body out of whack for so long can lead to tons of problems with your lower back and carpal tunnel. (The same is true for folks who are on the taller side.)
That's one of the things that I liked about standing desks in general: they can accommodate diverse body types. I would suggest using an ergonomic desk height calculator to get a good idea of what your ideal desk height is, whether sitting or standing. It'll streamline the process of finding the right heights.
Alright, here are the specs on this desk:
FEZiBo Worland
63×48
Reversible Triple Motor (This does cost extra.)
Finish: Oak
Frame: White
Max height: 47 in.
Lowest height: 28 in.
Finished Product
Right off the bat, I must admit that pretty pleased with the desk. It checks off most of my requirements. It could stand to be about an inch lower, so I will probably purchase a keyboard tray to get the height just right.
The desk feels so spacious and solid. I love that I have enough desk space to be able to write notes and still have room to switch to typing or even eat at my desk.
Having the drawers is definitely an upgrade for me. I can keep my office supplies more organized. As you've seen in my video, these are cloth drawers. The fabric is a cleanable pleather material on the outside and a standard fabric inside.
I like I get the option of keeping the space as a drawer or as a cubby for papers. This desk does not feel flimsy at all-definitely a solid build.
The areas that I wish FEZiBO would've considered were cable management and monitor arms/stands for this shaped desk. Regarding cable management, there was no tray to house my original power strip. Between the standard-sized power strip, my Mac's power box, and my secondary monitor's boxy plug, I couldn't fit it into the corner cubby where I had planned.
I had to find another power strip that could attach to my monitor arms. It would've been so simple to include an under-mounted tray to house the power strip. In fact, I nearly cannibalized one such tray from my old desk.
The monitor arms I had with my old desk were the next issue because of the configuration I chose. Like the arms they sell on their website, my monitor arms would not fit with the shelf/drawer configuration. They only work with a flat desk (no shelf).
In fact, to accommodate my monitor arm, my wonderfully handy husband cut out a notch in the corner. Now, my monitors are off the shelf, and I retain that real estate (as it should be), and the monitors would be at proper eye level. This would be a simple fix on FEZiBO's part.
Assembly
First, both boxes the desk came in were well packaged. I didn't have any damaged parts. Great job here, FEZiBO.
Most of the assembly process was one I could do myself. After as many IKEA projects as I've put together, I was confident I could handle this one. It wasn't until we had to flip the desk over that I recruited some muscle. As I said, it's solid, but my husband and I could flip it over without any issues.
The instructions were clear, and the parts were labeled well. They actually labeled all the pieces, including the bags with the screws. So wonderful. They provided two Allen wrenches (one for the frame and another for the desk) but no screwdriver. If you can find a hex-head screwdriver in your toolbox, you'll save your hands.
Overall, the assembly process was smooth (or as much as it could be between two little boys and a curious lab). The only hiccups were when pilot holes were not in their proper places, but this only happened twice out of the many screws we had to use. Again, the instructions were fairly straightforward to follow.
Check out my video for a few assembly tips.
FEZiBO Worland LT1 Standing Desk Unboxing & Review Video
Pros: What I Like About the FEZiBO Worland LT1
As you can see from the video, there are a lot of great things about the L-Shaped standing desk.
Easy to assemble. It took me just a couple of hours of working by myself and then a few moments with my husband to get it flipped over. Did I mention how well-organized and labeled the pieces were?
L-shaped. I still can't believe that I am currently working at an L-shaped standing desk. I absolutely love the real estate on this gem.
Looks good. I love the Oak finish and how this desk looks in my office.
Presets. Setting your presets is pretty intuitive. (I don't think I read the directions for that step.) Just having these presets allows me to quickly go from sitting- to standing-height. You have three available. The three preset heights I came up with are sitting, standing, and writing (when sitting).
Adjustability. This desk can suit a wide range of people, with a low of 28 inches to a height of 47. (This is also a con, so check that out below.)
Shelf/drawer space. I absolutely love having the extra organization space. It will actually allow me to remove an extra set of drawers from my office.
Reversible. I love having the flexibility of changing the long and short sides of my desk. (This is also a con, so check that out in the next section.)
Tons of options. FEZiBO had a ton of options for standing desks. So, even if you don't need an L-shaped desk, they have several styles to choose from.
Cons: What I Didn't Like About the FEZiBO Worland LT1
Here are a few things that I'm not a big fan of:
Height. It doesn't really go down low enough for me. I'll need to purchase an after-market corner keyboard tray to get the right height. This means that the lowest 28 inches is actually good for that average 5'8" person. If you're on the shorter side, you'll want that keyboard tray.
Monitor arms. There wasn't any spot for the monitor arms to attach, so we had to make one.
Cable management. There was no tray for cables or power strips. They have a clamping power strip, but this wouldn't work for desks with shelves/drawers.
Reversible costs more. It actually costs more to be able to change the orientation for the L. You do get a more powerful triple motor out of it, but that's more you'll need to budget.
FEZiBO Worland LT1 Overview
How Does FEZiBO Worland LT1 Work?
Once your Worland LT1 is assembled, it's pretty easy to use. Just make sure that both your desk and any cables are clear of the wall before you adjust your desk's height.
Using the up and down arrows on the control box, you can raise or lower the desk to the appropriate height. If you have a comfortable sitting and standing height, you can use the preset buttons to save those heights.
Just put your desk at the desired height, press S and then 1, 2, or 3 (depending on which preset you want to set), and then S again. It will save that height for future use. You can then use the other preset selections as needed.
You're ready to go!
Who Uses FEZiBO LT1?
Anyone who needs an L-shaped desk that offers the benefits of a standing desk.
Personally, I wanted it to help me maintain a healthy lifestyle while working at home.
If you're on-site at an office, the gentle hum of the motor is not much louder than a desk fan. You won't have to worry about disturbing anyone.
Is FEZiBO Legit?
Absolutely, FEZiBO is legit. They've been in business since 2017, are in 19 countries, and have over 1,000,000 satisfied customers. Let's not forget that they're eco-friendly and are the #1 top-rated standing desk by CNET in 2022.
Is FEZiBO a Good Brand?
FEZiBO is a good brand. On Amazon alone, their desks have almost 9,000 reviews at 4.4 stars. That's not easy to reach without having a stellar product.
FEZiBO Worland LT1 Alternatives
Here are some alternatives worth checking out:
As a bonus, if you're looking for added health benefits, check out our review on the WalkingPad A1 Pro foldable treadmill.
FEZiBO L-Shaped Standing Desk - Worland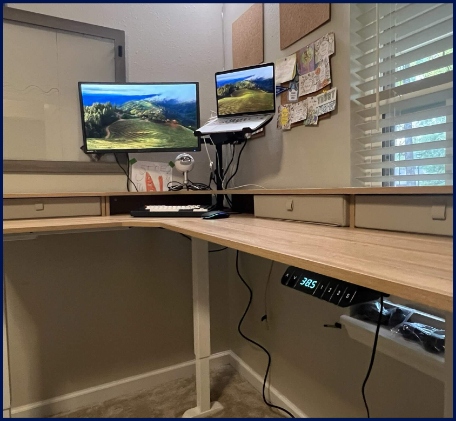 We just tested the
FEZiBO L-Shaped Worland Standing Desk
One of the few brands that offer L-shaped desks
Built-in shelf/drawer space for more organization
Clearly labeled pieces and instructions for easy assembly 
Visit FEZiBO
Frequently Asked Questions
What are some key features of FEZiBO standing desks?
FEZIBO focuses on ergonomics and versatility. Some key features include adjustable height settings, a variety of desk shapes like L-shaped and executive styles, and additional functionalities like built-in outlets, ambient LED lights, and storage options. Some models also offer unique features like tempered glass tops, cable management slots, and monitor stands.
How does a standing desk contribute to a healthier lifestyle?
Standing desks contribute to a healthier lifestyle by promoting more movement and less sedentary behavior. The ability to switch between sitting and standing positions can reduce the risk of issues associated with prolonged sitting, such as back pain and poor posture. The adjustable height feature allows you to find the most comfortable and ergonomically correct position, whether sitting or standing.
What kind of warranty and customer support does FEZIBO offer for their desks?
FEZIBO offers a customer-friendly support system, including a 60-day money-back policy, which allows customers to return products if they are not satisfied. Additionally, they provide secure payment options and installment payments for convenience. The website does not explicitly mention the warranty period for their desks, but their Amazon page says that they offer a 2-year warranty.
Is FEZiBO Worland LT1 worth it?
When I consider that I regain my office storage and space as well as the ability to become more mobile, I have to say that yes, the FEZiBO LT1 is definitely worth it.