Are you multilingual and want to profit from your abilities? You'd make a great translator.
Here are the best freelance sites you can join to find freelancing work as a translator.
Advertising Disclosure
Advertising Disclosure
We offer this website completely free to our visitors. To help pay the bills, we'll often (but not always) set up affiliate relationships with the top providers after selecting our favorites. However, we do our best not to let this impact our choices. There are plenty of high-paying companies we've turned down because we didn't like their product.
An added benefit of our relationships is that we always try to negotiate exclusive discounts for our visitors.
Check out our list of the best freelance websites for hiring translators.
Best Freelance Websites for Translators to Find Work
Learn More
ProZ is our overall top freelance site pick for translators to find regular work. This staple freelance translator platform has been helping connect translators with clients since 1999.
Translators can apply for jobs on the job board or have clients email them directly. Translators also have the option to apply to translation agencies that will seek out opportunities on their behalf.
In the beginning, you will need to reach out to a lot of clients and will have to wade through a lot of low-ball offers.
Once you do find some work, you'll build up connections with clients who will approach you directly in the future. Just about every translator that uses the site reports success with finding lasting connections and a steady stream of work on the site.
Best for beginners
Learn More
New to the industry? Upwork is where you should go.
We'll be honest, you will find some negative reviews from freelancers. But you'll see just as many reviews claiming that Upwork is where they found their first gig.
The key here is to vet the jobs you apply to and be careful. You will find some low-paying gigs and even some scammers, but it's a great place to start if you have no experience and want to build up a portfolio for future clients.
Once you build up a resumé and receive a collection of positive reviews, you can find better gigs and broaden your horizons to other freelance platforms with higher-paying jobs.
Runner-up for best overall
Learn More
TranslatorsCafe is another tried-and-true option for freelance translators to find gigs.
It's stated on most online forums and communities that TranslatorsCafe and ProZ have the largest selection of freelance translation gigs.
Many of the freelance translators using the site say that it has the largest variety of clients, with interesting companies and startups posting jobs.
The big drawback here is that the interface is, as you can see, dated, to say the least.
Learn More
With a streamlined process, Gengo makes it easy for translators and clients to work efficiently with each other.
With quick turnaround times, Gengo is a great place for translators to practice and refine their skills while maintaining a fairly steady flow of income.
The vetting process is a drawback, with many advanced translators claiming that the testing process is confusing and arbitrary. They also have reviewing and scoring systems that some think are helpful while others claim is unnecessary.
Learn More
LinkedIn is an ideal platform for freelance translators to find work and create valuable connections.
Its professional networking environment allows translators to showcase their expertise, share industry insights, and connect with potential clients and peers.
Freelancers can build a robust online presence, attracting job opportunities and referrals.
LinkedIn's job posting and recommendation features open the door for translators to find new opportunities. The platform also facilitates ongoing relationship-building. it allows you to engage with industry-specific content and participate in field-related groups to foster a supportive community.
LinkedIn offers a solid combination of visibility and networking for freelance translators to grow their careers.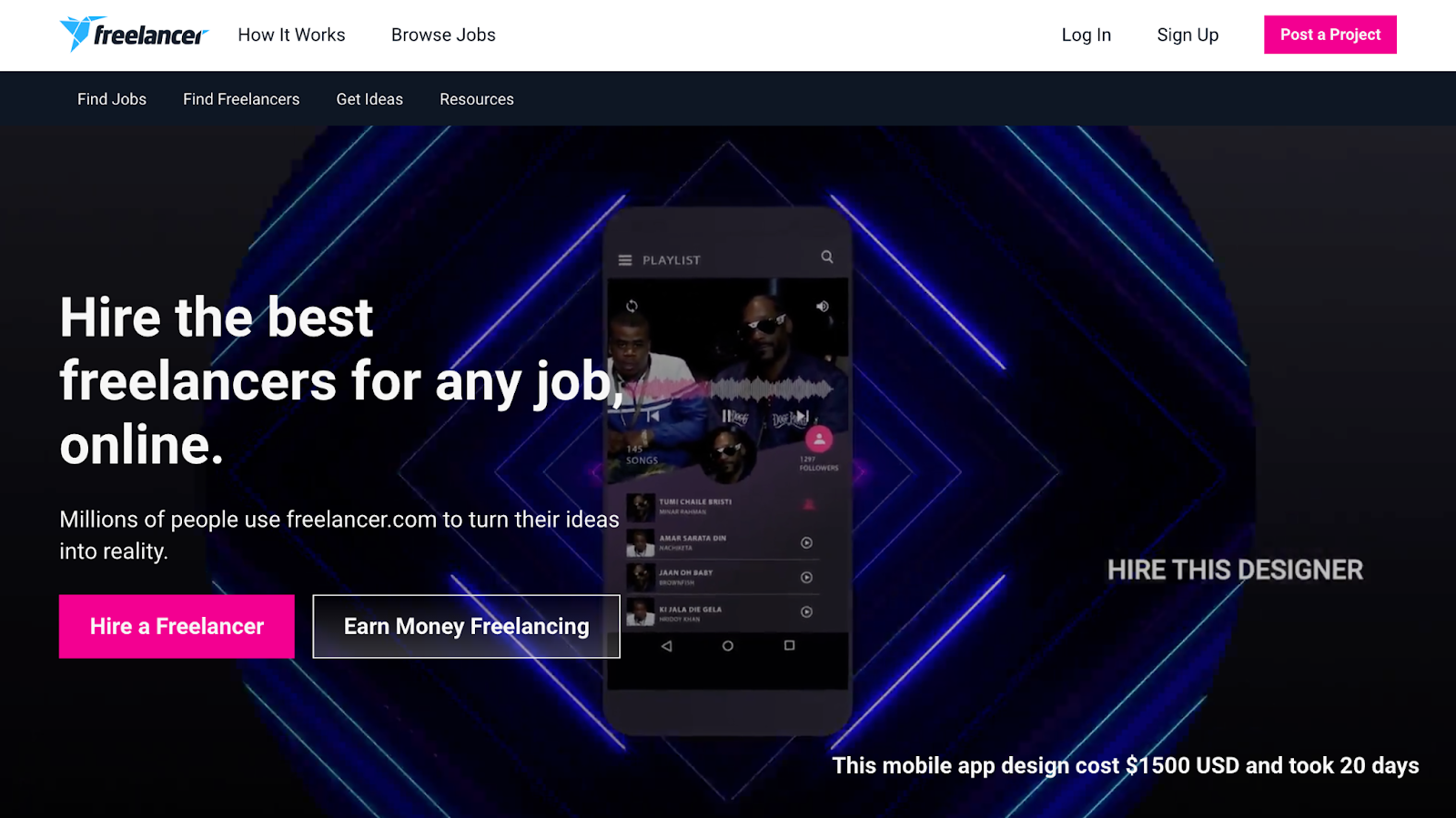 Learn More
Freelancer allows you to reach out to clients or agencies and allows them to reach out to you, making it a versatile option for translators.
Like Upwork, Freelancer is a generalist marketplace that doesn't heavily vet clients or freelancers, so the gigs will usually be a mixed bag. You will also have to be pretty active on the site, applying to jobs and responding in a timely manner when potential clients reach out to you.
You also have the ability to connect with other translation freelancers who can provide mentorship as you embark on your freelance career.
Learn More
Another tried-and-true translation site with an ancient website layout is TranslationDirectory.
Surprisingly, the outdated-looking site attracts thousands of clients seeking translation services, with many offering some pretty decent gigs.
We claim in our best places to find freelance translators roundup that it's sort of a Craigslist type of situation, and the same holds true for freelancers. You will connect directly with clients and discuss rates and payment arrangements, as the site itself doesn't offer a secure payment system.
Many freelancers and clients are confused as to why this anarchist setup works, but hey, it's getting people gigs so we can't complain.
How to Become a Freelance Translator
Ready to become a freelance translator? Here's what you need to do.
First, you'll need to be fluent in at least two languages and have a strong command of your native language.
Next, formalize your skills through education or certification in translation. Begin building a portfolio of translated work to showcase your abilities.
Create a professional online presence through profiles on platforms like LinkedIn and network with fellow translators and potential clients to establish connections. Register with freelancing websites and job boards to find job opportunities.
Maintain accuracy, cultural sensitivity, and confidentiality in your work to build a strong reputation. Over time, you should also diversify your skillset to expand your client base and specialize in niche markets.
You're probably going to have to set low rates at first and work some gigs that aren't the most glamorous at first. As you gain experience and get better at what you do, you'll collect a network of clients who trust you and will come back to you with more work. Patience and persistence are key to success as a freelance translator.
Benefits of Freelancing as a Translator
There are many positives to being a freelance translator. Here are a few.
Flexibility
Freelance translation offers the freedom to set your own work hours and choose the projects that align with your expertise and schedule. This flexibility allows for a better work-life balance.
Diverse Projects
Freelance translators can work on a wide range of projects, from legal and medical documents to marketing materials and literature. This diversity keeps the work interesting and allows for skill development in various areas.
Increased Earning Potential
Freelancers have the potential to earn more than folks in traditional employment, especially as they gain experience and build a strong client base. You can negotiate your rates and take on multiple clients at once, maximizing earnings.
Autonomy and Independence
Freelancers have full control over their work environment, methods, and business decisions. This autonomy allows for creativity and the ability to create a career that works for you.
Global Reach
As a multilinguist, you likely have an interest in different cultures and places. The internet has made it easier than ever for freelance translators to work with clients from all over the world. This global reach opens up a huge market of potential clients and opportunities for collaboration.
How to Choose the Right Freelance Website to Work For
When choosing a freelance website as a translator, think about things like reputation, client base, fees, and user-friendliness.
Choose well-established platforms like Upwork, Freelancer, or ProZ, which have a history of successful translator-client interactions.
Assess the quality and quantity of translation jobs available, ensuring they match your expertise.
User-friendly interfaces and clear payment systems make everything easier.
Lastly, read reviews and seek recommendations from fellow translators to make an informed choice. The right freelance website will enhance your visibility and opportunities in the translation industry.
Best Freelance Websites by Category
Looking for more of the best freelance websites but need to browse by category? Check out our below freelance website reviews to either expand your portfolio or hire a freelancer for your next project.
Frequently Asked Questions
Where do freelance translators find work?
Freelance translators find work on sites like Freelancer, Upwork, ProZ, and TranslatorCafe.
How do freelance translators get clients?
Freelance translators get clients by applying for jobs on freelance websites, by doing cold outreach to potential clients, or working for a translation agency.
Where are translators most needed?
Translators are needed in any industry, but they're especially in demand in industries like travel, education, and government.
What translators are most in demand?
Spanish, Mandarin, and German are the most in-demand languages for translators.