Being a virtual assistant (or VA) is one of the most popular and easiest ways to get started in the world of freelance work-from-home opportunities.
It allows people from all different skill levels to enjoy the benefits of working from anywhere in the world and setting their own hours.
Are you still trying to figure out where to start? Here are the best freelance sites you can join to find freelancing work as a virtual assistant.
Advertising Disclosure
Advertising Disclosure
We offer this website completely free to our visitors. To help pay the bills, we'll often (but not always) set up affiliate relationships with the top providers after selecting our favorites. However, we do our best not to let this impact our choices. There are plenty of high-paying companies we've turned down because we didn't like their product.
An added benefit of our relationships is that we always try to negotiate exclusive discounts for our visitors.
Looking to Hire a VA? Check out out list of the best freelance websites for hiring virtual assistants.
Best Freelance Websites for Virtual Assistants to Find Work
Best overall
Learn More
With a great work culture and plenty of job opportunities, Remote Coworker is our overall top pick for freelance virtual assistants.
Management can make or break your experience working anywhere, even remotely. At Remote Coworker, freelancers appreciate that the management team makes sure virtual assistants have a support system.
Between organization, thorough training, and continued support, Remote Coworker offers virtual assistants a great environment to find work.
Runner up for best overall
Learn More
If you're looking for a great way to get started as a virtual assistant, give Wing Assistant a try.
Reviewers from current and former VAs working for their site appreciate the camaraderie and assistance they receive from both management and colleagues. Many believe it to be an overall good place to work, with opportunities to work for a variety of companies.
It is a newer company, so some freelance VAs complain of growing pains with a lack of clients and occasional micromanagement from the higher-ups.
Best for beginners
Learn More
Fiverr has cemented its strong presence in the freelancing landscape, boasting a large and diverse user base spanning businesses of all sizes. This makes it an ideal platform for new freelance virtual assistants to kickstart their careers.
For newcomers, Fiverr's appeal lies in its user-friendly profile creation process, enabling a seamless entry into the world of freelancing. The platform also provides access to a vast network of fellow freelance developers, facilitating connections with other VAs who experience similar problems and can offer knowledge.
However, this convenience comes at a cost. Fiverr deducts a 20% service fee from your earnings.
Learn More
Flexjobs is a renowned and popular platform for a reason.
What sets Flexjobs apart is that all of their job opportunities are exclusively for remote positions, which is essential for virtual assistants who need the flexibility of working from home or while traveling.
Similar to other platforms, you have the autonomy to establish your own rates or apply for various job listings.
What makes Flexjobs stand out from other freelancing platforms is its diverse range of offerings. They not only provide freelancing opportunities but also feature part-time and full-time jobs. This flexibility means that if you decide to transition into a full-time employee role, you have that option available.
Learn More
Upwork is an excellent platform for virtual assistants to secure work due to its expansive global reach and diverse client base.
With a laundry list of job listings, it offers VA professionals the opportunity to find roles that align with their skills and preferences. The platform also provides a secure payment system and transparent communication tools, fostering trust between clients and freelancers.
Upwork also offers resources for skill development and certification, enabling VAs to enhance their expertise and credibility. Overall, Upwork serves as a dynamic hub for virtual assistants to connect with clients and thrive in their careers.
They do take a 10% service fee on your earnings, but you have the flexibility to set and adjust your rates as you gain more experience.
Learn More
People Per Hour is similar to other popular freelancing platforms like Fiverr and Upwork but distinguishes itself with enhanced location-filtering capabilities.
The site is known for offering more lucrative opportunities than Fiverr or Upwork, but you may still encounter some lower-paying gigs.
What sets People Per Hour apart is its stringent vetting process, ensuring that every user on the platform is credible.
Using AI for freelancer-business matchmaking, the platform allows you to set job alerts and receive notifications for relevant opportunities.
While there is a 20% fee on earnings up to $350, this percentage decreases as your earnings increase.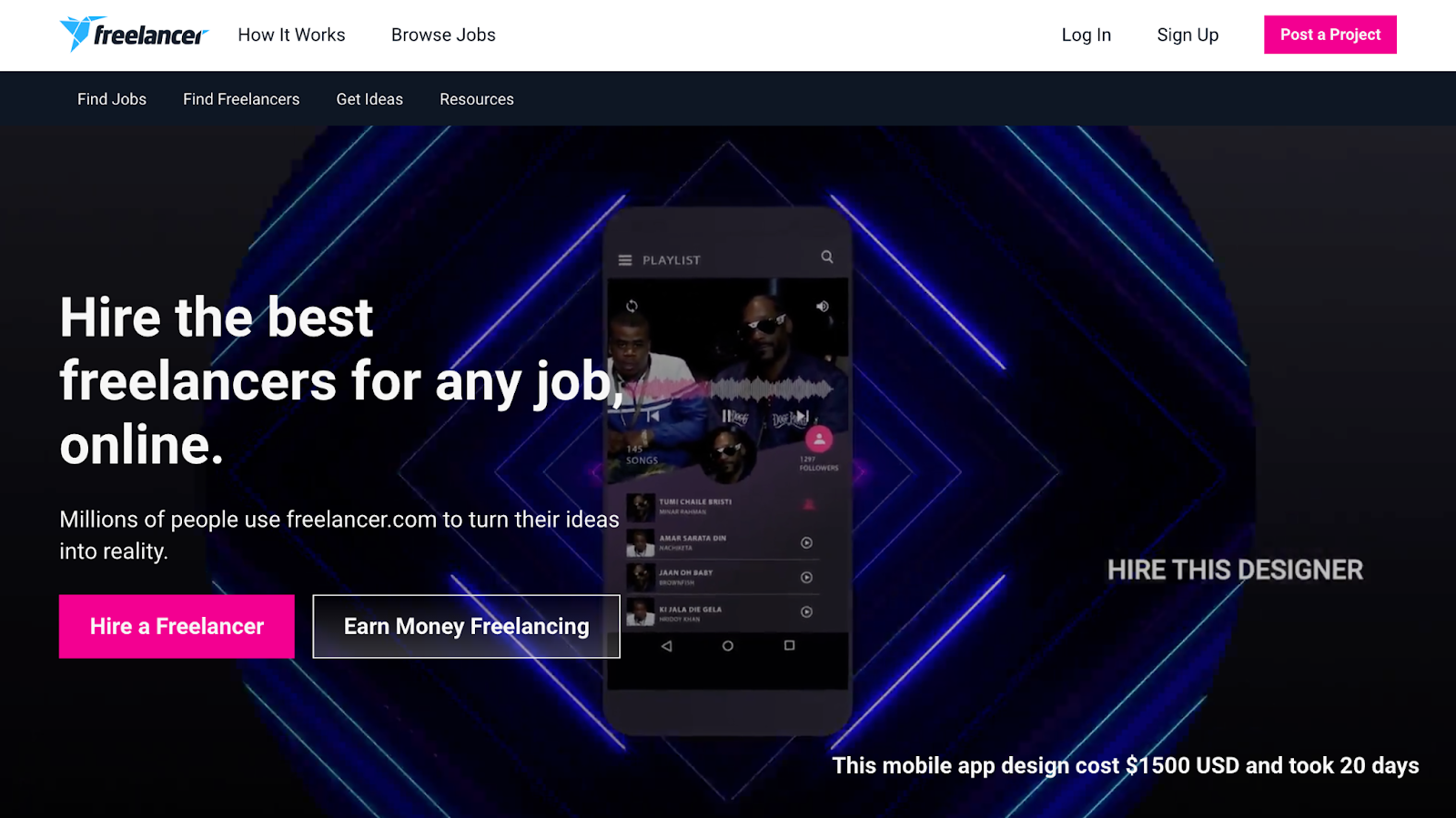 Learn More
Freelancer is the original freelancing site and serves as an incredible platform for virtual assistants seeking job opportunities.
With a vast and diverse marketplace, it offers VAs a multitude of projects across various industries. You can count on regular opportunities for work.
The platform's competitive bidding system allows VAs to set their rates and negotiate terms. This provides flexibility and control over their engagements. Its secure payment system and milestone tracking ensure reliable compensation.
Freelancer.com also offers skill tests and certifications to boost VA credibility, attracting quality clients.
How to Become a Freelance Virtual Assistant
Today, becoming a freelance virtual assistant is easier than ever.
First, you need to decide what type of skills you want to offer. Since there are so many different tasks that fall under the jurisdiction of the VA, choose which ones you want to focus on.
A few popular VA specialties include:
Data entry
Administrative assistant
E-commerce management and product research
Social media marketing
Next, develop your skillset. You can take online courses to become a more skilled virtual assistant. There are also online classes and certifications for things like social media marketing, data entry, Salesforce, and many other VA-related specialties.
Once you're confident in your abilities, create a profile on one of the large freelancer marketplace platforms like Fiverr, Upwork, or Freelancer (the best options for beginners). You can create a resume and show off previous work experience or education and training.
Search for VA jobs that interest you and match your abilities and talents.
You're probably going to have to set low rates at first and work some gigs that aren't the most glamorous. However, as you gain experience and get better at what you do. You'll collect a network of clients who trust you and will come back to you with more work.
Benefits of Freelancing as a Virtual Assistant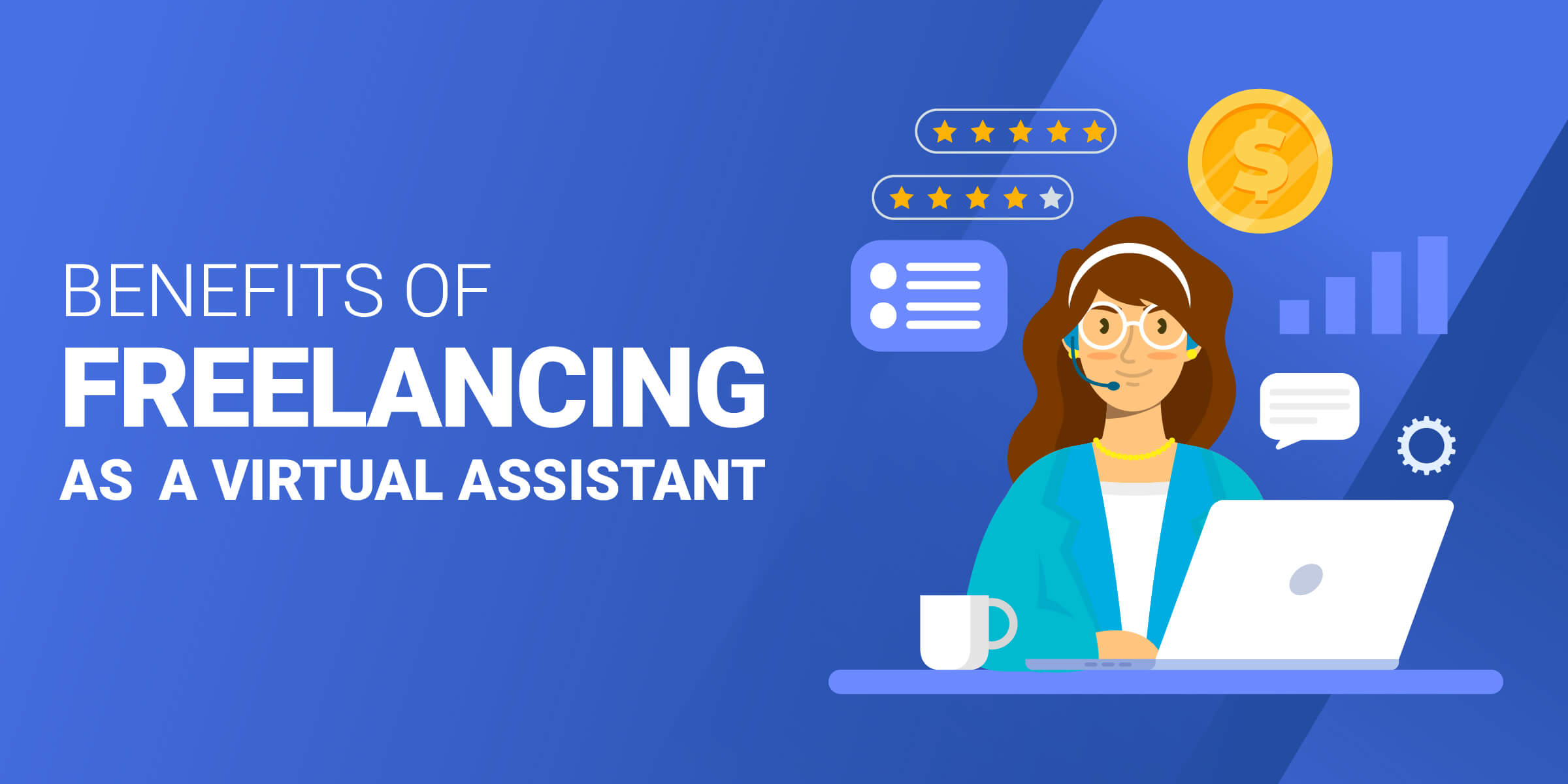 So many people are leaving their 9-to-5s in favor of a more flexible career as a freelance virtual assistant.
Here are some of the biggest benefits of freelancing as a virtual assistant for a living.
Flexibility
Freelance virtual assistants have the freedom to set their own schedules and work from anywhere with an internet connection. This flexibility allows you to balance work with personal life and adapt to changing circumstances.
Diverse Client Base
As a virtual assistant, you can work with clients from various industries and locations. This provides exposure to different businesses and opportunities for skill development. It also keeps work interesting.
Work-Life Balance
Freelancing as a VA allows for a better work-life balance since you can choose when and where you work, allowing opportunities for travel without loss of income. This can reduce stress and improve your overall well-being.
Skill Development
Working with different clients on various tasks can help you develop a broad range of skills, from administrative tasks to project management and communication skills. This makes you more marketable as a VA and creates more opportunities for well-paying gigs.
Personal Satisfaction
Helping clients see growth in their business because of your work can be rewarding and provide freelance virtual assistants with a sense of accomplishment.
How to Choose the Right Freelance Website to Work For
To pick the right freelance site to work for, think seriously about your abilities, experience, and availability.
You should also take into consideration how much of your pay will be shaved off to pay platform service fees, as this can impact your overall income.
If you're just getting started as a virtual assistant, we recommend setting up an easy, free account on Fiverr or Upwork to start building your resume. We also recommend our overall top pick for virtual assistants, Remote Coworker, as they are great at helping new VAs break into the freelancing world.
As you gain experience and improve your skills, you can look into more advanced, vetted sites like
The great thing about freelancing sites is that you can create profiles on as many or few sites as you want, allowing you endless work opportunities.
Best Freelance Websites by Category
Looking for more of the best freelance websites but need to browse by category? Check out our below freelance website reviews to either expand your portfolio or hire a freelancer for your next project.
Frequently Asked Questions
What is the best website for virtual assistant jobs?
Remote Coworker is the best website for virtual assistant jobs.
Is it easy to get hired as a virtual assistant?
Since the position is in such high demand and often requires little education, it is generally easy to get hired as a virtual assistant. However, you won't make much money until you gain credibility and experience.
How do I become a VA with no experience?
To become a VA with no experience, take a few courses, decide on a specialty, create a profile on a large freelancing platform, and build a client base to make more money.
Are virtual assistants in demand?
Yes, virtual assistants are in high demand.