Have people always told you that they love the sound of your voice or that you should read audiobooks?
You can actually do that. Right now.
Here are the best freelance sites you can join to find freelancing work as a voice-over artist.
Need to find a voice-over artist? Check out our list of the best freelance websites to find voice-over talent
Advertising Disclosure
Advertising Disclosure
We offer this website completely free to our visitors. To help pay the bills, we'll often (but not always) set up affiliate relationships with the top providers after selecting our favorites. However, we do our best not to let this impact our choices. There are plenty of high-paying companies we've turned down because we didn't like their product.
An added benefit of our relationships is that we always try to negotiate exclusive discounts for our visitors.
Best Freelance Websites for Voice-Over Artists
Top pick
Learn More
Voices is our overall top pick for voice-over talent looking for high-quality, well-paying freelance gigs.
Artists who have profiles successfully book plenty of auditions regularly. This, of course, leads to more opportunities. And since the site is such a big name, there are thousands of reputable clients to work with.
Since there is plenty of competition, you do need make sure that you're one of the first people to submit an audition. They also offer directed sessions.
Unfortunately, there are a few drawbacks to the site. Some reviews claim that you don't get as many opportunities if you don't make it into the top 100 artists. There are also different plans, with some features only offered to premium members paying $499 per year.
Runner-up
Learn More
Bodalgo is not quite as prolific and well-known as Voice.com, but what it lacks in quantity, it makes up for in quality.
This platform is based in Germany, giving it the extra advantage of offering US-based voice-over artists the opportunity to establish themselves in European markets.
They have a vast variety of clients that request voice actors for everything from audiobooks to video games. So, it's a great place to learn new skills and expand your horizons as a voice actor.
Bodalgo does have a vetting process to make sure their voice actors are legit, so be prepared.
Best for beginners
Learn More
If you have no voice-over experience and want a platform that will allow you to experiment and take on smaller projects, Fiverr is where you should go.
On Fiverr, you can create a profile with a headshot and a portfolio (voice-over reel). You can also set your own rates. Businesses may reach out to you directly, or you can apply to job postings that fit your abilities.
Though this is not the most lucrative freelancing site for voice actors, it's a great place to start and build up a portfolio until you're ready to take on bigger projects.
Best for audiobooks
Learn More
If you want to read novels, ACX is for you.
ACX has been in the game for over a decade now, so you can rest assured that the clients and gigs on the site will be legit. It's owned by Amazon, so it's in their best interest to keep everyone relatively happy.
They offer pay in two formats: either royalties or fixed pricing. Fixed pricing is pretty straightforward (you get paid a set amount once you're done) but royalties allow voice actors to receive a fixed payment plus 20% of revenue from sales of the book.
Like many others on this list, it is a popular platform, which comes with a lot of competition. But if you get good at it, you could earn up to $1,000 per recorded hour (keep in mind that that will take as much as eight hours to record and edit.)
Learn More
Though used by actors (myself included) primarily for film and TV auditions, Backstage also connects freelance voice actors with audio projects.
You simply click on the tab for "Voiceover" to find a list of projects looking for voice talent. From there, you can use filters to narrow down gigs based on age, gender, location, and, most importantly, compensation.
In my most recent browsing, there were over 350 voiceover jobs available (only 200 of which were paid gigs). They were for projects ranging from a campaign for the City of New York to a YouTube video series called Crayola Scribble Scrubbies.
Largest community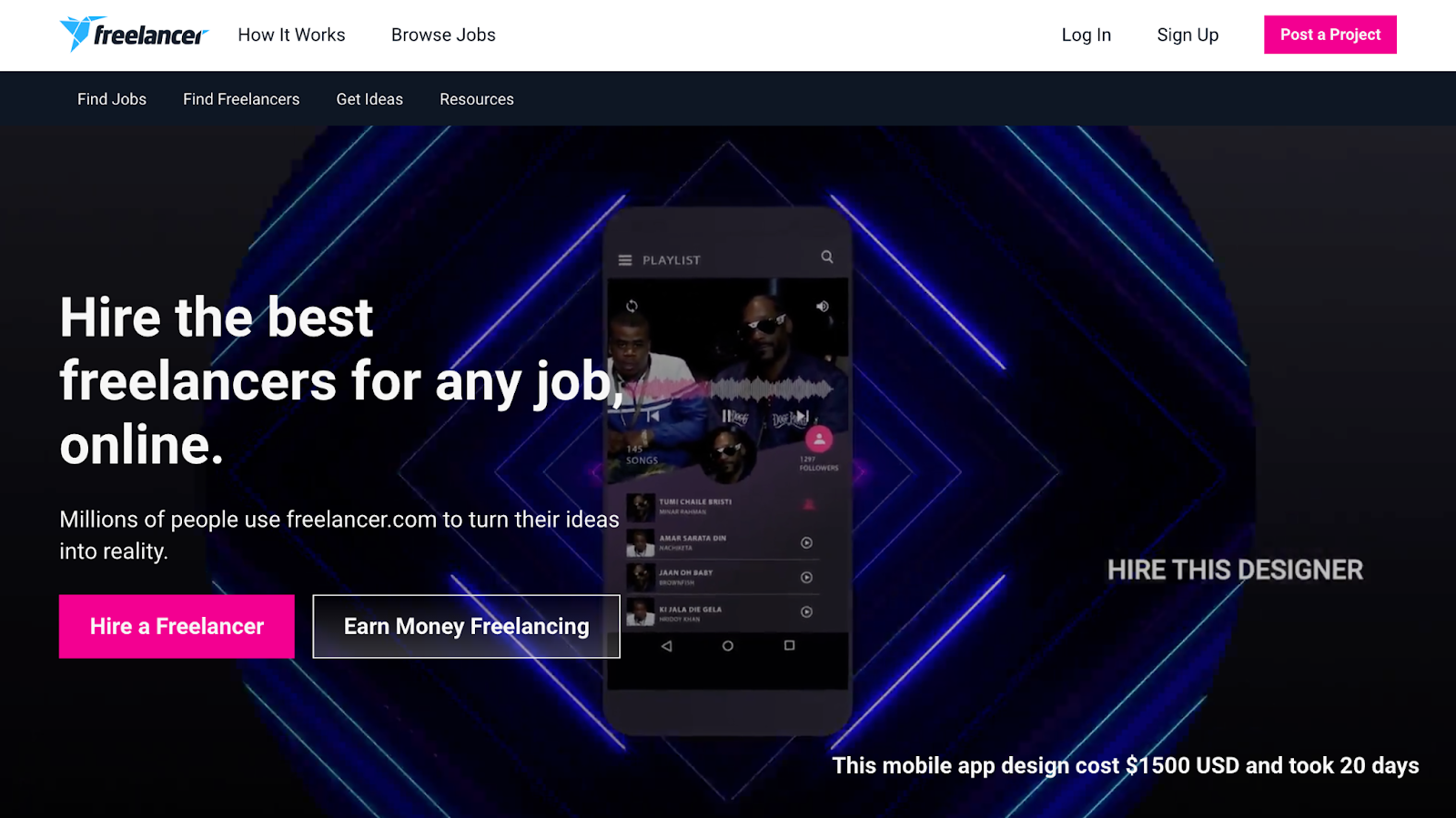 Learn More
Freelancer hosts the largest array of freelancers on its platform.
For voice actors, the process of curating a captivating profile is simple. The website also provides the ease of browsing job listings, facilitating the identification of ideal opportunities that resonate with their skill set and compensation requirements. These options can be fine-tuned through filters for experience, job type, budget, and project timeline.
You personally place bids on job postings, while also having visibility into the ongoing average bid for the project, so you can name your price.
Learn More
Upwork is another great option for new voice-over artists with little to no experience.
You have a limited number of "Connects" per month, which determines how many jobs you can apply to. While you do get a certain number of "Connects" free, you will need to purchase more if you run out and want to apply for a specific job.
Upwork was the first site I used as a freelance copywriter and it played a significant role in starting my career.
They do take a 10% service fee on your earnings, but you have the flexibility to set and adjust your rates as you gain more experience.
How to Become a Freelance Voice-Over Artist
The first thing you need to do when you want to become a freelance voice-over artist is buy yourself a microphone. It doesn't have to be a state-of-the-art, $2,000 mic, but you should get one that's better than just recording on your phone.
Next, make a voice reel to showcase your abilities. You can write a few simple commercials or have a friend do it for you, but this is the only way that potential clients will get a sense of what your voice is like.
Once you've got that set up, create a profile on one of the large freelancer marketplace platforms like Fiverr, Upwork, or Freelancer (the best options for beginners).
Search for voice-over jobs that interest you and match your abilities and talents, making sure to find projects that interest you.
You're probably going to have to set low rates at first and work some gigs that aren't the most glamorous. But as you gain experience and get better at what you do, you'll collect a network of clients who trust you and will come back to you with more work.
Benefits of Freelancing as a Voice-Over Artist
There's a reason that so many people, especially voice actors, are leaving their 9-to-5s in favor of a more flexible career as a freelancer.
Here are some of the biggest benefits of freelancing as a voice actor for a living.
Flexibility and Independence
As a freelance voice-over artist, you have the freedom to set your schedule, accommodating other commitments and pursuits. This is great for work-life balance or as a side gig.
Diverse Projects
You have the opportunity to explore a variety of projects ranging from commercials to audiobooks, which keeps your work engaging and dynamic.
Global Reach
You can record audio for people anywhere in the world, making a global impact on the art form.
Opportunity for Creative Expression
You get to do something creative for a living, which honestly speaks for itself.
Earning Potential
You have the opportunity to make a good stack of cash, depending on what projects you take on.
How to Choose the Right Freelance Website to Work For
To pick the right freelance site to work for, think seriously about your abilities, experience, and availability.
You should also consider how much of your pay will be shaved off to pay platform service fees, as this can impact your overall income.
If you're just getting started as a voice-over artist, we recommend setting up an easy, free account on Fiverr or Upwork to start building your resume.
As you gain experience and improve your skills, you can look into more advanced, vetted sites like Voices or Bodalgo.
The great thing about freelancing sites is that you can create profiles on as many or few sites as you want, allowing you endless work opportunities.
Best Freelance Websites by Category
Looking for more of the best freelance websites but need to browse by category? Check out our below freelance website reviews to either expand your portfolio or hire a freelancer for your next project.
Frequently Asked Questions
What is the best voice-over work site?
Voices.com is the best voice-over work site.
How do I start voice-over freelancing?
To start voice-over freelancing, just buy a microphone, record a short reel, and create a profile on a freelancing platform like Fiverr or Voices.com
What websites pay for voice acting?
Voices.com, Fiverr, Upwork, Bodalgo, Backstage, Freelancer, and ACX are just a few of the many sites that pay for voice acting.
Do voice-over artists need a website?
No, voice-over artists do not need a website, though they can create one for networking purposes if they want.