Graphic design is one of those careers that seems made for freelancing.
If you're interested in trying it out, here are the best freelance sites you can join to find freelance work as a graphic designer.
Advertising Disclosure
Advertising Disclosure
We offer this website completely free to our visitors. To help pay the bills, we'll often (but not always) set up affiliate relationships with the top providers after selecting our favorites. However, we do our best not to let this impact our choices. There are plenty of high-paying companies we've turned down because we didn't like their product.
An added benefit of our relationships is that we always try to negotiate exclusive discounts for our visitors.
Need to find a graphic designer? Check out our list of the best freelance websites to find graphic designers
Best Freelance Websites for Graphic Designers
Best overall
Learn More
Dribbble is our top recommendation for freelance graphic designers.
With this platform, graphic designers can discover opportunities spanning product design, illustration, and animation.
Dribbble simplifies the process of flaunting your talents. It allows you to showcase your impressive design portfolio, enticing potential clients to explore your work.
Dribbble extends its support to emerging designers through skin-refining courses and industry insights. It caters to those new to the field.
For those seeking an even better experience, there is a pro membership option available. This will cost you between $5 and $15 per month and offers access to premium features and exclusive job listings.
Best competition freelance design platform
Learn More
Are you a graphic designer who thrives on competition? 99Designs could be exactly what you're looking for.
This platform does things a bit differently. Once you set up a profile, you have the option to match with clients using 99Designs' system, or you can submit designs to competitions. These competitions are hosted by clients who release a brief and requirements to the community. As a designer, read the description and if it sounds interesting to you, submit your design for consideration.
They charge a $100 initial fee for connection plus another 5 to 15% commission on each project, but they are also one of the few sites that encourage you to migrate previous clients onto their site.
Steadiest stream of work
Learn More
For elite graphic designers seeking a consistent flow of projects with major enterprises, Toptal is the way to go. Collaborating with industry giants like Bridgestone, Duolingo, KraftHeinz, and Shopify opens plenty of regular opportunities to work with prestigious brands.
Toptal's emphasis on skill assessments over traditional CVs or extensive experience provides a promising avenue for exceptional designers facing job search challenges. This allows access to top-tier work without requiring extensive practice.
Being a part of Toptal's graphic design team facilitates global connections and skill enhancement, enriching designers' experiences by working with people from all corners of the world.
Best for beginners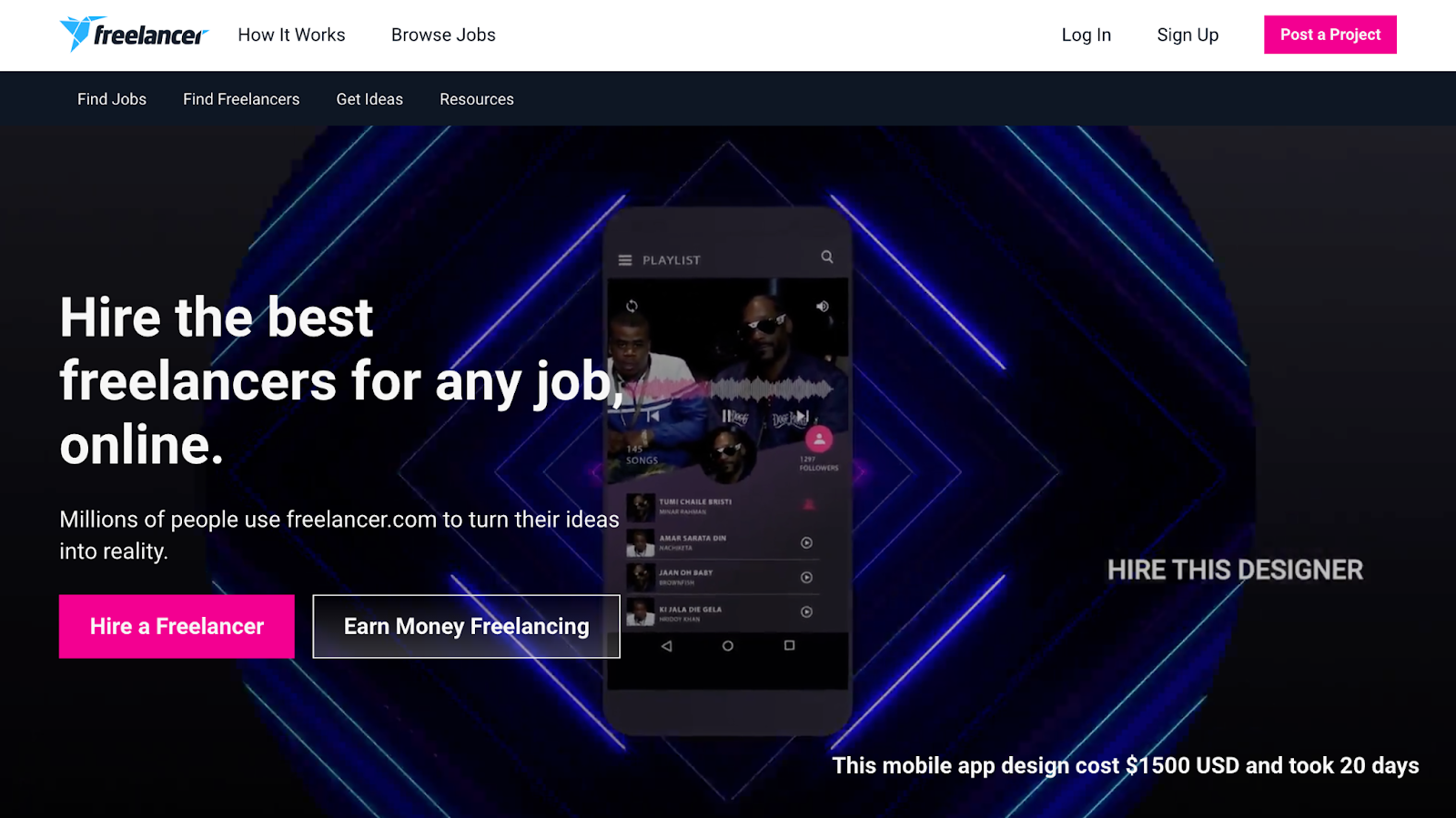 Learn More
Freelancer is the ideal launchpad for novice graphic designers just getting into their careers.
This platform provides an environment that encourages skill growth, offers diverse projects, and facilitates connections with clients.
With an intuitive interface and extensive job listings, Freelancer allows beginners the opportunity to kickstart their freelancing careers while gaining experience and building a strong foundation in the graphic design industry.
Runner-up for beginners
Learn More
Fiverr is a long-time reliable source, housing a diverse array of businesses. This makes it an ideal starting point for budding freelance graphic designers.
Its straightforward profile setup makes it especially attractive to newcomers, ensuring an expedited entry into freelancing.
Plus, Fiverr's expansive network of fellow graphic designers provides chances for connection and brand expansion.
However, the convenience comes with a drawback: Fiverr deducts a 20% service fee from your earnings.
Learn More
Working Not Working caters specifically to the top graphic designers in the industry, offering designers the opportunity to use the site 100% for free.
Technically, anyone can create a profile on the site, but only the top designers will get a "vetted" badge on their profile, making them more attractive to potential clients. While we do not recommend it for beginners. However, it provides advanced graphic designers with high-quality, well-paying freelance job opportunities.
A few of the big companies that use the site to find graphic designers include Facebook, The New York Times, Airbnb, and Kickstarter.
Learn More
Behance serves as a dynamic freelancing hub exclusively created for graphic designers. This platform facilitates the creation of profiles to exhibit portfolios and engage with a community of like-minded designers.
With a large pool of skilled graphic artists, Behance fosters a vibrant community for freelancers to connect, learn, and collaborate. From seasoned experts to emerging talents, the platform showcases a broad spectrum of skills and artistic approaches.
Empowering graphic designers, Behance provides a canvas to showcase creativity, enhance job opportunities, and foster collaborative ventures with fellow creatives.
How to Become a Freelance Graphic Designer
Today, becoming a freelance graphic designer is easier than ever.
The first step is to identify what type of graphic designer you want to be and what industry you want to specialize in.
Next, you need to get either a formal or self-taught education. There are plenty of online and in-person courses that you can take to learn everything you need to know about graphic design techniques, and how to use software like Figma, Adobe Photoshop, Adobe Illustrator, and more.
Once you're sure of your talent, create a profile on one of the large freelancer marketplace platforms like Fiverr, Upwork, or Freelancer (the best options for beginners). You can create a resume and show off previous art you've created or education and training.
You're probably going to have to set low rates at first and work some gigs that aren't the most glamorous. But as you gain experience and get better at what you do, you'll collect a network of clients who trust you and will come back to you with more work.
Benefits of Freelancing as a Graphic Designer
Here are a few of the many benefits of being a freelance graphic designer.
Flexibility
Freelancing allows you to have greater control over your work schedule. You have the freedom to choose when and where you work, giving you the flexibility to balance work with other aspects of your life.
Variety
Freelancing graphic designers often work on a variety of projects for different clients. Experience with diverse projects across various industries can help you develop a wide range of skills and knowledge, making you more versatile and multi-talented while breaking up monotony.
Higher Earning Potential
Freelancing graphic designers have the potential to earn more compared to traditional salaried roles. As a freelancer, you can set your own rates and take on multiple clients at the same time, increasing your income. You can also benefit from negotiating higher rates as your skills and reputation grow.
Creative Freedom
The world of graphic design encompasses everything from custom illustration to logo building, offering you a great place for a creative outlet.
Independence
With freelancing, you get to choose who you work for and what you work on. You can turn down projects that don't align with your goals or income requirements. Ultimately, you are your own boss.
How to Choose the Right Freelance Website to Work For
To pick the right freelance site to work for, think seriously about your abilities, experience, and availability.
You should also take into consideration how much of your pay will be shaved off to pay platform service fees, as this can impact your overall income.
If you're just getting started as a graphic designer, we recommend setting up a free account on Fiverr or Freelancer to begin building your resume.
As you gain experience and improve your skills, you can look into more advanced, vetted sites like Working Not Working.
The great thing about freelancing sites is that you can create profiles in as many or few places as you want, allowing you endless work opportunities.
Best Freelance Websites by Category
Looking for more of the best freelance websites but need to browse by category? Check out our below freelance website reviews to either expand your portfolio or hire a freelancer for your next project.
Frequently Asked Questions
How do I start freelancing as a graphic designer?
To start freelancing as a graphic designer, learn your tools and hone your skills, then create a profile on one of the many freelancing platforms, take on clients, and build your brand.
Which freelancing site is best for graphic design?
Dribbble is the best freelancing site for graphic design.
Is graphic design good for freelancing?
Yes, if you have an art degree or a creative eye, graphic design provides a great freelancing opportunity.
Are 90% of graphic designers freelancers?
Yes, 90% of graphic designers are freelancers.