In addition to being more reachable, text messages have an open rate of 98%.
Now, if you want to go one step further, you can create a potentially lucrative enterprise by reselling a text message or SMS marketing platform as your own.
This is known as white-label SMS marketing. Never heard of it?
Don't worry, we'll show you how to sell white-label SMS marketing to clients, big and small.
Advertising Disclosure
Advertising Disclosure
We offer this website completely free to our visitors. To help pay the bills, we'll often (but not always) set up affiliate relationships with the top providers after selecting our favorites. However, we do our best not to let this impact our choices. There are plenty of high-paying companies we've turned down because we didn't like their product.
An added benefit of our relationships is that we always try to negotiate exclusive discounts for our visitors.
What Is White Label SMS Marketing?
White-label SMS marketing is the practice of branding someone else's SMS marketing software as your own and selling it to clients. You don't need any coding knowledge or any other technical expertise. All the coding and creation of the platform have been done. All you have to do is handle the branding and the marketing.
As an example, let's say a company called ABC Tech has created its Superior SMS Marketing software. You have a list of 500 clients who may be interested in creating their text marketing campaigns. You purchase a reseller license from ABC Tech and resell their Superior SMS marketing software to the clients on your list. However, you don't sell the software as Superior SMS marketing software. Instead, you give the software your branding, such as Megapower SMS Marketing.
Why Should I Become a White Label Reseller?
There are some excellent reasons why you should be a reseller. First, you don't have to spend money developing the software yourself and the cost of SMS marketing is quite reasonable.  Also, you can get started selling to your clients right away. Finally, you don't have to worry about the technician side of maintaining and updating the software.
When you purchase a reselling license, the developer will automatically handle any software updates.
How Do Resellers Make Money?
Resellers mark money by selling their branded version of the software. For instance, you purchase a reseller license from an SMS software company. From there, you mark up the price and sell it to your client list.
The reseller makes money from the profit margin between the price they paid for the software and the price they sold it to the client.
Features of a White Label Text Marketing Platform
It is important to know what features are offered by an SMS marketing platform. These features can be marketed to leads to show how text message marketing campaigns can help reach clients.
Customizable
Text messages can be easily customized for different groups. This can help with split testing and segmenting.
Keywords
Certain keywords can be targeted in given messages.
Scheduling
Messages can be scheduled to go out during specific times of the day. This is especially advantageous if the recipients are located in different parts of the world.
Reporting
This feature allows you to know the open rates and click-through rates of each campaign.
Contact management
This allows the users to add or remove contacts from the list.
Two-way SMS
Allows for the client to send as well as receive messages from the recipient.
Bulk/mass texts
The client can send a message to a handful of people or several thousand at once.
What Are the Benefits of White Label SMS Reselling?
There are several benefits to reselling white-label SMS software. Here are the top three benefits to consider.
No Development Cost
You don't have to spend thousands of dollars hiring engineers and dealing with all the time it takes to develop competitive SMS software.
Faster Selling Time
You don't have to wait months for the software to be ready for the market. Once you pay for the licensing, you can get started selling to clients.
Low Ongoing Maintenance
You don't have to worry about updating the software. This is all handled by the company which developed the software.
Referral and Affiliate Programs Vs. White Label Reseller: What's the Difference?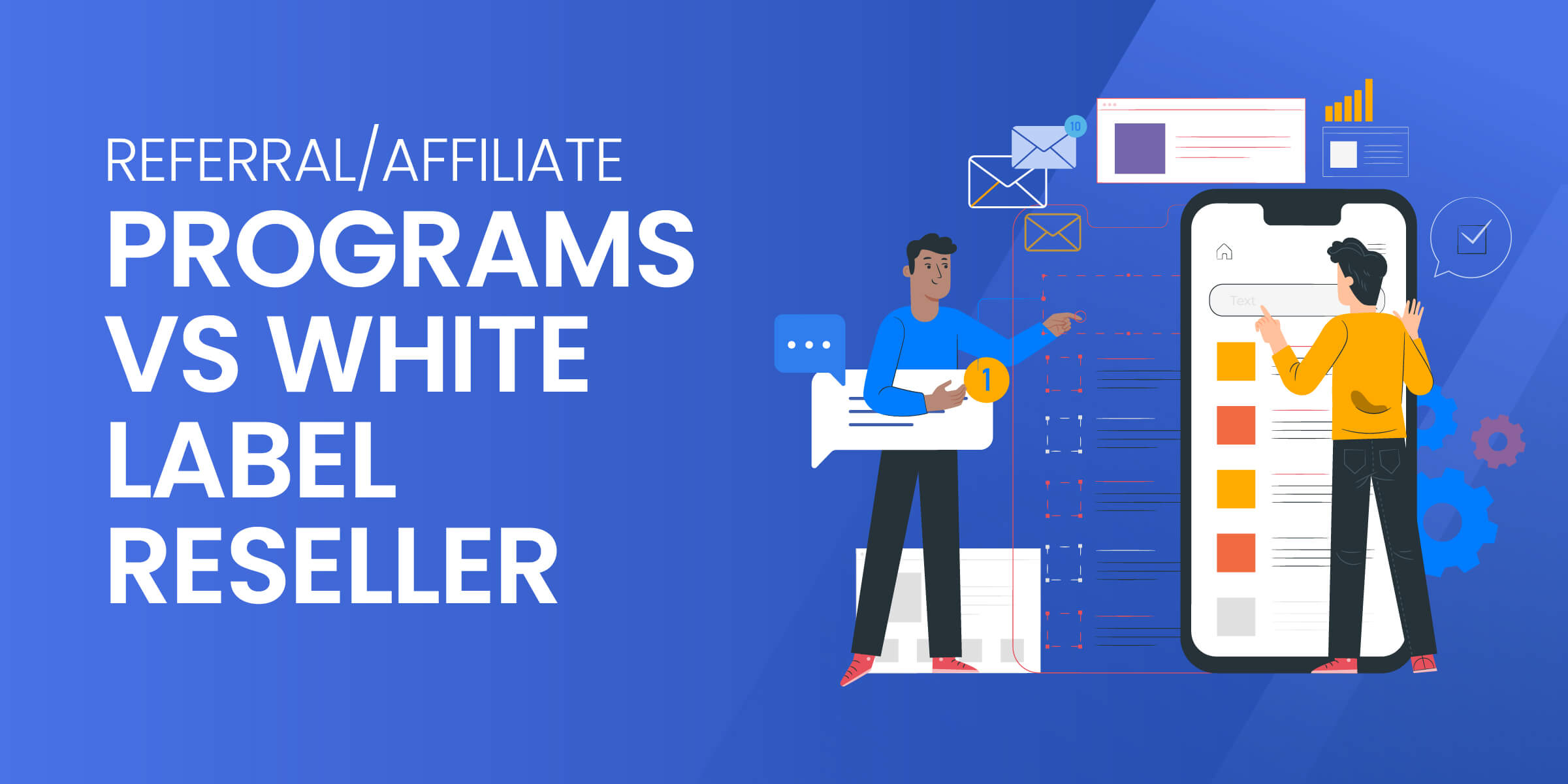 Chances are you may be considering being an affiliate for an SMS company. Let's take a look at the difference between selling someone else SMS software versus being a reseller.
Referral/Affiliate/Partner Programs
If you are referring clients or if you are an affiliate or part of a partner, you only get a percentage of the sales. However, you don't have to spend any money upfront to purchase the license. Also, you don't have to deal with branding the software.
White Label Reseller
After paying the upfront licensing fee, you keep all the profit from sales. Also, you can brand the software as you see fit. For instance, if you are targeting certain clients (like automotive service centers), you can brand the SMS software for that specific group of potential clients.
Best White Label SMS Marketing Providers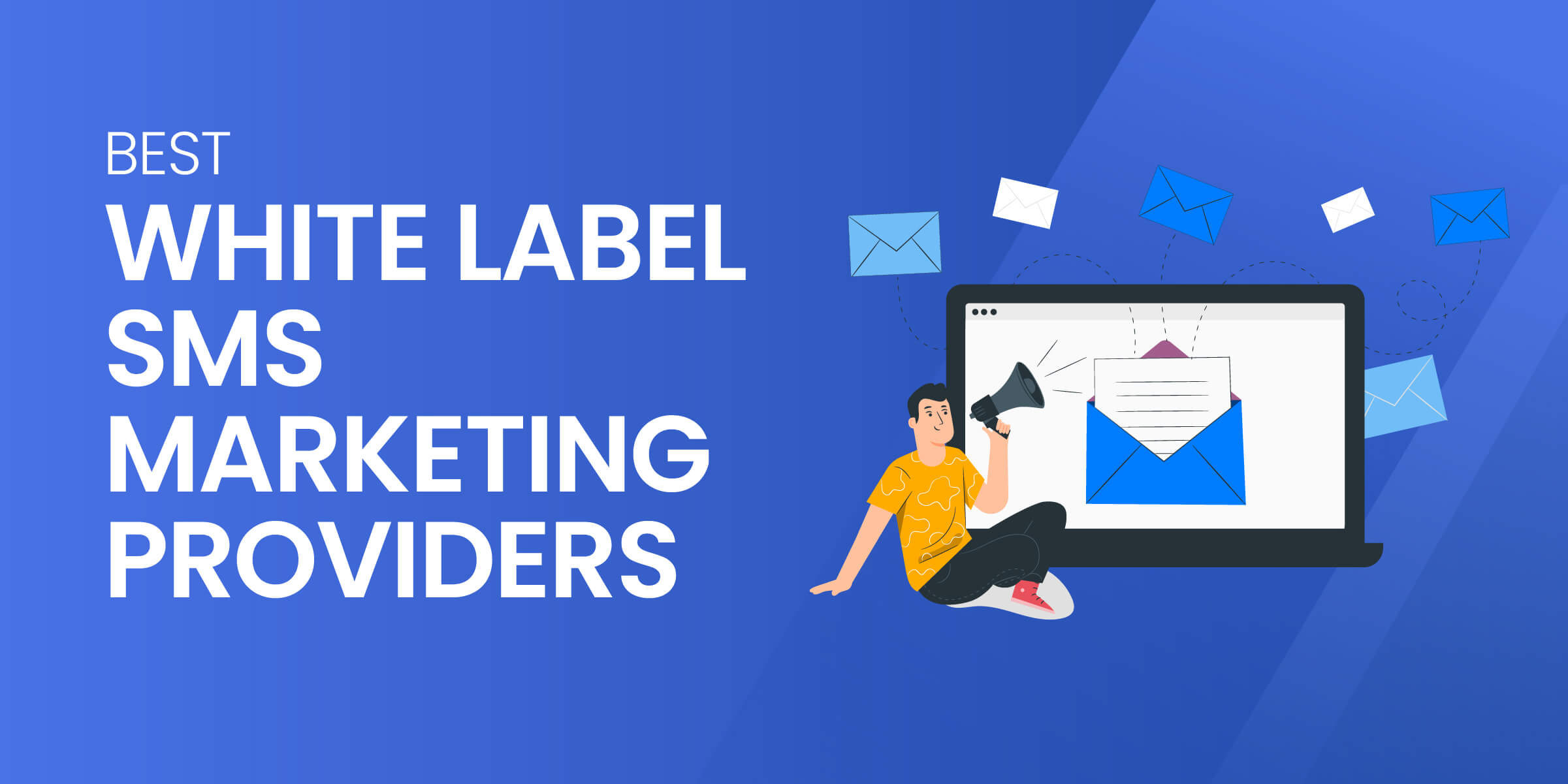 If you are considering reselling white-label SMS marketing software, then you should be aware of the top providers. Here are seven providers to consider.
Industry-Specific Uses for SMS Marketing
Frequently Asked Questions
What is SMS branding?
SMS branding is creating your brand after purchasing an SMS white-label product.
What is a white-label reseller?
A white label is a company that sells someone else's software under its brand. For instance, you can purchase an SMS software license from Trumpia and sell it under your brand.
Is white labeling legal?
Yes. White labeling is legal in most jurisdictions.
Who can qualify as a white-label SMS reseller?
You can become a white-label SMS reseller by purchasing a license from the white-label SMS provider.